2023 election: Fresh concern arises over 6.7m uncollected PVCs
Citizens have been urged to take charge of their destinies by going out to get their PVCs ahead of the 2023 polls
The Transition Monitoring Group (TMG) made this call in Abuja via a statement on Thursday, January 5
The civil society organisation stated that the uncollected 6.7 million PVCs could be a major determinant at this year's poll
FCT, Abuja – Ahead of next month's general election, the Transition Monitoring Group (TMG) has urged Nigerians to troop out in their numbers and ensure the collection of their Permanent Voters Cards.
In a statement made available to Legit.ng on Thursday, January 5, TMG chairman, Comrade Auwal Musa-Rafsanjani said electorates should take advantage of the collection deadline (Sunday, January 22) issued by the electoral body.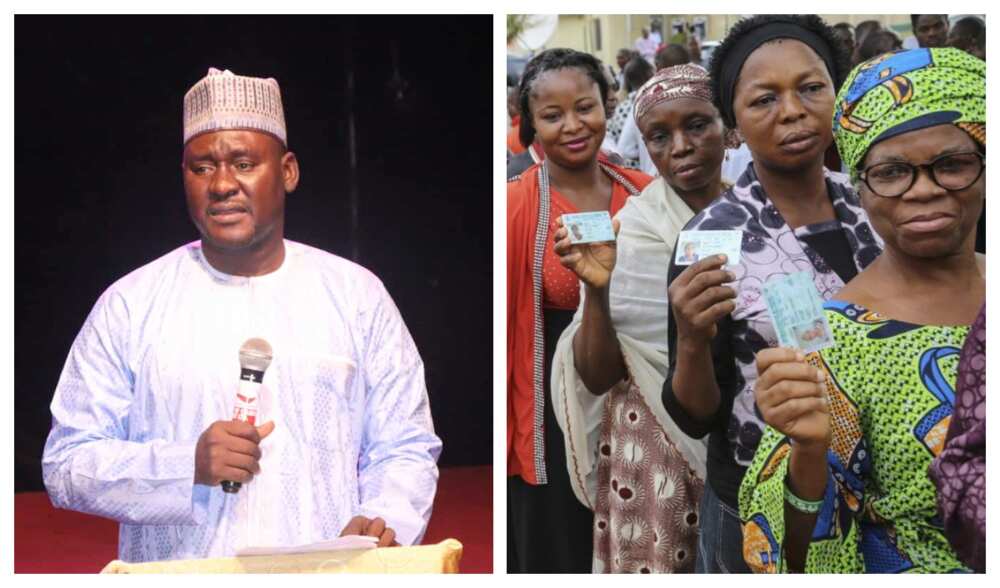 He stated this in reaction to INEC's update that 6.7 million PVCs were yet to be collected by electorates across 17 states and the FCT.
Rafsanjani stated that 6.7 million uncollected PVCs would prove pivotal in the forthcoming elections if the owners can come out to claim it.
PAY ATTENTION: Follow us on Instagram – get the most important news directly in your favourite app!
He said:
"As we gear towards the 2023 general elections, TMG is appealing to Nigerians to be ready to come out and vote and make a key decision that is instrumental to the formation of a better Nigeria."
2023: Rafsanjani laments over uncollected PVCs
Rafsanjani said revealed that the high rate of voter apathy witnessed in previous elections must not be allowed to repeat itself in the 2023 elections as the upcoming elections will be a determining factor in the future of Nigerians.
"No one should wait until the rush hour; the time is now and we all are advised to collect our PVCs in time so that we can get that golden opportunity to vote candidates of our choice, electing leaders is our responsibility that no one can deny anyone but without PVC, that right will be denied; so let's go out and get our PVCs.
"Voters must also be wary of desperate politicians who would want to induce them with monetary gifts in exchange for their voter cards, Nigerians must in the upcoming elections stand their feet and follow the electoral process from start to finish, rejecting any financial inducement or harassment."
2023: Using state resources for political campaigns totally unacceptable, says Rafsanjani
In another development, criticism has continued to come from all angles over the outrageous aspirants' nomination fee for the PDP and APC.
Some civil society groups have accused the leadership of the APC and PDP of trying to auction the leadership of the country to the highest bidder.
Meanwhile, the Transition Monitoring Group (TMG) says the use of taxpayers' money for campaign activities is criminal and unacceptable.
Source: Legit.ng