2023 Presidency: Why I Dumped Tinubu for Peter Obi, APC Chieftain Reveals as He Defects to Labour Party
APC presidential candidate Bola Ahmed Tinubu's decision to pick a fellow Muslim, Kashim Shettima, as his running mate, has robbed him of some support from his party members
Hon Richard Ngene, a founding member of the APC, is one of those who have withdrawn their support for Tinubu because of the Muslim-Muslim ticket
In an exclusive interview with Legit.ng, Ngene revealed why he chose Labour Party as his next destination after leaving APC and why he is confident of Peter Obi's victory
At every opportunity he's had, Asiwaju Bola Ahmed Tinubu, the All Progressives Congress (APC) presidential candidate, has explained to Nigerians why he picked Senator Kashim Shettima, a fellow Muslim, as his running mate.
"Why Senator Kashim Shettima? Why a same-faith ticket?…I offer a confession. I selected Senator Shettima thinking more about who would best help me govern," Tinubu said at a parley with Christian Association of Nigeria (CAN) leaders in Abuja late 2022.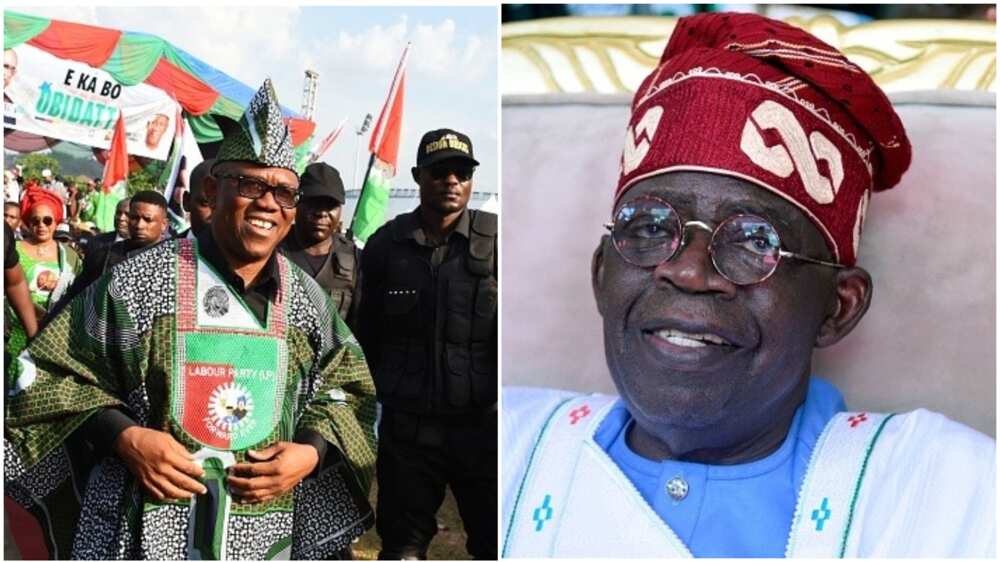 The former Lagos governor said, "picking a Christian running mate would have been politically easier". He, however, noted that "the easy way is rarely the right one."
Despite his repeated explanations, Tinubu's choice of a fellow Muslim as his running mate did not go down well with some Nigerians, including APC members.
While some withdrew their support for the APC flagbearer though they retain their membership of the party, others opted for defection.
Hon Richard Ngene is one of the latter. Ngene, a self-acclaimed founding member of the APC in Enugu state, recently dumped the party and defected to the Labour Party (LP) to back its presidential candidate, Peter Obi.
The "pioneer youth leader" of the Action Congress of Nigeria (ACN), 2010 to 2011, claimed he was the first youth in Enugu to join the APC.
Why I dumped APC for Labour Party, Ngene reveals
Speaking exclusively with Legit.ng, Ngene said the APC's same faith ticket is against the principle upon which the party was founded, adding that it's part of the reasons he defected to the Labour Party.
He noted that the tradition is for top political seats in the country to be shared between the north and the south, the Muslims and the Christians.
Ngene said that's why, even during the military regime, ex-President Olusegun Obasanjo (a southerner) served as deputy to the late former military leader, Murtala Mohammed (a northerner).
He added that it's the same reason Tunde Idiagbon (a southerner) served as deputy to President Muhammadu Buhari (a northerner) when he served as the military head of state.
"That's why you have Atiku (Abubakar) as VP (Vice President to Obasanjo. And that's what brought (Yemi) Osinbajo as VP to Buhari because Tinubu would have been the vice president.
"Tinubu had to step down for Osinbajo to avoid having a Muslim-Muslim ticket in 2015. I am surprised the same party now is flying a Muslim ticket," Ngene told Legit.ng.
APC doesn't care about the southeast, says Ngene
Asked if he left the APC for the Labour Party mainly because of the Muslim-Muslim ticket, the Enugu-born politician said:
"That's one of the reasons. There are so many reasons why I left the APC. APC is a party that doesn't care about us, easterners.
"If not for the milk of human kindness of His Excellency, Governor of Enugu State, Ifeanyi Ugwuanyi, most of the APC leaders in Enugu state would have been begging for bread on the streets," Ngene said.
According to him, Ugwuanyi who is a member of the Peoples Democratic Party (PDP) and the G5 Governors has been the one helping the APC leaders in Enugu state, including himself.
"I won't deny that. None of the APC leaders can deny it. We are all beneficiaries of his (Ugwuanyi's) milk of human kindness," he reiterated.
Both APC and PDP are the same – Ngene
Asked why he chose not to join the PDP despite Governor Ugwuanyi's gesture, Ngene said:
"Joining PDP is the same thing as remaining in the APC because you can even hear the APC presidential candidate saying PD..APC.
"It clearly shows that the parties are the same. For instance, in Enugu state, the structure of the APC has been handed over to a PDP senator, Chimaroke Nnamani. He is the one campaigning for Tinubu (in Enugu state)."
Why Peter Obi is the best candidate, Ngene reveals
Having pitched his tent with the Labour Party, Ngene said the LP's presidential candidate, Peter Obi, is the best candidate Nigerians should vote for on Saturday, February 25.
"In the whole of Eastern Nigeria, Peter Obi is the only former governor who does not have a case with the EFCC," he claimed.
Ngene said unlike Obi, the PDP presidential candidate and Nigeria's former vice president, Atiku Abubakar, does not have a good recommendation from his former boss, ex-President Obasanjo.
"His (Atiku's) boss Obasanjo has said so many things about him everywhere. So, if your boss does not speak well about you… If your boss cannot recommend you, then you have a big problem," he told Legit.ng.
2023 presidency: Can Peter Obi defeat Tinubu and Atiku?
Some analysts believe that it would be very difficult for Obi who is contesting on the platform of the LP, a smaller and lesser-known party, to defeat the candidates of the two major parties.
Ngene, however, disagreed.
"Peter Obi will be the first Nigerian president to win with more than 20 million votes in the history of Nigeria," he boasted.
He alleged that the voters register recently released by the Independent National Electoral Commission (INEC) shows that the youths comprised of over 60% of registered voters.
According to the National Commissioner at INEC in charge of the Information and Voter Education Committee, Festus Okoye, a total of 9,518,756 valid newly registered voters between June 28, 2021, and July 31, 2022, those aged between 18 and 34 years of age were 7,286,871, representing 76.56 per cent.
In general, Okoye said 48 million out of the entire 93.5 million eligible voters for the 2023 general elections are youths.
Ngene believes that the bulk of the youths will vote for Obi.
"This is the first time in the history of our dear country when you see youths printing T-shirts, face caps, banners, mounting billboards with their money, coming to campaign venues with refreshments, giving people money to go and get their PVCs, encouraging people. It has never happened," he said.
According to him, the youths used to get paid before going for campaigns but now they go to campaign venues to share their own money, T-shirts, and refreshments.
He continued:
"There has never been this kind of support for a presidential candidate in the history of Nigeria…Peter Obi has all that it takes to be Nigeria's president and rescue the nation.100%. A new Nigeria is possible."
Peter Obi will win with over 40 million votes, says Ngene
In a recent report, ThisDay newspaper predicted that there may be a runoff in the forthcoming 2023 presidential election.
Ngene expressed confidence that the prediction would not come to pass.
"There will be no run-off. Peter Obi will win with over 40 million votes. Peter Obi is going to win," he said.
Peter Obi and the IPOB question
Being the major candidate from the southeast, Obi has been questioned several times regarding what his plan is for the Indigenous People of Biafra (IPOB).
Obi who is a former governor of Anambra state has also repeatedly said he would dialogue with the separatist group and other agitators if elected as president.
Ngene said he is confident of Obi's ability to handle IPOB, having been a governor in their stronghold.
His words:
"The issue of IPOB, Peter Obi knows how to handle it. He has been a governor in their stronghold, Anambra state. I am sure he knows how to handle it."
Politics is about the yearning of the people, says Ngene
Asked if he was eyeing any elective seat in 2027, Ngene said he would not be contesting for the state House of Assembly again as he believes the seat is for young people in their 20s and early 30s.
"I am getting old and I am one of those who believe the state House of Assembly is for young people. This year I will be 35. House of Assembly seats should be for people in their 20s and early 30s."
The Labour Party chieftain said he is not like other politicians who don't see the future in the young people.
"I will support another vibrant youth in my constituency to run for House of Assembly," he said.
On whether he will consider Governorship or Senate seats, Ngene said it is the people who would decide.
"This is politics. You don't say what you what to go for. It is the people (who will decide). Because we are talking about representing people, not myself, family or private business.
"In politics, people should come first. Not what you want. Because if the people had come first, I don't think the PDP would have given a northerner the presidential ticket after a northerner had been the president for eight years. This is injustice," the former APC chieftain said.
He added that the APC would not have fielded a Muslim-Muslim ticket if the party had put people first.
Tinubu or Peter Obi: Who will G5 Governors support?
The five aggrieved PDP governors, popularly known as G5, have put Nigerians in suspense over the last few months regarding the presidential candidate they will endorse.
The governors (Nyesom Wike of Rivers, Seyi Makinde of Oyo, Samuel Ortom of Benue, Ifeanyi Ugwuanyi of Enugu, and Okezie Ikpeazu of Abia) withdrew their support for Atiku following the PDP's refusal to grant their demand that Iyorchia Ayu should vacate his seat as the party's national chairman for a southerner.
Since then, there have been speculations that the G5 will either back Tinubu or Obi.
Ngene said Obi's chances of winning would be boosted if the PDP governors decide to endorse the Labour Party presidential candidate.
However, he expressed confidence that Obi would win even without the G5 Governors' support.
He said the aggrieved PDP governors only have one vote each.
"It does not mean anything if the G5 governors decide not to support Peter Obi. They have just five votes," he said.
2023 elections: Peter Obi is better than other candidates, Obasanjo insists
In another report, former President Obasanjo said Peter Obi is better than his co-contestants in the forthcoming presidential election.
He made the comment on Thursday, January 19, in Abeokuta, the Ogun state capital, while featuring in an interactive session.
The former president had, in a New Year message, titled 'My appeal to all Nigerians, particularly young Nigerians', expressed his support for Obi.
Source: Legit.ng