2023: Youths send strong warning to Buhari, governors over 7million unclaimed PVCs
Concerns about the possible postponement of the 2023 polls may have reached a rock bottom
With less than 45 days to the 2023 presidential elections concerned Nigerians have warned against postponement
Similarly, concerns have been raised over the 7 million uncollected PVCs as President Buhari has been urged to declare public holidays
Legit.ng is celebrating business personalities of 2022. See top entrepreneurs of Fintech, Startup, Transportation, Banking and other sectors!
Anambra, Awka – Irked by the announcement by the Independent National Electoral Commission (INEC) that 6.7 million Permanent Voters Cards (PVCs) are yet to be claimed by their owners the Youths for Credible Democrats of Nigeria (YCDN) has asked President Mohammadu Buhari, and the 36 state governors in the country to ensure that no eligible voter is disenfranchised in any part of the country.
Rising from an emergency crucial meeting in the early hours of Friday, January 13, in Awka, the group, through its Executive Chairman, Hon. Okeke Godwin Chinemelu announced that the 8-day extension of PVCs collection by INEC, from Sunday, 22 January, to Sunday, 29 January 2023, is not enough to exhaust 7 million PVCs if drastic measures are not taken.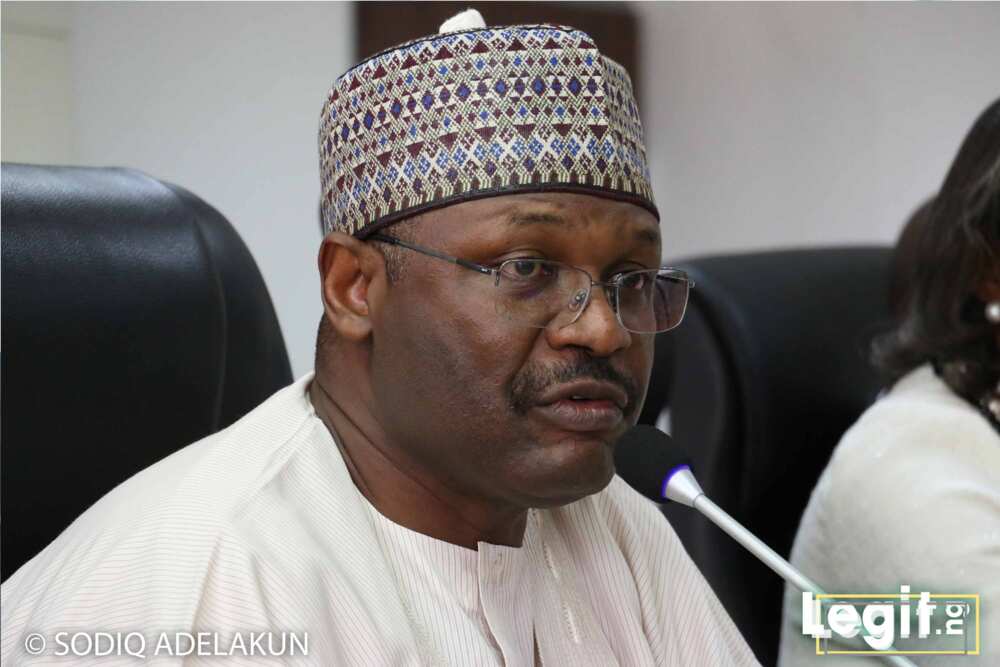 Legit.ng's regional reporter in Anambra, Mokwugwo Solomon, quoted Prince Okeke as suggesting that President Buhari and state governors should declare 3-day public holidays to enable civil servants to collect theirs; as well as close down major markets within the same period to enable traders to go for theirs.
He said that from findings, 95% of those who have not collected their voter cards are traders and civil servants.
PAY ATTENTION: Follow us on Instagram – get the most important news directly in your favourite app!
He said:
"We want to start by commending INEC for their intervention by extending PVC collection for 8 days. This will help in ensuring that many Nigerians collect theirs. From findings, it is evident that about 95% of those that have not claimed theirs are civil servants and traders..
"Our humble suggestion is that governments at all levels should declare public holiday for 3 days, and as well, close down markets in their various domains to ensure that traders and civil servants collect theirs. It is also our humble suggestion that civil servants and traders should be made to submit evidences of PVC collection in their various offices. Without doing so, no amount of time extension will yield fruits.
"Findings also show that Lagos, FCT, Edo, Ekiti, Osun, Ondo, Gombe, Niger, Adamawa, Cross River, Kwara, Kogi and a number of other states – about 17 of them, still have large numbers of unclaimed voters cards. This is a confirmation that these states are tilting towards a dangerous precedent. The fact that less than six weeks to the election; about 7 million PVCs have not been collected leaves much to be desired.
''It is the responsibility of the government to enlighten the people, and I think the federal and state governments haven't done enough. We understand that people are very busy; that is why we advocate for a 3-day public holiday for civil servants and traders throughout Nigeria.
"We hope that those Nigerians who have taken time to register will realize that of all the things they have to do, this is one of the most important duties: to go out to vote and select those who govern them. That duty is the one that we hope that Nigerians exercise and take seriously. They need to go out there because, without it, they can't even vote; that will mean that they are disenfranchising themselves."
Nigerians charged to obtain PVCs before D-day
Okeke further asked Nigerian voters to use the opportunity of the recent devolution of PVC collection to the ward levels from January 6 to January 15, 2023, to get their cards.
He encouraged the President General of communities, and village heads to mobilise their people within the time frame to collect theirs in their various wards and polling units.
Okeke said:
"I will also remind Nigerians youths that 2023 presidential election is for them. They should mobilize themselves, and ensure that they elect a youthful president with sound mind and body to move the country to the next level of prosperity."
2023: More pressure on INEC over plot to postpone election
Similarly, INEC has been warned by the Civil Society Legislative Advocacy Centre (CISLAC), and Transparency International (TI) not to postpone next month's presidential polls.
Most recently, the INEC chairman, Mahmood Yakubu threatened that next month's presidential poll is at risk of being postponed.
However, his statement has been critiqued by electoral stakeholders with many saying it will not be accepted.
Source: Legit.ng