30 wall painting designs for your room with pictures to try out in 2023
A bedroom is special because it is a place to escape, relax and rest. Did you know the painting design for a room affects your mood and how well you rest? It is important for everyone to design the perfect bedroom for themselves or their loved ones.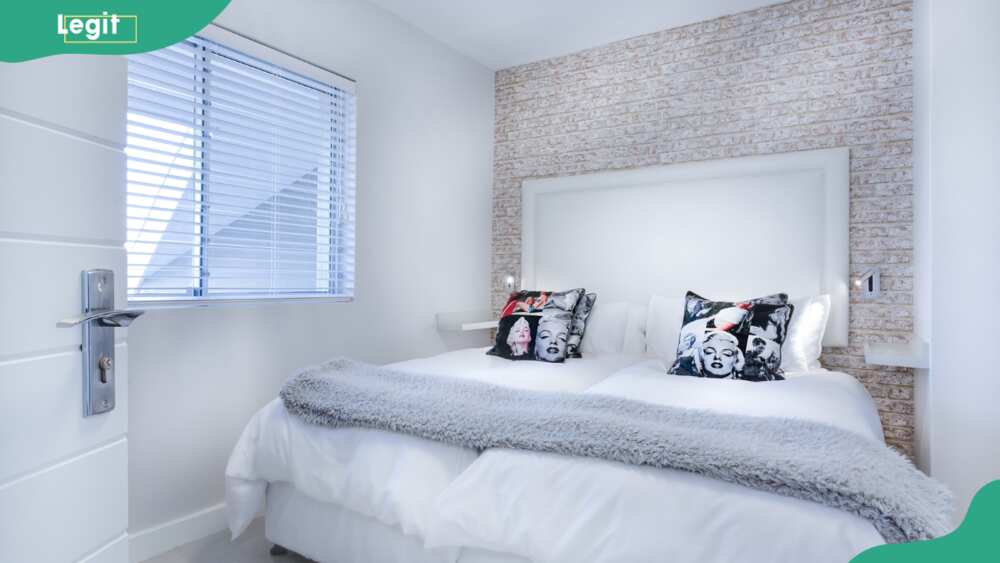 Your room should be a peaceful place away from the distractions of life. The painting design for a room affects your mood and emotions. You should ensure this important space feels peaceful and is the voice of your personality.
Painting design for a room
There are hundreds of house painting designs and colours to choose from in present-day society. Some people prefer neutral colours, while others want more vibrant options for their rooms. Below is a collection of options you can use when creating your special place.
1. All-white
White is described as a bland and sterile colour. It is associated with cleanliness and purity. Numerous people globally use white paint on walls. You cannot go wrong with white if you want a peaceful, airy, and relaxed bedroom.
2. Cream
While white provides a crisp and clean look, it may be too bland for some people. If you still want a crisp look for your private space but do not want to go all white, cream is the perfect choice for you. Cream is a versatile colour that can pair well with any style and design and is one of the most chosen wall painting designs for a living room.
3. Deep grey
If you are looking for the best room painting design for guys, consider going grey. Dark grey has a masculine nature and is associated with self-discipline. Besides, this colour is neutral and can be matched and contrasted with multiple other colours.
4. Patterned baby pink
Baby pink is a pastel pink that inspires feelings of kindness and compassion. It is associated with girlishness and is perfect for little girls and female teens. You can use wall stencils to create various patterns on the walls.
5. Bright orange with a floral mural
Orange walls are for bubbly people. This colour is quite bright and is associated with joy, tropics, happiness, and determination. Did you know this colour combines the energy of red and the happiness of yellow? This colour can be aggressive. You can tone it down with a flower mural.
6. Sky blue
Sky blue is associated with the sky and water. People who choose this colour for their rooms associate it with cleanliness, clearness, and openness. It is a good choice for young boys.
7. Olive green
Olive green is a cool and sophisticated colour that makes a good choice for your room. It is associated with stability and grounding, making it a popular choice for interior decor. If you are looking for a cool painting design for a sitting room, you can also consider this colour.
8. Patterned-maroon design
Maroon is a dark red colour with a slight brownish tone. Do you know it means chestnut in the French language? It is a powerful yet reserved and refined choice for adults. You can have stencilled maroon patterns in your room if you feel plain maroon is a bit too dull.
9. Cobblestone effect
Cobblestone is a natural building material based on cobble-sized stones. In the past, cobblestones were typically used for pavement roads, streets, and buildings. Today, they are being incorporated in interior design as paintings or wallpapers.
10. Plain pastel pink
If you are an adult female who wishes to be taken back to childhood every single night, this is the perfect choice for you. Pastel pink is girlish and easy to pair with other colours. You can add some oomph to the room with wall hangings.
11. Yellow goodness
Yellow is associated with the sun and happiness. If you want your room to feel like sunshine, go for yellow. This is a pretty loud and bold colour for walls. You can hush it down a little using neutral-coloured furniture and bedding.
12. Heather purple
Heather purple is ideal for people who are spiritual and love spending time reconnecting with their inner selves. This colour is associated with spiritual transformation, enlightenment, and inner peace.
13. Red
Red demands attention, and so does the lover of red. It is impossible to ignore this colour on a wall. In fact, if you use too much of it in your room, people may start questioning your sanity. This colour is best used on a single wall instead of all walls.
14. Black
Black represents power and control. It is often considered as intimidating, unapproachable, and negative. Even so, it is a pretty bold choice associated with luxury, sophistication, strength, and confidence. Colourful wall hangings can be used to break monotony.
15. Pink-grey combination
Pink and grey walls work beautifully together to create a calm and sophisticated colour scheme. This scheme is ideal for a baby girl's nursery. You can paint the top half of the wall with one colour and the bottom half with the other.
16. Brown and white combo
A brown and white-themed space is inviting, warm, and trendy. These two colours are ideal for bedroom décor because they create clean lines and give a fresh and balanced ambience. Besides, they give you room to accessorise the space with multiple other colours.
17. Blue-orange elegance
Blue is a complementary colour that contrasts with orange. Together, they create the strongest visual impact. This combination is best for passionate people.
18. Purple and white
Purple and white are pleasing and calming. The two have a beautiful and uplifting effect when used together. This combination is mostly picked by teen and adult women who feel pink is a little too girlish for them.
19. Yellow-white combo
While yellow is a happy and youthful colour, it can be too much for a sleeping space. Painting one wall a bright yellow and the other walls in white tones things down. These fun colours can be mixed and matched with multiple other colours.
20. Chocolate brown
Chocolate brown is associated with warmth, security, and comfort. Who doesn't want a comforting room? Many people choose brown as a reflection of nature, autumn, and melancholy because brown is the colour of the earth.
21. Light brown
Lovers of brown who may find chocolate brown a bit dull can opt for a lighter shade of the colour. Light brown is friendly, welcoming, honest, and genuine. It is also a hushed colour that can be matched and contrasted with multiple other colours whenever you wish to do a mini room makeover.
22. Black and white
Black and white are monochrome colours that are ideal for people who want less yet more. This combination is classy and timeless. Wall lighting can add more oomph to the room.
23. Royal blue
Royal Blue is a deep, vivid blue that pops in any design. It is a peaceful and relaxing colour that is perfect for a bedroom because it is linked to harmony, serenity, and balance.
24. Turquoise and white
Turquoise is the colour of wonderfully peaceful tropical waters. It is often associated with serenity. Pairing it with white leads to a vibrant yet pleasing outcome.
25. Multi-coloured stripes
Stripes tend to create the illusion of space. Vertical stripes make ceilings look higher. If you wish to create the illusion of high ceilings, you can choose a multi-coloured vertical stripe design.
26. Teal
Teal represents balance, calm, and soothing energy. It is also restorative and rejuvenating. Did you know it is made of shades of blue and green? It evokes a sense of calm and restfulness in a room.
27. Chevron design
The chevron design is an ornamental pattern featuring a V-shaped design that forms a continuous zigzag. While it may feel a bit busy for some people, it is a design worth trying.
28. Wood effect
The wood effect represents vitality, growth, and new beginnings. This effect gives the colour and graining of real wood. It is beautiful and makes the room feel cosy.
29. Navy blue
Navy blue is a great colour for a bedroom because it creates a calming mood. It dissolves tension and promotes tranquillity.
30. Cool purple
Purple is linked to royalty, power, ambition, and luxury. This deeper hue of purple is bold and inviting. If you have been wondering how to decorate a room with paint, choosing the correct paint for your walls is one of the biggest tricks.
How can I decorate my room beautifully?
You can decorate the room by choosing your wall colour(s) based on personal preferences. Next, ensure your bedding and all furniture go well with the walls. Get rid of clutter, and always keep your space neat and clean.
Which paint is the best for wall art?
Acrylic paints are recommended for wall art because they work on almost all surfaces, including floors and walls. They also dry quickly.
How do you choose a proper wall colour?
You can choose the correct colour by understanding the purpose of the space. Next, consider the preferences of the users of the room. If in doubt, go for neutrals.
What is the most common wall colour to use?
White is arguably the most popular colour for walls. This is because white walls contrast beautifully with all other colours.
If you have been searching for the best painting design for a room, look through the designs above for inspiration. We hope you get inspired enough to make your room the most peaceful space.
Legit.ng recently published a list of online jobs for students in Nigeria that require little to no investment. Numerous Nigerians are working online, especially after the Covid-19 pandemic.
Technological advancements have made the world a global village where people can work remotely. People of all ages can work remotely, including students.
Source: Legit.ng