33 best white rappers: most famous rap artists of all time
Hip-hop is a genre that is primarily dominated by African-American rappers. The genre originated in the Bronx borough of New York City, USA. It has since attracted many other artists, especially white rappers. These artists have defied all odds and are growingly rapidly in this industry. They have proven that anything is possible, demonstrating their lyrical prowess with passion and skill.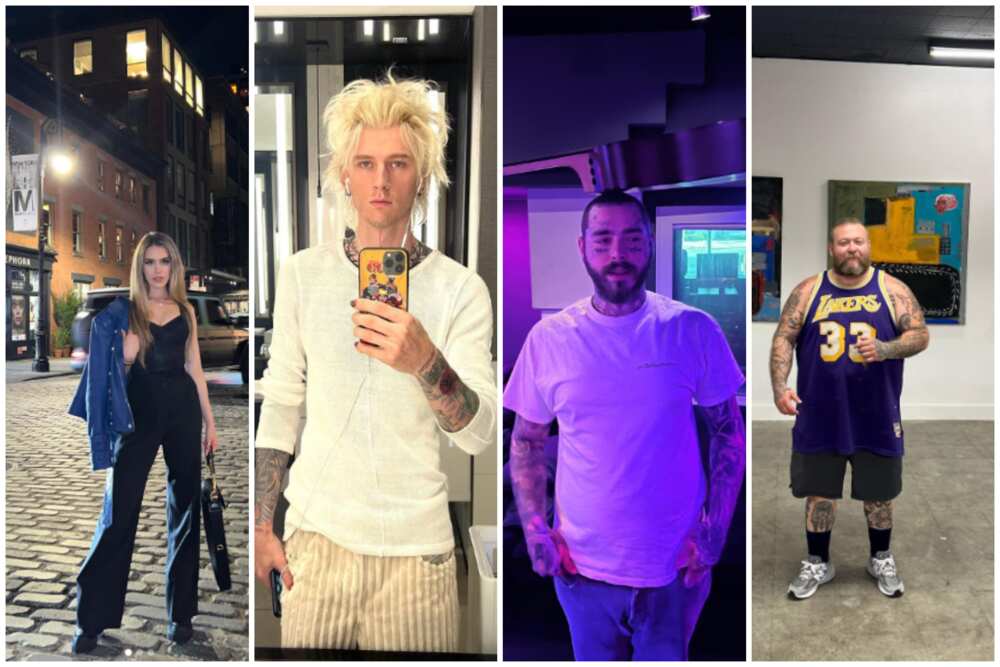 Rap music is therapeutic and is a powerful medium for artists to express themselves creatively. Artists tell their dark stories of victory or overcoming addictions through hip-hop music. Rap is relatable because it is constantly in touch with the things affecting society, especially among the young generation.
33 best white rappers of all time
Many artists have a way of expressing themselves in music. Rap music makes most of these musicians openly speak on matters affecting the community and the world. Here are some of the best white rappers of all time.
1. Eminem
Eminem, born Marshall Bruce Mathers Jr., is at the top of the list of white rappers of all time. He is well known for his hip-hop style of music, selling over 130 million albums globally. Eminem's music features his struggles, experiences, and perspectives about family and relationships. His iconic album of all time is The Marshall Mathers LP, released in 2000.
2. Post Malone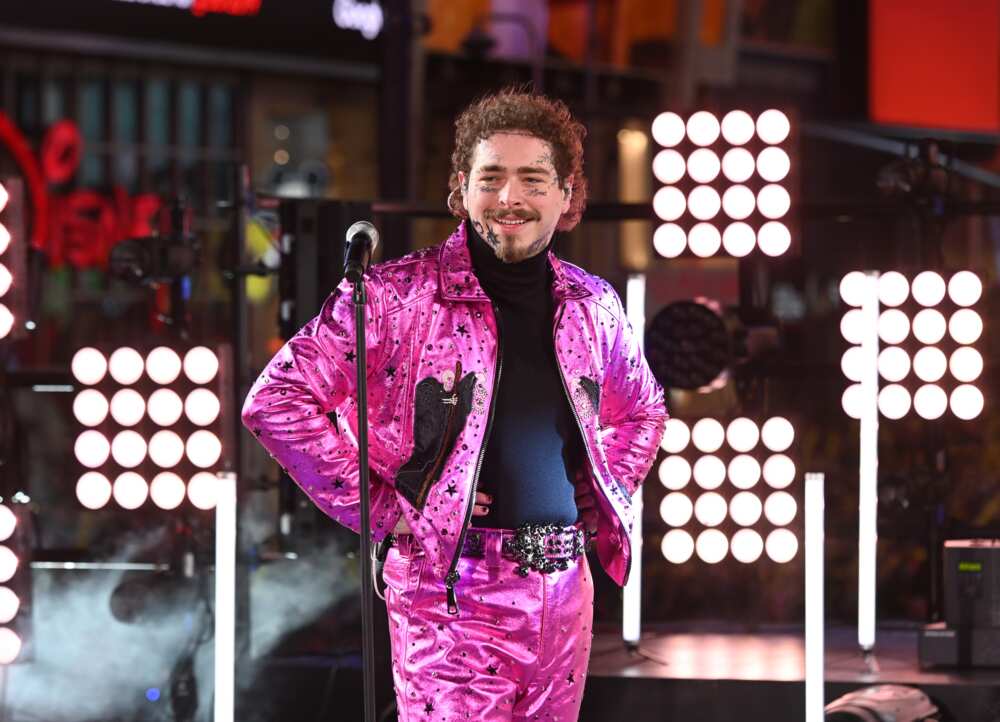 Austin Richard Post (Post Malone) is an American rapper, singer, songwriter, and record producer. Post Malone has been applauded for doing a music blend of hip-hop, R&B, pop, trap, rap-rock, and cloud rap. He is one of the best white rappers, with most of his hit songs on top of the US Billboard Rap Airplay and Adult Contemporary charts.
3. Machine Gun Kelly
Colson Baker is among the most popular white rap artists in America. He goes by the name Machine Gun Kelly (MGK) and is known for his energetic and versatile style, combining rap and rock influences in his music. Some albums under his name include Lace Up, General Admission, and Bloom.
4. Sarai Marie Howard
Sarai is an American rapper born on 23 January 1981 in Kingston, New York, USA. She landed a deal with Epic Records shortly after moving to Atlanta becoming the first white female rapper to be represented by a major U.S. label. Her hit songs include What Mama Told Me, Till the Sun Comes Up, and Ladies.
5. G-Eazy
G-Eazy, whose real name is Gerald Earl Gillum, is a well-known American rapper born on 24 May 1989 in Oakland, California. His first major-label album, These Things Happen, peaked at number 3 on the US Billboard 200. His other notable albums include When It's Dark Out and The Beautiful & Damned.
6. The Kid Laroi
Charlton Kenneth Jeffrey Howard, professionally known as the Kid Laroi, is one of the white male wrappers who started their career at a tender age. The Kid Laroi hails from Australia and is well known for his music blend of hip-hop, pop, and R&B. Some of his songs include Thousand Miles and Kids Are Growing Up.
7. Yelawolf
Michael Wayne Atha, famously known as Yelawolf, is an American rapper from Gadsden, Alabama. He is a white rapper well known for his debut studio album, Radioactive. This is one of the albums that has earned him fame. It was recorded after signing to Eminem's Shady Records in 2011.
8. Logic
Sir Robert Bryson Hall II, aka Logic, is a successful white rapper from Gaithersburg, Maryland. He had a troubled upbringing, with his father being a substance addict and his mother verbally abusive. However, he overcame these challenges and became one of the well-sought-after rappers of his time.
9. David Burd
David Andrew Burd is known for his comedic and witty lyrics. He is among funny white rappers who rap about relatable and humorous situations. Tracks such as Ex-Boyfriend and Freaky Friday featuring Chris Brown showcase his lighthearted and comedic approach to rap.
10. Macklemore
Macklemore was born on 19 June 1983 in Seattle, Washington, U.S.A. He is a famous white rapper known for Tammy, Downtown, and Horrible Bosses 2. His music features themes like substance use and recovery, fame, honesty, and reflection on personal growth.
11. Mike Shinoda
Mike is one of the rap stars whose music started to shine through other stars. He started playing music and writing music at a young age. He co-founded the rock band Linkin Park in 1996 alongside Rob Bourdon and Brad Delson. The rapper was also the band's collaborative vocalist.
12. Action Bronson
Ariyan Arslani, best known as Action Bronson, is an American rapper, chef, and television personality. Bronson is known for his songs Baby Blue, The Chairman's Intent, and Let Me Breathe.
13. Aesop Rock
Aesop Rock, whose real name is Ian Matthias Bavitz, is an American rapper, producer, and visual artist known for his intricate and dense lyrics. He is one of the fastest white rappers of his time.
14. NF
NF, better known as Nathan John Feuerstein, is among the top white rappers in the music industry. He is known for his ability to convey deep lyrics that connect him to his listeners. NF first gained attention with the release of his self-titled EP in 2014.
15. Paul Wall
Paul Michael Slayton, better known as Paul Wall, is another best white rapper of all time. He is best known for his hit songs, Break Em' Off, Dying Breed, and I'm Throwed. Paul, also a DJ, began his music career performing alongside fellow Houstonian Chamillionaire.
16. R.A. The Rugged Man
Ryan Andrew Thorburn, known by his stage R.A. The Rugged Man is one of the best white rappers of all time. He is known for his fearless style of approaching music which has won him a huge fanbase in the music industry. Some of his acclaimed tracks include Uncommon Valor, Definition of a Rap Flow, Learn Truth, and The Dangerous Three.
17. Kid Rock
Robert James Ritchie, aka Kid Rock, is an American rapper, rock musician, singer, and actor from Romeo, Michigan. He's well-known for his roles on The Simpsons, Joe Dirt, and Osmosis Jones. He blends his music with rock, rap, and country music.
18. Brother Ali
Brother Ali has effortlessly put his name into the reputable circle with more than a half-dozen albums. Eight of his albums have received critical acclaim, and he has also received partner ventures and collaborations. He is well known for tracks like Forest Whitiker, Uncle Sam, and Mourning in America.
19. Jack Harlow
Jack Harlow is an American white rapper from Louisville, Kentucky. He has a unique style of music that allows him to upbeat, personal, and introspective songs. Harlow has been a heavy player in the rap field and continues to come out with songs like Already Best Friends.
20. Pitbull
Pitbull, born Armando Christian Pérez is from Miami, Florida. He has achieved widespread success and recognition nationally and internationally for his rap music incorporating Latino influences. Pitbull's breakthrough came with his album M. IAMI in 2004, which included hit singles like Culo and Toma.
21. 360
Matthew James Colwell, popularly known as 360, was born on 12 July 1986. He is an Australian white male rapper who started his music career by releasing mixtapes. His hit songs include Boys Like You and Tiny Angel.
22. Lil Wyte
Lil Wyte was born Patrick Lanshaw in Memphis, Tennessee. He is among the white male rappers with a southern-influenced rap style. His music includes a gritty and energetic style with street-life themes.
23. Riff Raff
Riff Raff, born Horst Christian Simco, is one of the hardest white rappers of his time. He began rapping in 2005, coming into the limelight in 2011 when he released his first mixtape, Summer of Surf. His notable songs include How to Be the Man and Riff Raff Freestyle.
24. Hoodie Allen
Hoodie Allen has made his way up to the white rappers' list. He first gained attention with the release of his debut mix tape, Pep Rally, in 2010. His music resonates with a wide audience because of his catchy hooks and comedic lyrics.
25. El-P
El-P was born in Brooklyn, New York, U.S.A., as Jaime Meline. He is a renowned white rapper, record producer, and entrepreneur. His music is characterised by heavy beats and introspective lyrics. Some of his solo albums include I'll Sleep When You're Dead and Cancer 4 Cure.
26. Vinnie Paz
If you want to hear some truths about religion, politics, and real-life struggles, this is the person to listen to. His tracks explore topics dear to him, making him one of the top white rappers. Paz has made meaningful collaborations with prominent artists like Celph Titled.
27. Zack De La Rocha
This is one of the white rap artists that is worth listening to. He uses the stage as a platform for addressing important societal issues. Zack is known for his rap-rock fusion music style that resonates with many followers.
28. Erik Schrody
Erik Schrody, Everlast, is an American musician, rapper, singer, and songwriter. He rose to stardom after being part of the hip-hop group House of Pain. One of his famous albums is Whitey Ford Sings the Blues.
29. Weird Al Yankovic
Weird Al Yankovic is among the white rap artists with humorous lyrics flowing from their hearts. Some of his most famous parodies include songs like Amish Paradise, Eat It and Like a Surgeon.
30. Chris Webby
Chris Webby is an American rapper with a huge fan base. He is among the list of white rappers with a huge fanbase. Some of his notable songs include La La La, Chemically Imbalanced, Rookie of the Year and Raw Thoughts.
31. Tyler Joseph
The list of popular white rappers cannot be complete without the mention of Tyler Joseph. He is an American singer, songwriter, multi-instrumentalist, record producer, and rapper. Along with drummer Josh Dun, Joseph is the lead vocalist for the musical duet Twenty-One Pilots.
32. Lil Peep
Lil Peep's music resonated with a generation related to his openness about mental health issues and personal struggles. Even though he passed away at 21 on 15 November 2017, the star impacted the rap industry.
33. Rittz
Jonathan McCollum, better known as Rittz, is an American rapper. He is one of the white rappers with clear and rapid music, creating a better understanding with his fans. He is known for The Life and Times of Jonny Valiant, released in 2013.
White rappers have changed the narrative that African-American artists are the only best rap artists. You will not be disappointed if you listen to their tracks as they have skillfully arranged their lyrics, leaving an indelible mark on the genre.
Legit.ng also published an interesting list of the richest Nollywood actresses. The Nigerian film industry has many beautiful and talented actresses who have amassed wealth and riches from their acting skills.
Their hard work has earned them financial success. The list includes actresses featured in numerous productions and are household names in the industry.
Source: Legit.ng