50 best anime couples of all time that are relationship goals
Human beings love a good romantic story that has a happy ending. The idea of couples falling in love has been depicted in numerous TV shows and movies, making them popular. Anime films have countless romantic couples that are fascinating due to the emotions and feelings they evoke. Discover some of the best anime couples of all time from various genres.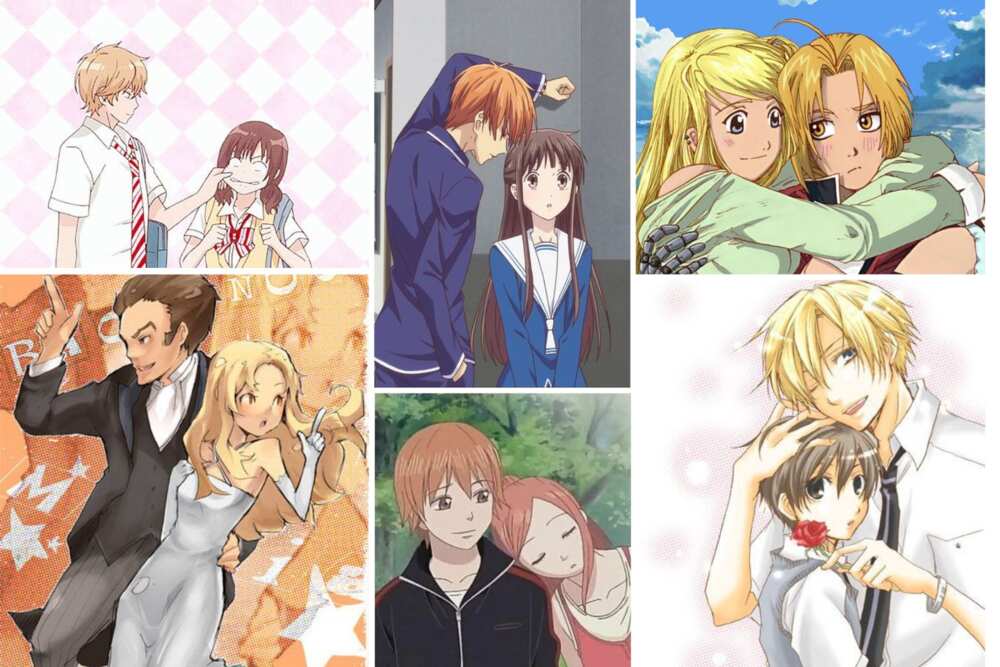 Anime couples have entertained viewers for a long time with their love stories. The creativity and fantasy make them more attractive and entertaining to watch. Here is a comprehensive list of the best anime couples if you are a fan.
Best anime couples of all time
Anime couples serve as couple goals for their fans as they showcase love's different challenges and wins. Here are the best anime couples fans have come to love.
Top anime couples
Animation is full of creativity, fulfilling viewers' fantasies on different matters, including love. Here are the two anime couples whose relationships can be emulated in real life.
Isaac and Miria
These protagonists in the hilarious anime series Baccano! are not your regular couple. They are romantic partners as well as partners in crime. The two have the perfect ending.
Misato and Ryoji
These two love birds introduce adolescent emotions in Neon Genesis Evangelion, a late 90s anime series. The two offer an interesting look at the hormonal teenagers as they pilot the Evalion mecha.
Kirigaya and Yuuki
This couple is from the anime TV series Sword Art Online where the main protagonists. The most powerful couple brings the audience action, fantasy and emotions.
Kaori and Kousei
Kaori and Kousei are the main protagonists in the romantic anime comedy Shigatsu wa Kimi no Uso. They bond over music and their passion for the piano and violin recitals in high school.
Shirayuki and Zen Wistalia
These two are characters in Snow White with the Red Hair. The two meet in the forest, and Shirayuki escapes from Prince Raji. They fall in love and bond over their strong moral code.
Koizumi and Otani
Koizumi Risa and Otani Atsushi are high school sweethearts from the anime Lovely Complex. Their love story is complicated as they were rivals initially, with their stature being the cause of their conflict.
Sawako and Shouta
Sawako and Shouta are a couple from Kimi ni Todoke. They are high school students who fall in love instantly after talking to each other.
Kyo and Tohru
This is one of the best-loved anime couples from the comedy anime series Fruits Basket. Tohru comes from a cursed family, but Kyo loves her. They face obstacles, but they overcome them in the end.
Saito and Louise
Louise is a student who never succeeds in her magic classes and is nicknamed "The Zero". She recruits Saito to do her chores and is rude to him in the begging. As they work together, she falls for him.
Kyouya and Erika
The duo is from one of the best examples of Shojo anime Ookami Shoujo to Kuro Ouji – also known as Wolf Girl and Black Prince. Their love story starts with a lie and eventually becomes a reality as the series progresses.
Cute anime couples
Anime couples are cute to watch, and their love stories grows. These are some of the cutest anime couples from various genres.
Haruhi and Tamaki
The two are students of Heran High School with opposite but complementing characters. Tamaki is overconfident, while Haruhi is sensible, making them such a cute and balanced couple.
Haru and Shizuku
Haru and Shizuku are the true definition of opposites attract. Shizuku is goal-oriented, focusing on being the top student, while her desk mate Haru is a troublemaker. Despite their differences, they fall in love.
Kyou and Tohru
Kyou is a bad boy, and troublemaker who 16 year old Tohru can't ignore. The curse of the Sohma clan does not deter Tohru from falling in love as she learns more about it with her classmates.
Izumi and Ryouma
The two prove that same-sex love has a place in the entertainment business. Izumi gets into the show business, where he is forced to play the role of a girl. While at Ryouma, a boy falls in love with his feminine side.
Winry and Edward
Winry and Edward are childhood friends in Full Metal Alchemist. The two have strong personalities making them always to argue. They fall in love in the end despite their stubbornness.
Takeo and Rinko
These two lovebirds are from the anime series Ore Monogatari translated as My Love Story!! Takeo struggles to find a girl in high school until he rescues Rinko, whom he falls in love with. This is not without confusion and obstacles, but love wins.
Kou and Futaba
This cute couple in the Ao Haru Ride anime series explores the possibility of falling in love more than once with the same person. Futaba reconnects with ex-boyfriend Kou in high school. Although he has changed for the worst, they fall in love again.
Kazehaya and Sawako
Sawako is the main protagonist and a scary girl whose reputation has been tarnished. However, one encounter with her idol Kazehayas gives her confidence, and she falls for him.
Hashimoto and Chibana
They are a couple from The Stranger by the Shore who meet in unpleasant circumstances. One shoots the other, which is where the romance begins.
Victor and Yuri
Yuri and Victor inspire each other with their hard work and talent. They end up one as a couch and the other as a skater trainee. They fall in love along the way.
Popular anime couples
Anime series are known for showcasing love and romance. These are the popular anime couples fans are obsessed with.
Ban and Elaine
The love story of Elaine and Ban is one of the most unlikely due to their differences. Ban is edgy while Elaine is frail, but the two somehow fall in love.
Nanami and Tomoe
The duo appear in Kamisama Kiss anime. Nanami Momozomo becomes homeless after her dad rans away due to debt. She helps a man known as Mikage who gives her shelter. This is where she meets the love of her life Tomoe.
Ken and Touka
Ken is the main character in Tokyo Ghoul, who falls in love with Touka. The romance between these two proves that despite the horror of life, you can have a heart to love.
Kazuma and Megumin
The couple from the KonoSuba anime TV series gives the audience the intrigues of a secret relationship. Although Megumin is not the only one after Kazuma's love, she is chosen.
Elizabeth and Meliodas
This is a couple from The Seven Deadly Sins, set in medieval Europe. It is a love that involves a goddess and a demon, but their relationship is linked to their destinies.
Hak and Yona
The two give viewers a royal romance in the Yona of the Dawn anime. Hak, a bodyguard and Yona, a princess, has had a share of tragic moments. Although Yona is next in line to inherit the throne, she is forced to flee the kingdom and falls in love with Hak.
Yuu and Haruka
Yuu Sonoda and Haruka Takayama are characters in the anime Sakura Trick. They have been friends since middle school. Their relationship showcases same-sex relationships and the challenges they encounter.
Tomoe and Nanami
Tomoe and Nanami are characters from the anime Kamisama Kiss. The two meet in Mikage's house and fall in love despite the opposition of Yokai.
Suzaku and Euphemia
This couple gives the viewers intense romance with each step they take together. Their love is the only glimmer of hope in the dark times as it is sweet and pure.
Inuyasha and Kagome
They are the main protagonists in the action-adventure, Inuyasha. The couple is embroiled in a love triangle. In the end, viewers sigh in relief as they finally get together.
Iconic anime couples
There are anime couples that you can never get enough of. These are the most iconic anime couples of all time.
Android 18 and Krillin
Krillin and Android 18 are the iconic couples no one expects. Krillin has a big heart, contrasting with the heartless Android 18.
Holo and Lawrence
The two are the main protagonists in Spice and Wolf. Although Holo is a wolf, she finds love in Lawrence, a businessman. They fall in love, and she doesn't hide her pointy ears and brushy tail.
Meruem and Komugi
This is one of the oddest couples in Hunter X Hunter. Komugi, Gungu Champion, falls in love with Mereum, the main antagonist and King of the Chimera Ants. After many challenges and battles, they settle happily together.
Mikasa and Eren
The romance between the two is in the post-apocalyptic anime series, Attack on Titan. The two contrast each other, but they make it work.
Ichigo and Orihime
Ichigo and Orihime are complete opposites who fall in love. Orihime is sensitive, soft-spoken and kind. Ichigo, on the other hand, is loud, stubborn and short-tempered.
Yato and Hiyori
This is one cool anime couple is in the Noragami series. The two share a mutual affection reflected by how they treat each other.
Renji and Rukia
Renji and Rukia have been lovers since their youth days. Although it looks like Rukia and Ichigo may be a thing at some point, Renji wins her heart.
Tatsumi and Mine
This duo's relationship starts after tragedy strikes. Mine tries to hide her feelings for Tatsumi, but after she is injured, she professes her love.
Kaori and Kousei
This couple is one of the most relatable couples in the anime world. Their relationship is marred by baggage from the past and other complications.
Kamina and Yoko
Kamina is one of the best-loved anime characters, and his relationship with Yoko in Gurren Lagann is admired by many. They can't deny their love for each other.
Famous anime couples
Animes have some of the most endearing romances. Some famous anime couples expressed their love and connection on the screens.
Taki and Mitsuha
In the movie, Your Name, Taki and Mitsuha are teenagers who can switch bodies. The two fall in love as they live each other's lives and understand each other more.
Usagi and Mamoru
Usagi Tsukino and Mamoru Chiba are different from your average teens. They are reincarnations of Prince Endymion of Earth and Princess Serenity of the Moon Kingdom. Despite their long separations in Sailor Moon, they find each other and fall in love.
Naruto and Hinata
Naruto Uzumaki and Hinata Hyuga are a couple in Naruto, a Japanese manga series. The two meet as he tries to save her from bullies in their teen years.
Yuki and Zero
The two are students at human and vampire school. Zero is a human who turned vampire, and Yuki is human. He keeps her safe despite his thirst for her blood, and they fall in love.
Yuuko and Teiichi
This couple explores the possibilities of love transcending life and death in the Tasogare Otome x Amnesia anime series. Two meet as Teeichi runs into Yuuko, a ghost who died years ago.
Makoto and Chiaki
This is a couple in The Girl Who Leapt Through Time that depicts how love can be unspoken and fleeting. They start as close friends as Makoto tries to manoeuvre her powers but end up liking each other.
Kurisu and Okabe
These two were destined to be together as they incorporate love and time travel at Stein's; Gate. Despite the obstacles, they still find a way to each other.
Chiyo and Umetarou
This love story starts with a misunderstanding that ends up in a friendship. Fans can't guess where it's going, but they're rooting for this couple.
Ryuuji and Taiga
Ryuuji and Taiga are a cute couple in Taradora, a rom-com anime series. These two high scholars serve the audience with fun times and cute romance.
Kenshiro and Yuria
Fist of the North Star is one anime movie full of violence, but Kenshiro and Yuria's romance is a great twist. Although they face trials and tribulations in their relationship, they end up together.
Anime characters have served viewers with creative stories, and romance has been central to these stories. Anime couples have been couple goals for viewers as they depict relationship ups and downs. Many people can relate to these couples, making them their number-one fans.
Legit.ng published an article about cutest anime girls. The animation world is full of creativity and fantasy. This also includes the character's features and breathtaking looks.
Anime fans enjoy watching characters that stand out both in looks and personality. One of the anime characters that will keep you glued to your screen is the cute anime girls.
Source: Legit.ng