"Aketi Dey Kampe": Wife of Unwell Gov Akeredolu's Celebrates Husband at 67 As Hospital Photo Emerges
The First Lady of Ondo State, Mrs Betty Anyanwu-Akeredolu, has released the first photo of her ailing husband, Governor Rotimi Akeredolu in a birthday tribute on social media to celebrate his 67th birthday.
As seen by Legit.ng on Facebook, the Ondo State First Lady shared the photo on Friday, July 21, with the caption, "Aketi dey Kampe! Victory for us!"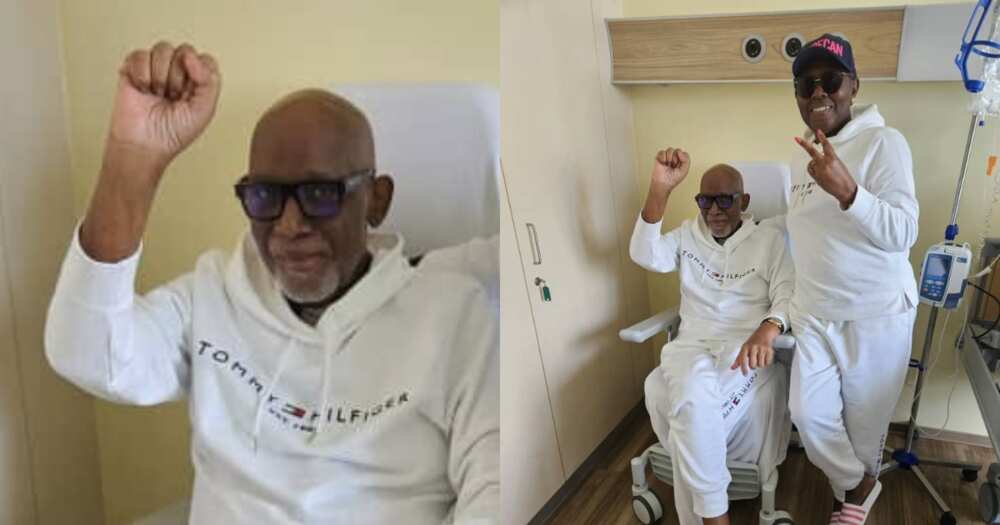 It would be the first appearance of the ailing governor on social media since he handed over the helm of affairs to his deputy, Lucky Aiyedatiwa, in June before departing for a medical trip for treatment.
According to SaharaReporters, Akeredolu had departed abroad to treat blood cancer (leukaemia), an illness caused by a rise in the number of white blood cells in the body.
It was further gathered that the ailing governor could not sign official documents before he departed for medical leave because of his health status.
The condition also led to the prohibition of mobile phones around him to prevent pictures of his ailing status from getting out on the internet.
After this development, the Ondo State government issued a statement confirming that the governor needed rest and would go on sick leave without stating his health condition.
The statement issued by the State'sState's commissioner for information reads:
"…he (Rotimi Akeredolu) has been attending to state matters and delegating functions to government functionaries when necessary."
On June 7, the governor officially sought medical leave and directed his deputy to act as the governor.
The medical leave has been extended indefinitely by lawmakers in the Assembly.
Source: Legit.ng