"Are the Parents Aware?": Yvonne Nelson Shares Video of Toddlers From Her Daycare, Sparks Mixed Reactions
After Ghanaian actress, author and filmmaker Yvonne Nelson posted a video from her daycare, Just Like Mama, the internet was flooded with diverse opinions
The video showed a little girl being protective of her male friend while pushing other ladies away from him as the rest of the class looked on
The video melted the hearts of Instagram users, while it sparked massive debate among Tweeps about whether their parents consented to the video
Diverse opinions were generated after Yvonne Nelson posted an adorable video of one of her female pupils attending her school, Just Like Mama, rubbing and tightly hugging another male pupil.
In the video, the little girl was seen being protective of her male colleague as she push other little girls away while the other classmates looked on.
The video has sparked massive reactions on social media as Instagram users admired the video, while Twitter users had a lot to say about it.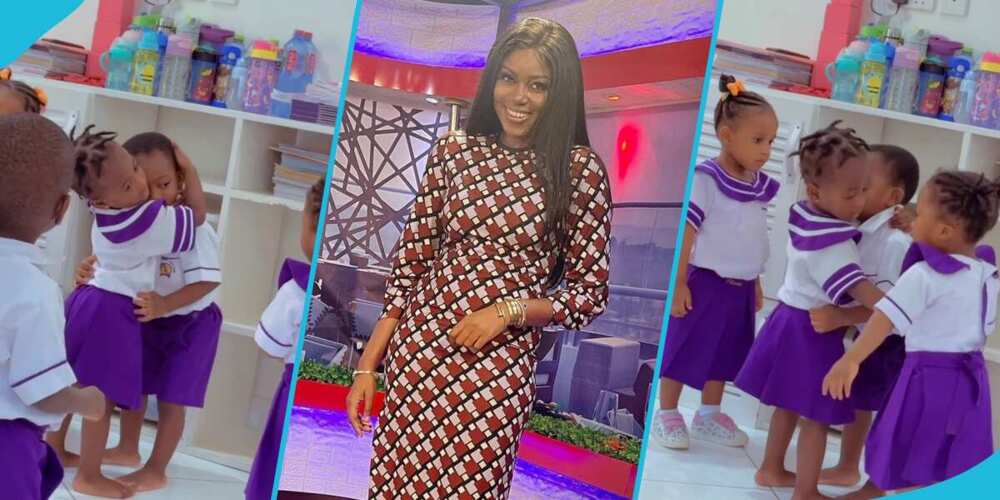 Instagram reactions on Just Like Mama video
When the video was posted on Yvonne Nelson's Instagram page, many people took to the comment section to speak highly of the little girl holding tightly to her male colleague.
PAY ATTENTION: Share your outstanding story with our editors! Please reach us through info@corp.legit.ng!
Many spoke about how she comes from a loving home and spreads that to her friends at school.
People spoke about how her parents are raising her well and how much of a caring and sweet mother she would be in future.
See some of the lovely comments on the video:
majestytwins stated:
No money can come between our love
krymimusic said:
It's the care and love the parents smother her in that she is replicating out there. Cute❤️ brother is enjoying early
ash_karamell remarked:
She's protective & territorial and cute
janet_oguns said:
All see is a caring girl who was brought up with so much love by mummy and daddy
damsel_cherry01 stated:
Na so me and my husband Dey now, I use love they keep my man from all does witches
mizz_esi commented:
When I get my own man
wear.necessities said:
Compassionate kids, lucky boy ❤️
beveliine remarked:
Y she only nice to the guy though? . Women supporting women in d mud
Below is the video posted on Instagram.
Twitter Reactions on Just Like Mama video
However, people on Twitter had opposing views on the video. Many were concerned about whether their parents knew the video was being posted online.
Others also believed that the video was not right and that they were kids.
See selected tweets from the comments and quoted replies of the post:
@johnstoni stated:
As cute as it is I definitely wouldn't want my daughter or son on social media without my explicit consent. Her mom approves though so let me just sit down
@mistameister remarked:
Are the parents aware their kids admitted into your school are being put on social media?
@official_clev said:
If you put my kids out there like this without my consent, I'll end you!!!
@kwadwosheldon said:
As usual there some dvmb @sses in the comments and quoted having zero idea about what's happening but chatting nonsense. This borders on their parents consenting to it to be posted on this platform and the subjects in the video being minors.. but you wouldn't know cos w'aden no sua! That's the context tho!
@_adofo__69 commented:
You are happy they are doing this? Ah
Below is the video posted on Twitter.
Reactions of the parents of the kids
However, another Tweep, @ChrisDeKing shared reactions from the parents of the kids in a Twitter thread.
He posted screenshots of the parents' comments and repost them on their various social media stories and pages.
See the reactions of their parents below.
Yvonne Nelson shares videos of new classrooms for her preschool, Just Like Mama
Just Like Mama Day Care proprietress Yvonne Nelson uploaded videos of her new classroom spaces as another academic term began.
The footage covered the neat white walls with colourful cartoon art and learning artwork.
The sleeping area had large cots lined up against the walls with a stuffed animal in each bed.
Source: YEN.com.gh