Bayelsa, Imo, Kogi Guber Polls: Nigerian Women Still Chasing 35% Affirmative Action
The upcoming gubernatorial elections in Bayelsa, Imo, and Kogi states have again missed an opportunity to produce women with leadership roles
This pattern echoes the discouraging trends observed in the previous general election and the composition of President Bola Tinubu's cabinet
The Nigeria Women Trust Fund (NWTF) is urging the government to actively prioritise and embrace the inclusion of women in key decision-making positions
FCT, Abuja – The much anticipated gubernatorial off-cycle polls in Bayelsa, Imo, and Kogi State are gradually reaching their penultimate stage.
Political parties and their candidates would be at loggerheads to secure a place at the helm of affairs in these respective States, and citizens would troop out in their numbers to exercise their civic duty to cast their votes for their preferred candidate.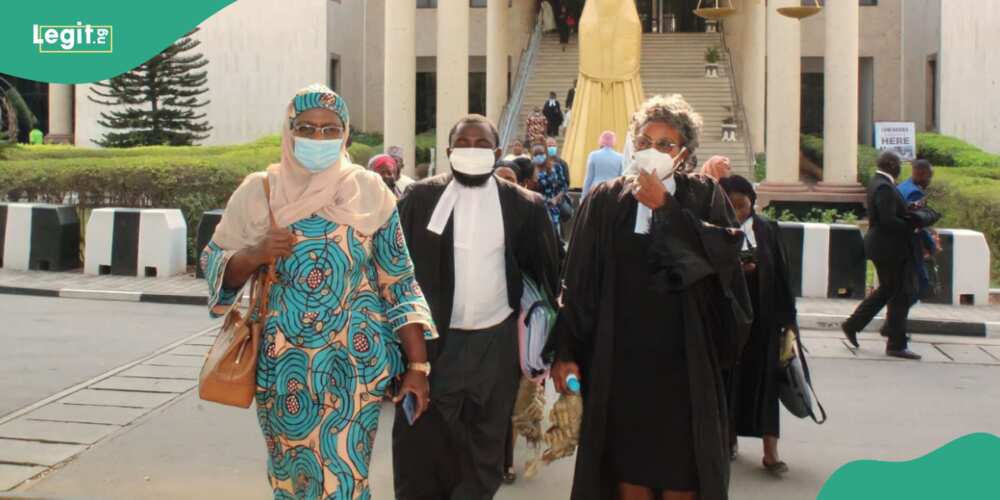 However, it is sad that the upcoming polls in these three states (Bayelsa, Imo, and Kogi) have been greeted with the poor representation of women yet again.
Only two candidates from the three major political parties (All Progressives Congress, Peoples Democratic Party, and the Labour Party) in the three states where gubernatorial elections will be held on Saturday, November 11, announced a woman as their running mate.
PAY ATTENTION: Сheck out news that is picked exactly for YOU ➡️ find the "Recommended for you" block on the home page and enjoy!
Uzodimma, Dino picks female running mates
They include APC's candidate in Imo State, Governor Hope Uzodimma, who ditched his deputy for Chinyere Ekomaru.
At her unveiling, Governor Uzodimma said:
"I have picked a female deputy governorship candidate in the person of Chinyere Ihuoma Ekomaru. I believe she will add value to this ticket. I expect Imo women to appreciate this gesture as my genuine appreciation of their innate strength and capacity to contribute to the growth of our state."
Similarly, Senator Dino Melaye, the PDP gubernatorial candidate in Kogi State, unveiled Habeebat Deen as his running mate.
Acknowledging the importance of women in governance and their numbers on the ballot, Senator Melaye stated that the former member of the Kogi State House of Assembly would carry women along in government and would make a lot of difference in mobilizing Kogi Central women for the PDP success in the governorship election.
Women's representation falters ahead of off-cycle polls
With just two gubernatorial candidates acknowledging the importance of women in election and governance, it further dents Nigeria's will to give room for the 35% affirmative action order issued by the Federal High Court on April 6 2022.
It's been well over a year since nine civil society organizations secured victory in a legal battle that mandated the federal government to enforce the National Gender Policy by allotting 35 per cent of appointments in the public sector to women.
After a stern legal battle faulting the federal government's bias against the inclusivity of women in high-ranking positions in the Ministries, Departments and Agencies, the federal high court in Abuja ruled that:
"Dismantling barriers to women's participation in public spheres has been achieved through progressive interpretation of municipal laws and international obligations and treaties.
"Formulating Policies based on sex, stereotyping, and feudal and patriarchal traditions will no longer be tolerated due to the supremacy of constitutional values."
This judgment was much talked about, widely commended, and credited to these nine CSOs who stood up for women.
They include the Nigeria Women Trust Fund (NWTF), International Federation of Women Lawyers, Centre for Democracy, Development (CDD -West Africa), and Women Empowerment & Legal Aid (WELA).
Others include Yiaga Africa, Women Advocates Research and Documentation Centre (WARDC), Vision Spring Initiatives (VSI), Women In Politics Forum (WIPF), and 100 Women Lobby Group.
However, the 2023 polls did not reflect this, as there was a low representation of women in the list of candidates who contested for the general election.
2023 polls: Women's representation in political offices greeted with poor stats
An INEC verified data curled from the Nigeria Women Trust Fund (NWTF) website showed that only 7.89 per cent was the average number of female candidates across all positions available.
The data revealed that 5.56 per cent vied for the presidency, 6.0 per cent for governorship, 8.36 per cent for the Senate, 9.23 for the House of Representatives, and 10.27 per cent for the State Assemblies.
In the aftermath of the election, former Speaker of the lower chamber and current Chief of Staff to the President, Femi Gbajabiamilla, acknowledged the failure of the legislative arm to pass the bill as instructed by the court.
He said:
"We fell short this time in our commitment to ensuring political empowerment and representation for women and other marginalized groups in our country.
"In the time we have left, we will work to understand why, as a first step towards ensuring the success of subsequent efforts."
Despite Gbajabiamila affirming the lower chamber's complacency to uphold the people's will, President Bola Tinubu became the last hope and point of call to adopt the 35 per cent affirmative policy strategically.
Only eight (8) females out of the 48 ministers cleared by the Senate made it to President Tinubu's cabinet.
NWTF recommendation and need to carry women along in governance
Reacting to this recent development, the Chief Executive Officer of NWTF, Brenda Anugwom, told Legit.ng that:
"President Tinubu has an opportunity to etch his name in the sands of time by being the first Nigerian President to implement the 35% affirmative action for women."
She said women have struggled to break the patriarchal stronghold of Nigerian politics due to a lack of political will, especially by the executive, to appoint enough women into their cabinets.
According to her, appointing women into ministerial positions, Board Chairpersons, and Executive Secretaries, amongst other critical roles, will build their leadership capacities to contest and win elections.
"While it is laudable that some political parties consider women as their running mates and potential deputies, we are hoping women have a proper transition into the position of Governors," she said
While Nigerian women still chase their 35% appointive position as stipulated in the National Gender Policy of 2006, there are immense opportunities for women to thrive in elective roles, as seen in recent times.
It is also imperative to add that the call for women to participate in Nigerian politics is not in a bid to compete with their male counterparts but to collaborate and contribute their quota to nation-building.
Bayelsa, Imo Kogi polls: INEC pledges to upload results on IReV
In another report, the Independent National Electoral Commission is prepared for the upcoming off-cycle elections scheduled for November 11.
The electoral body assures that the voting process in Kogi, Imo, and Bayelsa states will be conducted in a transparent and trustworthy manner.
Mary Nkem, INEC's acting director of voter education and publicity, has stated that issues encountered during the general elections earlier this year have been addressed and resolved.
Source: Legit.ng