BREAKING: Atiku's Spokesman Reveals "Alleged Reason" Why Tinubu Travelled to Europe
Atiku Abubakar's camp has reacted to the president-elect's trip to Europe, a few weeks before the May 29 handover ceremony
Atiku's Spokesman, Daniel Bwala disclosed that Tinubu's trip was a medical trip, not a working-visit trip as stated earlier by his media team
Meanwhile, Tinubu on Wednesday afternoon left Nigeria for Europe on a working visit, his media aide, Tunde Rahman confirmed
The camp of the People Democratic (PDP) flagbearer, Atiku Abubakar has reacted to the report of the president-elect, Asiwaju Bola Ahmed Tinubu's trip to Europe.
Atiku's spokesman, Daniel Bwala, took to his Twitter page on Wednesday, May 10, and reacted to the development.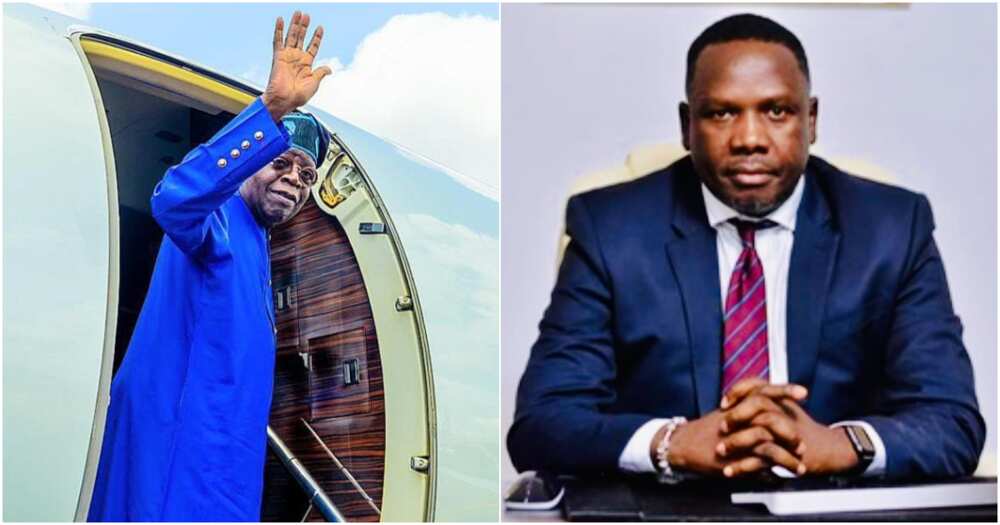 Atiku's camp reacts to Tinubu's trip to Europe
Bwala alleged that Tinubu's trip was a medical follow-up and not a working trip, as stated by his media team.
In a tweet sighted by Legit.ng, Bwala said,
"We have seen the movie before. Whilst PMB's media people were busy saying the president is on a working trip or visit, PMB keeps saying "I have never been this sick before". I thought Tinubu's media aides would learn from that; alas if it didn't Dey, it didn't Dey.
"Now they have learned to call the medical follow-up trip as a working trip. Hold on; he is not yet the president so technically it is wrong to call it a working trip or visit. It is better his media people learn to humanize him so they do not have to make lies a statecraft."
Nigerians react
Nigerians took to the Twitter comment section of Bwala and reacted to the development.
@ammaalo tweeted:
"SA Lamentation, this one too be headache right? I pray you get well soon from the trauma of the defeat."
@osquare78 tweeted:
"This foundation was established on lies. There's no going back on telling more lies."
@alefreewayy tweeted:
"I see no difference between tinubu and Buhari , just that they visit different countries for regular treatment."
@JIRECIOUS tweeted:
"Have you forgotten his response when he was asked about his plans if he resumes office, the first 100 days in office?: Hit the ground… Keep running… He hasn't resumed yet but he has started running. Lol."
@isaeliakwu tweeted:
"Dem say make I remind you say the back door still dey open sha."
@MangaUmar111995 tweeted:
"We are waiting for the investors and working document ahead of possible inauguration."
Tinubu departs Nigeria for Europe, 2 things top president-elect's agenda
Legit.ng reported earlier that Bola Tinubu, the president-elect, has again departed the country for Europe on Wednesday, May 10.
This was disclosed in a statement from the office of the president-elect on Wednesday, signed by Tunde Rahman and sighted by Legit.ng.
According to the statement, Tinubu's visit to Europe is premised on 2 main agendas, which are to fine-tune his transition plans and programme and to meet some investors.
Source: Legit.ng