BREAKING: President Tinubu Meets Okonjo-Iweala Again, Details Emerge
President Bola Tinubu met with the DG of the World Trade Organisation at the presidential villa in Abuja on Tuesday
Also at the meeting with the President was Dr Ali Pate, a former minister of state for health and recently confirmed ministerial nominee of Tinubu
Okonjo-Iweala and Pet served as ministers under former President Goodluck Jonathan, who was defeated by Muhammadu Buhari in the 2015 election
FCT, Abuja – President Bola Tinubu met with Prof. Ngozi Okonjo-Iweala, the director general of the World Trade Organisation (WTO), at the presidential villa in Abuja on Tuesday, August 8.
Vanguard said the former finance minister arrived at the presidential villa at about 2:50 pm. Also at the meeting was a former minister of state for health, Dr Ali Pate, who was recently screened and confirmed as a minister under President Tinubu.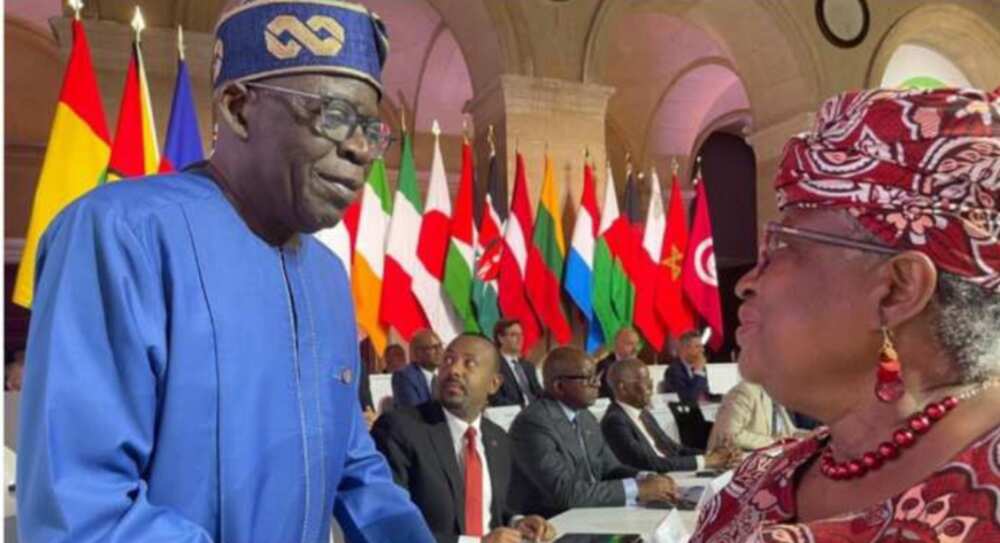 Jonathan's ministers meet Tinubu in Aso Rock
Prof. Okonjo-Iweala served as a minister of finance and coordinating minister of the economy, alongside Pate, under the administration of former President Goodluck Jonathan.
In late June, President Tinubu met with Okonjo-Iweala since he was sworn in for the first time at a summit in Paris, the capital of France.
Tinubu and Okonjo-Iweala attended the Global Pact Summit hosted by the France President, Emmanuel Macron, in Paris.
Why President Tinubu meets Okonjo-Iweala
The development came shortly after President Tinubu inaugurated a committee to reform the country's tax system.
Earlier on Tuesday, the president constituted a presidential committee on fiscal policy and tax reform at the state house in Abuja.
Tinubu has been keen on reforming the country's economy since his emergence as President of Nigeria. Okonjo-Iweala, on the other hand, is a known economic expert whom many experts have urged the president to work with, considering her position as DG of the WTO.
Source: Legit.ng