BREAKING: Tinubu Reveals Wike's Role In His Emergence As President-Elect
Bola Tinubu, the president-elect, has thanked Nyesom Wike, the governor of Rivers state for his support to him during the 2023 presidential election
Tinubu said though he fought very hard to emerge the victor in the election, Wike's structural support cannot be undermined in the narrative
The president-elect then commended the governor of Rivers state for fighting for the unity of the country, fairness and justice
Port Harcourt, Rivers – The President-elect, Bola Tinubu, has disclosed the role of Governor Nyesom Wike of Rivers State in his emergence as the winner of the 2023 presidential election.
The former governor of Lagos state, who spoke at the commissioning of the Raumuokwuta/Rumuola flyover bridge in Port Harcourt, the Rivers state capital, stated that he wouldn't have been president-elect if not for the support of Wike and others, The Cable reported.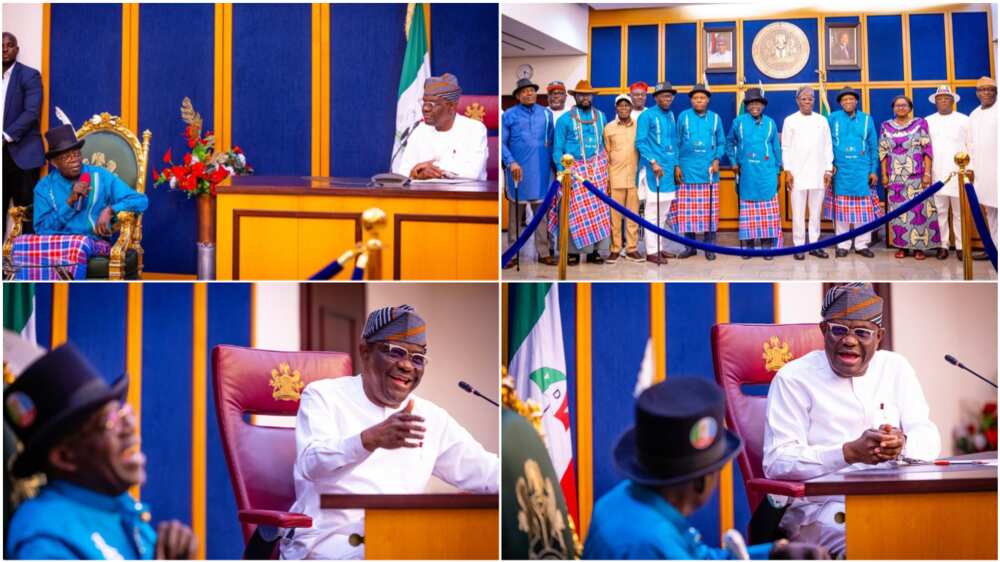 How Wike helped Tinubu during 2023 presidential election
Tinubu also revealed that he got some structural support from the Rivers governor, which really played a significant role in his victory during the election.
His word:
"I went through a gruesome campaign, fought hard, supported by many of you, and I won. Fair and square. Nyesom, I say thank you for your contribution to my victory. I couldn't have done it without some structural support as not describable in a flyover."
Latest about Nyesom Wike, Bola Tinubu, APC, PDP, 2023 Election, Rivers, Southeast
He then described the Rivers governor as a man of principle who took his stance that the power must return to the southern part of Nigeria. Adding that Wike had the courage to stand by his words without reckoning to "whose ox was gored."
The president-elect then commended Governor Wike for maintaining his integrity and serving the nation and not his personal interest.
Tinubu said Wike is a promoter of unity, fairness and a champion of justice.
"Our Party blended confidence with caution": Buhari reveals why Atiku, Obi lost to Tinubu
Legit.ng earlier reported that President Muhammadu Buhari has said the opposition lost to Bola Tinubu and the APC because of their overconfidence during the general election.
Buhari, in a veiled shading of Atiku Abubakar of PDP and Peter Obi of the Labour Party, who are the major oppositions, said they lied to their foreign allies that they would defeat the APC.
According to the president, the APC was careful and worked hard during the election, which why the ruling party retained power through the poll.
Source: Legit.ng