Climate activists put the heat on shareholder meetings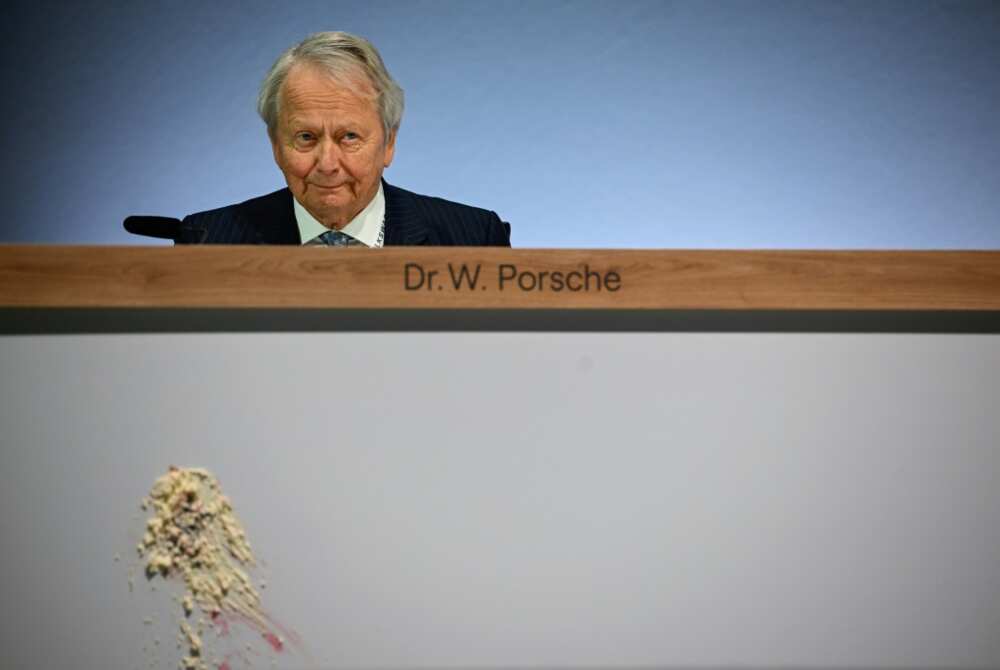 Climate activists are using shareholder meetings to turn up the heat on corporations about their carbon footprints, from flooding them with questions to more colourful tactics like singing or throwing cake at executives.
Last week's Volkswagen shareholders meeting was particularly testy, with a cake landing on the podium where supervisory board member Wolfgang Porsche, who was celebrating his 80th birthday, was sitting.
Scientist Rebellion activists held up a sign slamming the emissions from the group's vehicles. Another person took her top off in protest at the company's operations in China's Xinjiang region, where rights groups and the US say genocide is taking place.
"I wanted to go directly to the source of the car lobbies," said one of the activists, Monika Krimmer, a 60-year-old psychotherapist who held up signs and handed out fliers at the Berlin meeting.
In Paris on Tuesday, Scientist Rebellion members inundated BNP Paribas executives with questions about the European banking giant's climate strategy — to the point of angering shareholders who hurled insults at the scientists.
BNP bosses, however, answered the questions.
"Do not underestimate the targets we have set," said CEO Jean-Laurent Bonnafe, while refusing to draw a red line regarding firms that invest in new fossil fuel fields.
Spice Girls
Earlier this month in London, HSBC's gathering was repeatedly interrupted by climate activists, with some demanding that the bank stop investing in fossil fuel companies and others accusing the firm of lying.
Fed up with the interruptions, executives asked that the activists be escorted out.
Days earlier, a group of activists disrupted the Barclays bank meeting, changing the lyrics to a Spice Girls song to sing "stop funding fossil fuels and end this madness".
Lorette Philippot, a campaigner at environmental group Friends of Earth, said shareholder meetings are where companies discuss their performance and make new pledges.
"So it's our role as a counter-power to both tell the truth about their actions and prevent this annual display of greenwashing," Philippot told AFP, using the term for misleading climate pledges made by companies.
The meetings are also a chance to push companies to step up their climate ambitions, she added.
Virtual meetings
Activist actions at shareholder gatherings are nothing new — Greenpeace members rocked the meeting of French energy giant TotalEnergies in 2018, some hanging from the ceiling with signs reading "break free from oil".
But the "climate issue is rising in a somewhat radicalised way" with "more and more confrontations, sometimes violent", said Benedicte Hautefort, co-founder of Scalens, a financial technology firm serving listed companies.
In the United States, some corporations have avoided confrontation as they continue to hold virtual meetings, such as oil giants ExxonMobil and Chevron and banking group JPMorgan Chase.
"In a world where boards have precious little accountability, it's a step backwards," said Andrew Logan, senior director for oil and gas at Ceres, a nonprofit that works in favour of sustainability policies through capital markets.
Source: AFP