Eargo 7: the Best (and Priciest) All-Day Invisible OTC Hearing Aids
Techlicious editors independently review products. To help support our mission, we may earn affiliate commissions from links contained on this page.
The Eargo 7 are the most natural-sounding, worry-free, comfortable for all-day wear, and invisible self-fitting OTC hearing aids currently available. However, I recommend them with one big caveat – they are significantly more expensive than other products in the over-the-counter (OTC) category.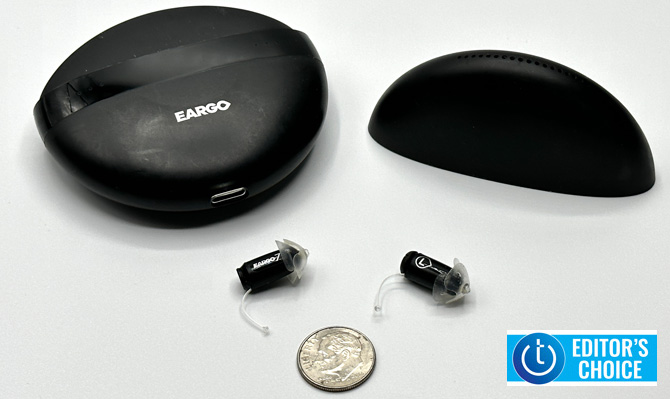 The whole idea behind the OTC hearing aid effort is to lower the cost of hearing aids by eliminating the expensive audiologist middle person. They are FDA-cleared Class II medical devices that are self-fitting, meaning you conduct your own app-based hearing test to tune the buds. So instead of spending $4,000-$8,000 on prescriptive hearing aids, most of the current first generation of OTC self-fitting hearing aids sells in the $700-$1,300 range. That's about a third of the price of the Eargo 7 ($2,950, currently discounted to $2,690). For instance, the best lower-cost alternative to the Eargo 7 is the Sony CRE-C10 is priced at $999, and offers similar invisibility and arguably better sound/voice amplification.
Why the extreme pricing delta between Eargo and its OTC self-fitting competition? Eargo's higher pricing includes virtual audiologist visits, whether you want/need them or not. This audiologist-included price premium is a shame because Eargo's hearing aids are a perfect all-day hearing solution for the tens of millions of folks with mild to moderate hearing loss who can't afford prescriptive solutions, exactly who the new FDA OTC hearing aid law is designed to address.
Ergonomics
Like the other two currently available Eargo models (the physically-identical Eargo 6 and Eargo 5) and Sony CRE-C10, the Eargo 7 is a tiny (less than 0.75-inches long) receiver-in-canal (RIC) device. This is in contrast to the more familiar over-the-ear styled hearing aids, such as the Lexie B2 powered by Bose ($999). The Sony CRE-C10 and Eargo models are designed to be virtually invisible, comfortable enough to be worn all day, and simply restore your "normal" hearing – and nothing else. There is no Bluetooth for phone conversations or music playback.
While the Sony CRE-C10 are small and all-day comfortable, the Eargos are far more invisible to both view and feel – you'll simply forget you're wearing them. For example, one afternoon, I tried to stick a pair of Bluetooth buds into my ears to listen to music, and they wouldn't go in. Puzzled, I thought I was sticking the left bud into my right ear – and then I realized I was still wearing the Eargo 7s! I always "knew" I was wearing the Sony CRE-C10.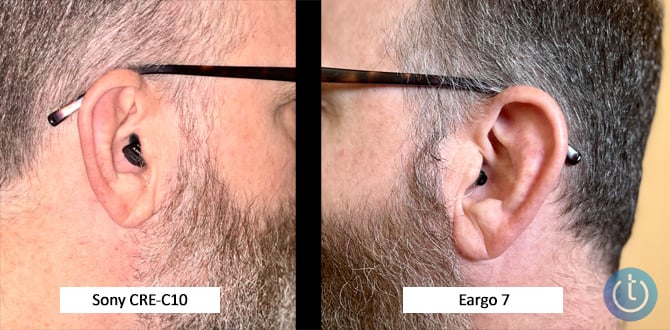 Note that Eargo's invisible all-day-wear restorative hearing design is in competition with the emerging category of Bluetooth-enabled ear bud-style OTC hearing aids. These include the $1,299 Sony CRE-E10 (my current favorite), the $699 HP Hearing Pro "powered" (made) by Nuheara, and the $799 Jabra Enhance Plus. These new Bluetooth hearing aid buds are decidedly not invisible but provide sound amplification plus high-fidelity wireless music playback and aren't much more complicated than the Eargo to set up and use. But Bluetooth hearing aids are way too visible for most social situations and aren't as comfortable as the Eargos for all-day wear, so they are best for as-needed use.
So, in short, the Eargo 7 (and the Sony CRE-C10) are for those who simply want to hear as clearly as they used all day long with minimal fuss and bother.
Set up
Eargo 7 follow the same set-up procedure as earlier physically identical Eargo models (see my Eargo 5 review for more usage and maintenance details). After a full four-hour charge, you conduct a video visit with an audiologist who will guide you through the set-up process and explain all the Eargo app controls and features. You will then complete your own app-based Sound Match app hearing test – you tell the app if you can hear a series of tones at varying sound levels and frequencies – to customize the Eargo 7 settings to match your hearing condition.
Thankfully, Eargo has vastly simplified the Eargo app controls and features, which include the ability to choose four ambient presets (meeting, TV, restaurant, etc.). If you do find the controls and features confusing, Eargo's app contains plenty of text and video instructions. But you're paying for the video visit, so why not take advantage of it? Or you can physically test and buy the Eargo 7 at one of the 1,500 Victra-owned Verizon brick & mortar stores that carry all the Eargo models. Otherwise, the set-up, care, and maintenance of the Eargo 7 are the same as for the 5 and the 6.
Physically, the Eargo 7's only upgrade is sweat resistance in addition to the Eargo 6's IPX7 water resistance for up to 30 minutes in less than one meter of water. You also get a two-year warranty with the Eargo 7 versus single-year coverage for the 5 and 6.
Like the Eargo 5 and 6, the 7 supplies 16 hours of single-charge battery life, and the circular flat battery case supplies two additional full charges, which means you'll have to charge them every night. The Sony CRE-C10 use tiny single-usage size 10 hearing aid batteries that last several days, assuming you open the battery cases on each bud when you store them, but it's impossible to know when the batteries will die. In addition, single-use batteries require you to buy and tote extra batteries with you when you go out, and an awkward battery switch that requires a bit of finger dexterity. I found establishing a regular recharging routine for the Eargo 7 was easier to deal with than the unpredictable battery replacement of the Sony CRE-C10.
Yes, the Eargo rechargeable lithium cells can degrade over time, which adds to eventual high replacement cost worries. But Eargo says – and my experience with the 5 confirms – that you'll lose only around 20% of battery life over three years. For instance, after 18 months of usage, the Eargo 5 I reviewed still provides a solid 13-plus hours of listening life. But it'd certainly behoove Eargo to set up a lower-priced replacement program sans virtual audiologist visits.
Performance
After a few days of wear to enable your brain to adjust to the enhanced aural information it is now receiving from your damaged ears, the 7 almost magically transforms your muddy, fading soundscape into a crisp, crystalline natural one. As a result, your hearing will be restored to what you remember as normal hearing and enhance how you experience the often annoyingly noisy world.
What you won't get with the Eargo 7 is the sound amplification that you get from the Sony CRE-C10. You get volume level control with the Eargo 7, but the world won't get much louder than what would be with your normal hearing level, even at the app's highest volume setting. While the Sony CRE-C10 provides noticeably louder results, especially for voices, I found the Eargo 7 sound a smidge more natural, even a bit more natural than the Eargo 5.
Eargo 7's aural performance upgrade comes via an algorithmic Clarity Mode added to the Eargo 6's SoundAdjust technology, now dubbed SoundAdjust+, which optimizes sound settings to match various loud or quiet ambient environments and cleans up speech accordingly. Compared to the Eargo 5, the SoundAdjust+ subtly but noticeably crystalizes the 7's overall audio and almost imperceptibly increases its top volume.
In practical usage, the Eargo app's high or medium noise filters slightly diminish – but do not mute or eliminate – unwanted ambient sound, allowing you to perceive conversation a bit more clearly in a noisy setting similar to the Sony CRE-C10. But I found it hard to discern differences between the varying SoundAdjust+ settings – Temporarily Emphasize Speech, Reduce Noise, or Automatically Adjust – or between its ambient environment presets (Meeting, Restaurant, TV, et al.).
Quite frankly, however, I really didn't care if the SoundAdjust+ noise, clarity, or preset settings worked a little or a lot. What's best about the Eargos and the Sony CRE-C10 is you can just stick 'em in your ears and forget about them for the whole day. After 10-15 minutes, you'll barely remember you're wearing them, and their virtual invisibility means no one else will know you're wearing them, either.
What you also don't get with the Eargo 7 is feedback, unlike the Lexie B2 by Bose, unless you touch or block the buds by lying on the side of your head. If you want Bluetooth for phone calls or music listening, you can slip on a pair of wireless over-ear headphones, as you can with the Sony CRE-C10. I carry a pair of simple Bluetooth buds and swap out the Eargos when I want to listen to music.
The bottom line
If you want simple, discreet all-day hearing restoration with the least amount of fuss and bother, the Eargo 7 ($2,950, currently discounted to $2,690) are the best OTC hearing aids. They amplify so you hear "normally," and they're so comfortable, it's easy to forget you're wearing them.
But the Eargo 7's $3,000 price tag is frustrating, especially if you know you'll need to replace them in 3-5 years because of inevitable battery life deterioration. I wish Eargo would create a lower-priced option for all its models by eliminating the virtual audiologist visits so that the millions of more folks with mild to moderate hearing loss can afford them.
While still expensive, the Eargo 5 ($1,850, on sale for $1,550) offers the same basic all-day aural improvements, comfort, and invisibility for about half the price of the Eargo 7. The Eargo 5 only lack the 7's slightly improved SoundAdjust+ audio results and water resistance. And if Eargo's even more affordable buds are still too expensive, I'd recommend the Sony CRE-C10 ($999). While there is the annoying battery issue and slightly higher visibility and feel in your ears, the CRE-C10 are a little louder than the Eargo 7 and, by far, a more affordable all-day OTC hearing solution.


[Image credit: Stewart Wolpin/Techlicious]
Stewart Wolpin has been writing about consumer electronics for more than 35 years, including news, reviews, analysis and history, and has attended and covered nearly 50 Consumer Electronic Shows and around a dozen IFA shows in Berlin. For the Consumer Technology Association (CTA), he is an elector for and writes the official biographies of the annual CT Hall of Fame inductees, and is the keeper of the industry's official history.