Emefiele's Suspension: Black Market FX Aggregator, Abokifx Resumes Operations, Quotes N790 Per Dollar
Abokifx, the famous foreign exchange rates trading platform, has resumed operations
The platform suspended operations after the Central Bank of Nigeria (CBN) under Godwin Emefiele began investigating its owners
Itsit resumed trading on Monday, July 10, 2023; Abokifx quoted the naira at N790 and N795 to a dollar for buying and selling
Following the suspension of Godwin Emefiele as the Governor of the Central Bank of Nigeria (CBN), the parallel market foreign exchange rates aggregator, Abokifx has resumed operations.
The platform returned with a live exchange rate publication and released the latest foreign exchange figures based on the parallel market rates in Nigeria, especially from Lagos.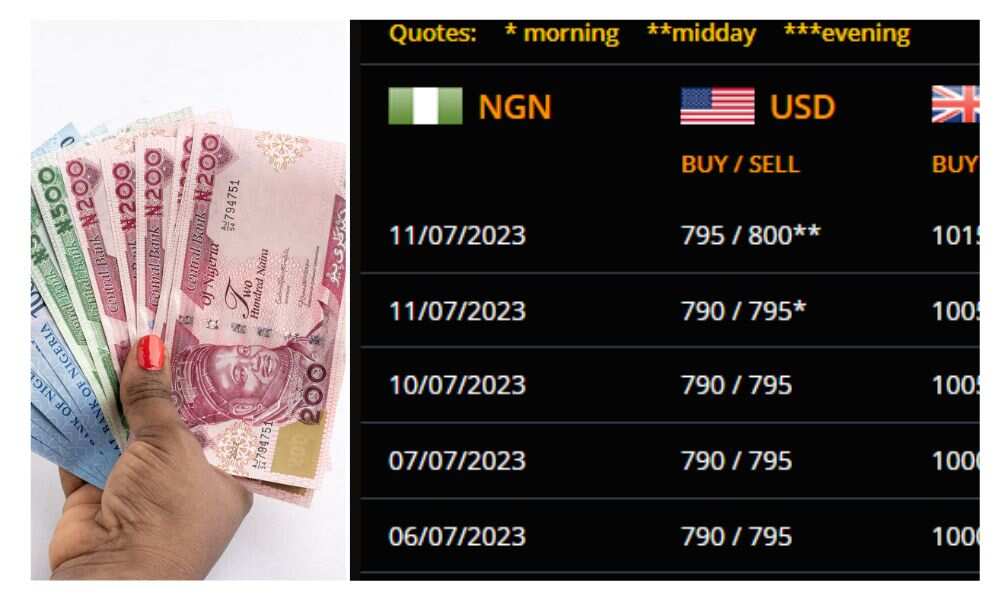 CBN's accuses Abokifx owners of forex manipulations
Abokifx suspended the live update of the parallel market rates after its owners came under investigation by the CBN.
As of Monday, July 10, 2023, the platform quoted the naira to the dollar at N790 and N795 for buying and selling.
It also displayed Pounds rates at N1,005 for buying and selling, respectively. Euro traded at the buying rate of N845 and selling rate of N850 on Abokifx on Monday, July 10, 2023.
The platform, a go-to place for forex buyers and sellers in Nigeria, returned as Nigeria announced the unification of the exchange rates.
In 2021, Abokifx owner, Olusegun Adedotun Oniwinde, came under the CBN's scrutiny for illegal forex trading.
Experts blame CBN for naira's tumble
BusinessDay reports that the suspended Governor of the CBN, Emefiele said at the Monetary Policy Committee meeting in September 2021 that Oniwinde used Abokifx for forex fraud, manipulations, and speculations by acquiring forex to make a profit, describing him as an illegal trader.
However, after the suspension of forex trading announcement by Abokifx, the naira took a hit, trading at N700 for the first time in Nigeria's history.
The collapse of the naira was blamed on several factors, while many Nigerians exonerated the platform, saying that the apex bank under the leadership of Emefiele lacked monetary policy directions.
Abokifx resumed trading as the naira plummeted to an all-time low of close to N800 to a dollar, and Nigeria battles to unify the chaotic exchange rates.
Buyers flood black market for dollars as CBN sets strict FX guidelines for Nigerians, banks comply
Legit.ng reported that many forex buyers have opted for the parallel black market to access dollars because of the zero documentation required to conclude transactions.
The rush for dollars at the black market comes following implementation of a new forex purchase law requiring buyers to present Tax Clearance Certificates to banks and other authorized dealers.
With most buyers not possessing the required tax clearance certificates to buy at the official Investors and Exporters (I&E) window, the demand has now moved to the black market, where buyers are only required to have cash or make transfers.
Source: Legit.ng