Emotional Photo of President Tinubu Crying After Mother's Death 10 Years Ago
President Bola Ahmed Tinubu remembered his late mother, Alhaja Abibatu Mogaji, ten years after her demise
The late Alhaja Abibatu Mogaji passed on exactly ten years ago on June 15, 2013, at the ripe age of 96
An emotional photo has emerged showing President Tinubu crying after the death of his mother was announced
An emotional photo of President Bola Ahmed Tinubu crying after the death of his mother, Alhaja Abibatu Mogaji, passed on ten years ago has emerged.
President Tinubu, in a tweet on his verified Twitter handle @officialABAT, on Thursday, June 15, paid glowing tributes as he relived the memories of his late mother's impact.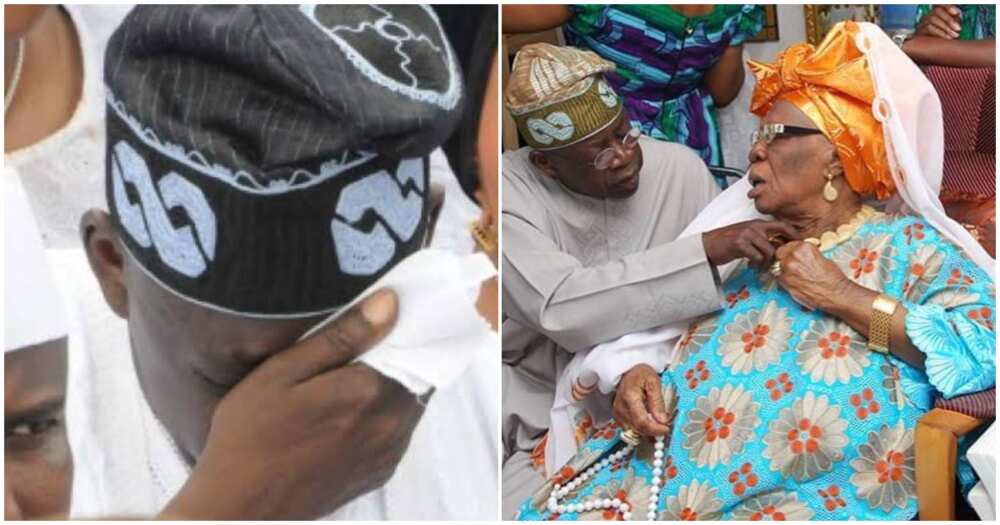 Tinubu said he will always cherish the value of hard work forthrightness and perseverance she instilled in him during her lifetime.
He wrote:
"10 years ago, today, my darling mother, Alhaja Abibatu Mogaji passed away. On this day, I remember her love, grit, devotion and generosity. I will always cherish the time we had together and the values of hard work, forthrightness and perseverance she instilled in me. May Allah continue to rest her beautiful soul."
A twitter user, @Mr_JAGs, who shared the photo of President weeping after his mother's death, wrote:
"Exactly 10 Years ago, We lost Our Big Big Mummy, The Iyaloja-General, The Mother of the Masses, A LEGEND, A Strong Woman, The Mother of Mr President @officialABAT, Chief Abibatu Ashabi Mogaji OON, MFR … May Almighty Allah continue to bless her for us .. MAMA MOGAJI"
Senior Lawyer Agbakoba praises Tinubu for suspending Emefiele, Bawa, others, makes one more strong demand
A former president of the Nigerian Bar Association (NBA), Olisa Agbakoba, has praised President Bola Tinubu for suspending Godwin Emefiele as Governor of the Central Bank of Nigeria (CBN), Abdulrasheed Bawa as Chairman of the Economic and Financial Crime Commission (EFCC).
Agbakoba also applauded Tinubu over fuel subsidy removal and check in forex corruption, adding that "endemic corruption has suffered a massive blow."
President Tinubu in crucial closed-door meeting with former head of state in Aso Rock, video emerge
President Bola Tinubu is currently meeting former Military Head of State, General Abdulsalami Abubakar , at the Presidential Villa, Abuja.
Abubakar who recently turned 81 is visiting Tinubu 48 hours after former President Goodluck Jonathan was at the Villa to brief the President on developments in Mali.
President Bola Tinubu appointed 27 ministers? Fact emerges
A list of 27 names of "new appointees and some new ministries" allegedly made by President Bola Tinubu and circulating on Facebook has been found to be false.
As reported by Africa Check, a fact-checking platform, the 27-man list, which has now been confirmed to be false, has been reposted on other Facebook pages, with some claiming that President Tinubu has abolished certain ministerial offices.
Source: Legit.ng