EXCLUSIVE: "Chef Dammy Left Our Church": Member of Dammy's Cookathon Opens Up on Raging Controversy
A man who was part of the cooking marathon held in Ekiti by Chef Dammilola Adeparusi has said the chef told lies on Instagram
In an exclusive chat with Legit.ng, the man, Ajewole Samuel, said Chef Dammy is no longer a member of the Spirit World Mission
He challenged Chef Dammy to come up with evidence to show that the pastor of the church, Jerremaiah Adegoke, is after her
Chef Dammy is no longer a member of the Spirit World Mission church, Legit.ng understands.
This is coming after the Ekiti chef made an Instagram post accusing Pastor Jerremaiah Adegoke of being after her.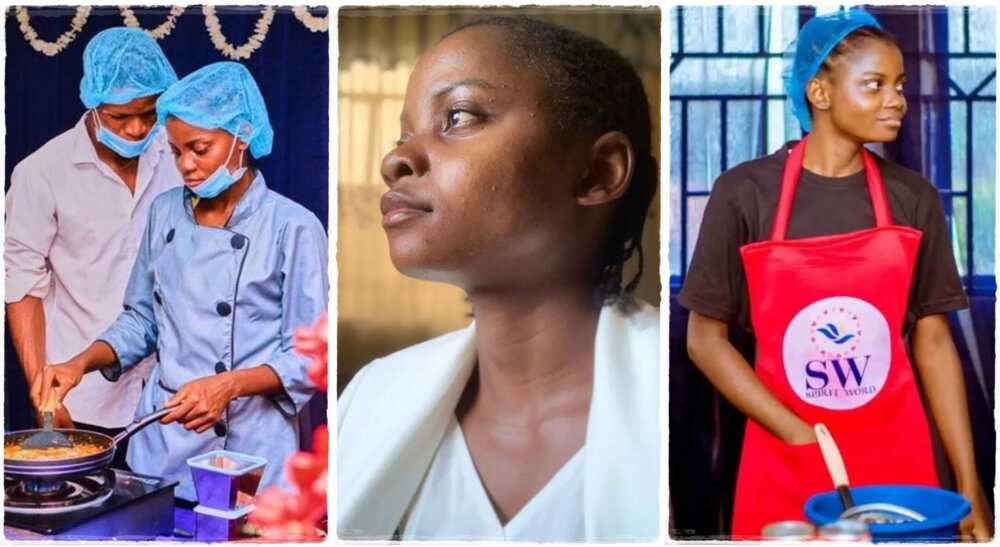 In the post, which is now trending online, the chef said she is living in constant fear for her life, saying they have tried to destroy her life.
Chef Damilola Adeparusi left the Spirit Word Mission in June
But in an interview with Legit.ng, a source who was part of the controversial cooking marathon said the chef told lies against Adegoke, noting that she left the church in June.
PAY ATTENTION: Share your outstanding story with our editors! Please reach us through info@corp.legit.ng!
The source, Ajewole Samuel, insisted that there is no evidence to show that anyone is after Chef Dammy's life.
His words:
"Everything she said yesterday was all lies. She left the church since June. Since then, nobody has been in contact with her. It's over 4 months now. So how come she came about all the lies and false claims she put out there yesterday? I need her to come out with the evidence of it, who said and who said it. She said all without evidence. This is all lies."
When asked why the chef left the church, Ajewole said the reasons are best known to Dammy.
He said:
"It was her decision to leave, which is better known to her. Since her parents and some other people claim we are choking her, that we should let her breathe, that we should leave her alone. We left her alone. Then she left the church."
Legit.ng asked to know if the problem between Chef Dammy and the pastor is connected to money realised during the cookathon; the source said all the money went into her account.
His words:
"Everything was in her account. She took everything and left the church."
Chef Dammy planned a new cookathon
Meanwhile, Legit.ng reported that Chef Dammy had planned to hold another cookathon, which never materialised.
Legit.ng understood that the cookathon was supposed to have taken place in July.
It is not clear why the planned cookathon never happened as announced.
Source: Legit.ng