EXCLUSIVE: Dalung Reveals "Only Solution" to Conflict in Plateau State
Intercommunal conflict has killed hundreds of people in recent years in Nigeria's ethnically and religiously diverse Middle Belt region
According to a recent report from the Armed Conflict Location and Event Data Project (ACLED), Plateau state has recorded more than 2,200 deaths since 2005
Speaking in an exclusive interview with Legit.ng, Solomon Dalung, a former minister and Plateau indigene, discussed the 'solution' to the problem
Legit.ng journalist Ridwan Adeola Yusuf has over 9-year-experience covering current affairs in Nigeria
Jos, Plateau state – Former minister of Youth and Sports Development, Solomon Dalung, has said justice is the only answer to Plateau state's pathetic experience.
According to Dalung, "without justice, peace is a stranger."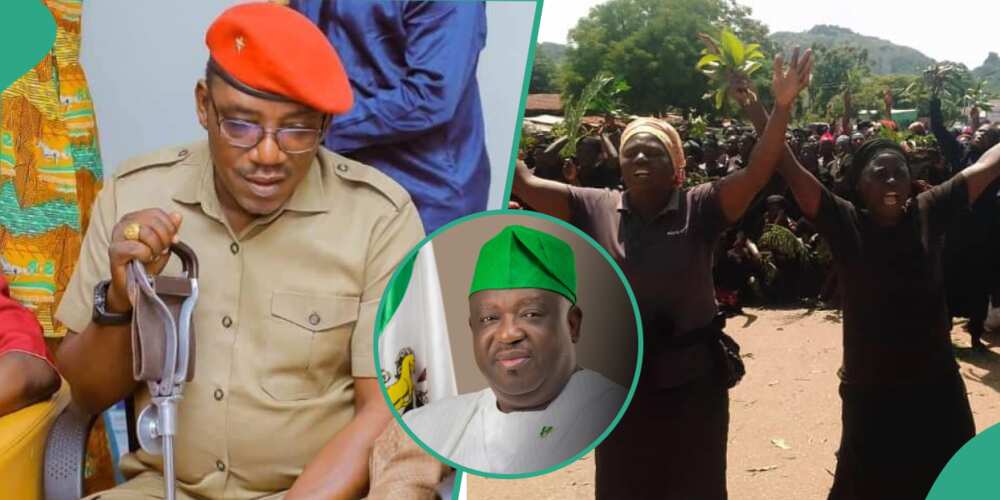 'Gov. Mutfwang must be fair to all'
Dalung, from Plateau state, served as a cabinet minister between 2015 and 2019, the first term of ex-president Muhammadu Buhari.
Although successive Plateau governments have tried to end the conflict in Plateau which is claiming the lives of even children and women, the violence increased when Governor Caleb Mutfwang assumed office in May.
In fact, in September, the governor raised the alarm about the alleged plans "to scuttle peace in Plateau".
Speaking on the Plateau crisis, Dalung explained to Legit.ng during a recent interview:
"The only solution to the crisis on the Plateau is justice. All other artificial efforts by previous governments, without sincere commitment to justice is like a pack of cards.
"Without justice, peace is a stranger. Therefore, if Governor Mutfwang is determined and committed to deal with the Plateau problem, he must be firm, he must be decisive and must do justice."
He continued:
"The crisis on the Plateau has been on since 2001. So many people have been killed. We have children that are now out-of-school and have been orphaned, we have one of the highest populations of widows, health facilities and markets have been destroyed. So if we must end this, we have to do justice to the situation."
Furthermore, Dalung asked Governor Mutfwang to assemble all the commissions of inquiries set up by past administrations and set up a committee to review them.
His words:
"All those implicated, indicted, should be given that opportunity to either come and seek forgiveness and they are granted amnesty, or prosecuted.
"Once that is done, you close a chapter to our history, and you open a new page. But in a situation whereby people killed relatives of others and they are still moving around without any sanction, it would not be fair."
Conclusively, Dalung said if the present Plateau government is determined to end the crisis, it must embrace justice, accommodate the diversity of the state, and treat the citizens fairly.
He said:
"Anything aside from these is mere lip service that is politically ambitious, but cannot produce any sustainable result."
Plateau: Gunmen attack church
Earlier, Legit.ng reported that gunmen attacked the Evangelical Church Winning All (ECWA) and kidnapped Pastor Usman Umaru at the Maigemu community in Jos East local government area (LGA) of Plateau state.
The gunmen also abducted two other persons.
Gunmen invade school, kill teachers in Plateau
Legit.ng also reported that two teachers were killed and a vice principal shot in BECO Comprehensive School, Kwi, in Riyom Local Council of Plateau state.
The tragic incident was said to have happened after suspected killer herdsmen invaded the school with their cows for grazing.
Plateau: 12 die as Governor imposes curfew
In another related news, Legit.ng reported that Governor Mutfwang declared a 24-hour curfew on the Mangu local government area (LGA) following a tragic attack by suspected terrorists in some communities.
It was gathered that at least 12 persons were killed in the gruesome attack that the suspected terrorists launched on a weekend night.
Source: Legit.ng