"First of Its Kind in Nigeria": Photos As Buhari Commissions Lekki Deep Seaport
The Lekki Deep Sea Port has been commissioned by President Muhammadu Buhari during his visit to Lagos
According to Governor Babajide Sanwo-Olu, the deep seaport can be best described as the first in Nigeria
The port has three terminals: the container terminal, the liquid terminal, and the dry bulk terminal
President Muhammadu Buhari has Monday, January 23, commissioned during a visit to Lagos.
The president who was on a two-day working visit to the state was scheduled to commission the Lekki Deep Seaport, Lagos Rice Mill and the Imota, 18.75 killometres Eleko-Epe rigid pavement six lane expressway.
Buhari made his first stop at the sea port before proceeding to the Lagos Rice Mill in Imota, Ikorodu where he commissioned the 32 metric tonnes per hour mill.
Lagos state governor, Babajide Sanwo-Olu shared beautiful photos from the seaport and rice mill on his Twitter page.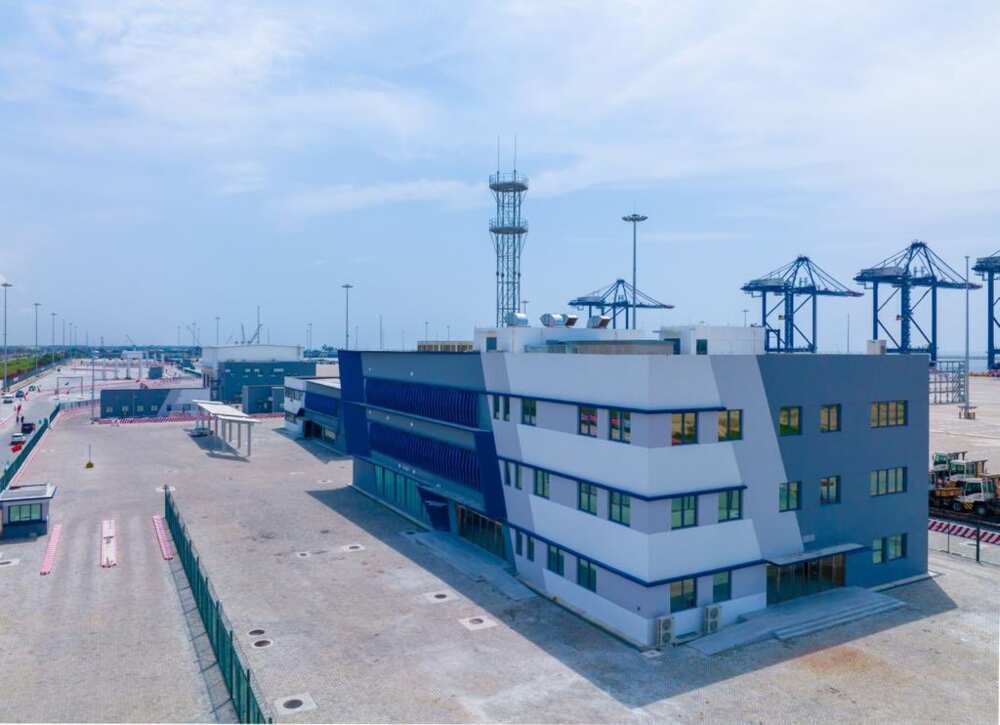 Quality of the seaport
The port has three terminals: the container terminal, the liquid terminal, and the dry bulk terminal. The container terminal has an initial draft of 14 metres, with the potential for further dredging to 16.5 metres. The terminal is able to handle 2.5 million 20-foot standard containers per year.
According to reports, it is the first port in Nigeria with ship-to-shore cranes. It has three of these container gantry cranes; they belong to the "Super-post-Panamax" group – this means that they can reach and unload the rearmost row of containers even if the container ship is wider than the Panama Canal (49m or 160ft maximum boat beam), Vanguard Newspaper reports.
Going further, the port's computerised system will allow container identification and clearance from the office, and human interaction will be minimal in the physical operations.
Sanwo-Olu reveals numbers of people who will be employed as a result of Lagos rice mill
Legit.ng had also reported that commissioned the Lagos Rice Mill which is located at Imota are of the state.
According to to Lagos state governor, Babajide Sanwo-Olu, with the commissioning the rice mill will commence operation.
Buhari commissioned the project during his visit to the state and will also commission other project by the Sanwo-Olu's administration.
Source: Legit.ng