"Forgive Me": Nigerian Man Publicly Apologises to His Wife 6 Months after Accusing Her of Infidelity
A Nigerian man has tendered a public apology to his wife and sought her forgiveness for wrongfully accusing her
About six months ago, he had questioned the paternity of their son and called out his wife and family members and friends for betraying him
Mixed reactions have trailed his apology post as people commended him for his courage while urging his wife to forgive him
A Bayelsa youth leader identified as Oroufagha Emomotimi has publicly apologised to his wife, Emomotimi Benedicta, for his irresponsibility.
In a Facebook post on Wednesday, May 10, 2023, the former Assistant Secretary of the All Progressives Congress (APC) in Ekeremor Ward blamed the devil, saying it was a fight for supremacy and submission.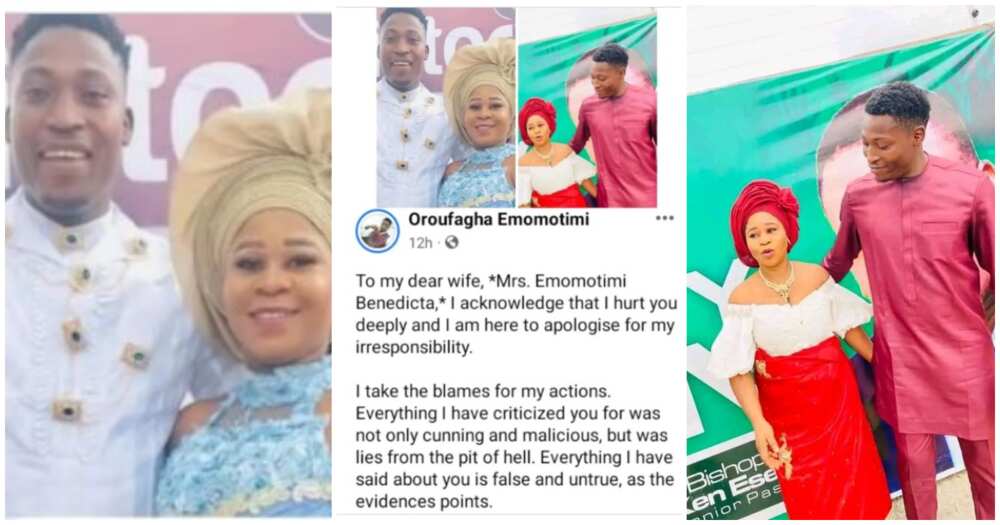 According to him, he feared that he was losing her and thought to himself that he would destroy her if he can't have her.
He appealed to her to forgive him and professed his love for her. His post in part reads:
"What happened was one of the attacks of the devil on our marriage. It was a fight for supremacy and submission. There is always no winner, I learnt.
"I feared that I was already loosing you, and I thought to myself that since I cannot have you, I must destroy you. That was love. The bad side of jealousy I guessed. I couldn't afford to loose you because of the enormous sacrifices I put into marrying you. In the process of that air strike—battling the air, I insulted the sensibility of fathers, family, friends and fans."
LIB reported that in December 2022 Oroufagha had called out his wife, family members and friends for betraying him. During that period, he had vowed to find out if he was the biological father of their son.
Reactions on social media
Amatoru Victor said:
"May your home remain peaceful, flourish with love and understanding.
"Lesson you have learnt here is, keep your marriage affairs from social media platforms."
Onyeche Success Onyeanuna said:
"To err is human but to forgive is divine.
"Pls Sir, moving forward, avoid this space on anything concerning your marriage…May God help and heal your Marriage."
Bridget Ebikeseiye Pinaowei-Macauley said:
"Am glad you came to apologize publicly, cause it cos us shame.
"Please I beg learn to control ur emotions,be slow to action and most importantly family feud must not be brought to social media. Mrs Emomotimi please forgive.to err is human but to forgive is divine.
"Congratulations to you both."
Forokara Vera said:
"Those that were busy sharing your posts and abusing your wife should also share this post for the world to see, likes of Aluzu and Co…………."
Frank Sapele said:
"I pray that, baba God will destroy all your impossibilities.
"Our God will kill all your enemies."
Man apologises to wife on Twitter
Meanwhile, Legit.ng previously reported that a Nigerian man had apologised to his wife on Twitter.
Sharing a photo of a mystery lady, he apologised to the mother of his daughter, saying he has been a but.t.hole. He further stated that he apologised on Twitter because that was where he offended her and where she wanted it tendered.
He, however, did not reveal the offence he committed despite curious netizens besieging his comment section for answers.
Source: Legit.ng