Updated on 6/2/2023 with new app recommendations.
Memorial Day Weekend marks the beginning of the summer road trip season, and it's going to be a busy one. According to a Forbes survey on 2023 travel plans, 42 percent of respondents said they are planning a road trip this year – that's in addition to those traveling to destination travel. Loading up on the right apps to help find cheap gas (or EV charging), bathrooms, and sightseeing opportunities, as well as apps to steer clear of speed traps or traffic, is essential. I have been using all of the following apps for months if not years, and all have come in handy.
Of course, remember to stay safe and don't try to use your phone while you're driving.
How to find cheap gas and other basics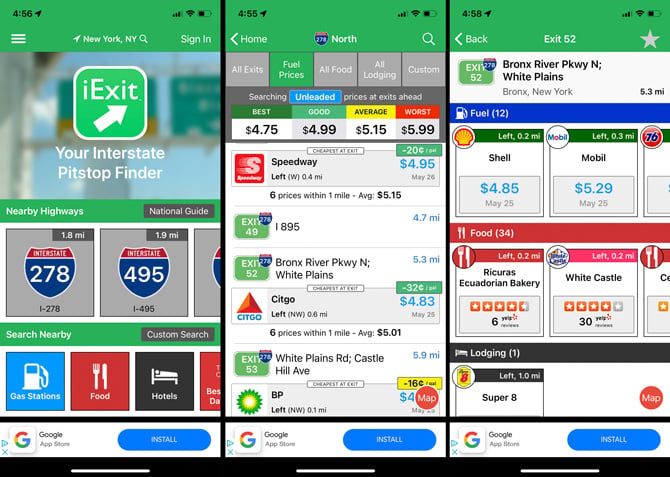 If you're traveling on a major highway, iExit (Free in App Store and Google Play) is a great resource to find amenities available at upcoming exits. There's information on restaurants, gas stations, grocery stores, hospitals, hotels, and more. For gas stations, you can select your fuel type (unleaded, mid-grade, premium, or diesel) and see pricing by gas station at each exit (price data is updated daily by OPIS).
Once the app finds your location on the highway, it will show you upcoming exits along with icons to represent amenities and how far away each exit is. Then for each service, you can see just how far you'll have to travel off your route – much better than those icons on the highway signs. If you're planning a trip, you can select a highway to plan out your stops along the way.
If you own an electric vehicle, the PlugShare App (Free in App Store and Google Play) would be my pick. While I don't own an electric vehicle, I evaluated the options and read the reviews, and PlugShare consistently receives high marks for its easy-to-use interface and the fact that it doesn't favor any charging network. Plus, I like the fact that you can add your vehicle, and only compatible charging stations will appear as options.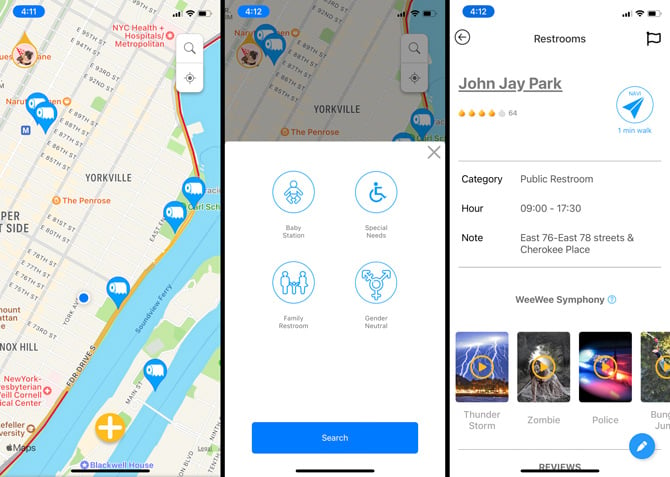 If it's a bathroom you're after, try WeeWeeFree (Free in App Store and Google Play). WeeWeeFree has restroom ratings and you can search by features, like baby station, family restroom, gender neutral, and special needs. Shy about using a multi-stall bathroom? The app also comes with "WeeWee Symphony," which are sounds to cover up any noises you may make.
Traffic, road hazards, speed traps and tolls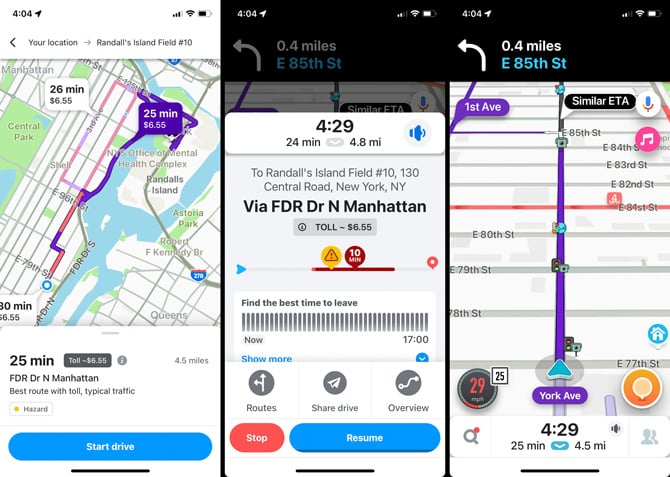 No one likes getting stuck in traffic or getting a ticket. Thankfully, you can use an app to get alerted before you get stuck. Waze (Free on App Store and Google Play) uses crowdsourced data to not only find a faster route for your drive, but also includes alerts to speed traps, red light cameras, and road hazards provided by other users as well. With a large user base, this app is as good as real-time traffic reporting gets. Over the last six months of testing Waze versus Google Maps, I found that Waze consistently beats Google Maps when it comes to identifying problems on the road and suggesting new routing in most situations. The only exception would be if you're in a city, like New York, where I've found Google Maps to be better.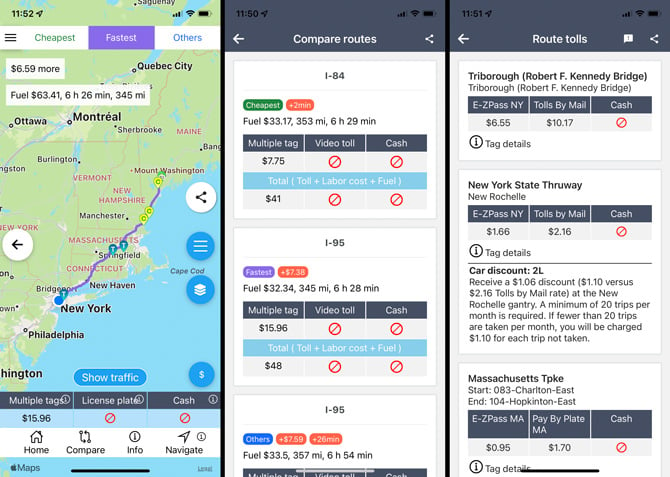 If you're concerned about tolls and gas adding up, check out TollGuru (Free on App Store and Google Play). You can calculate tolls and gas together for a wide range of vehicles, including cars, motorcycles, RVs, and SUVs towing a trailer, among others. Input your car make and model year and expected gas price for the best accuracy. You can plan routes in the U.S. and Canada.
Sightseeing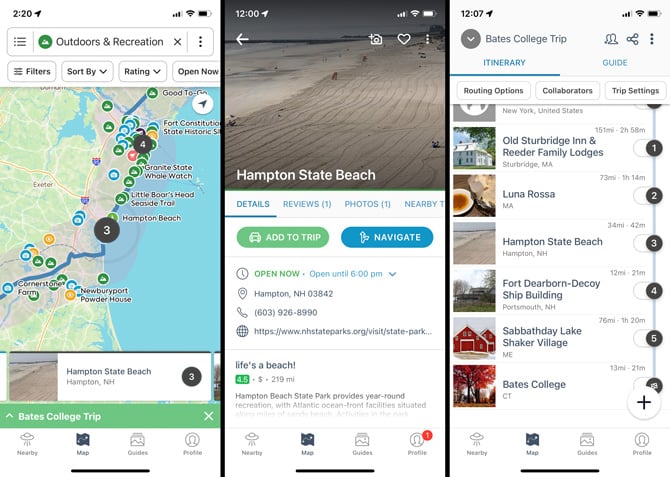 Don't want to miss any sightseeing gems on your trip? Enter your starting point and your destination, and the Roadtrippers app (Free in App Store and Google Play) will find you interesting places to stop in between. Pick from categories such as Attractions & Experiences, Outdoors & Recreation, and Sights & Landmarks, and you'll see places pop up along your driving route. You can read up on each attraction and choose to add it to your trip. The free version of the app only lets you add 5 stops. Upgrading to Roadtrippers Plus ($35.99 per year) removes adds, lets you store up to 150 waypoints on your route, see traffic, and view maps offline. If you're driving an RV, you can receive RV-friendly routing and safety alerts. And, you won't see any ads.
Where to stay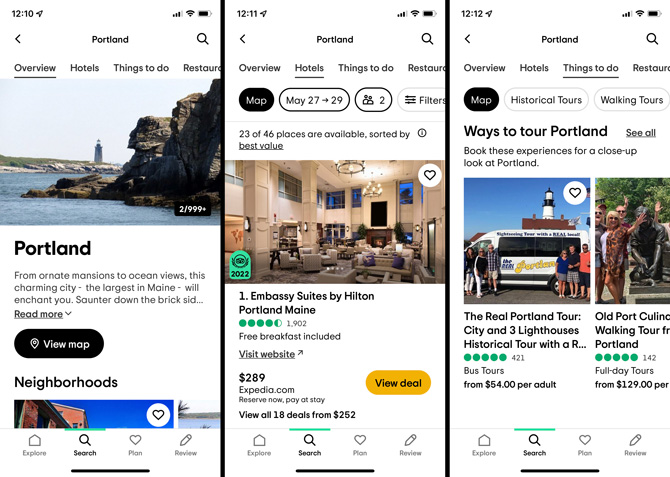 If you don't like to be locked into staying in a particular hotel or town as you travel, you can book your room while you're on the road. Trip Advisor (Free in App Store and Google Play) lets you search for hotels by city or zip code. Or, you can find hotels that are closest to your current location. The app pulls up the best value hotels first, helps you check rates, and tells you how many miles away they are or shows them on a map relative to your location. You can also filter hotel listings by traveler ranking, price, and distance to the city center.
If you're going to be staying in a major city, also check out Hotel Tonight. I have successfully used the app for city stays and consistently found high-quality hotels for low prices.
Where to eat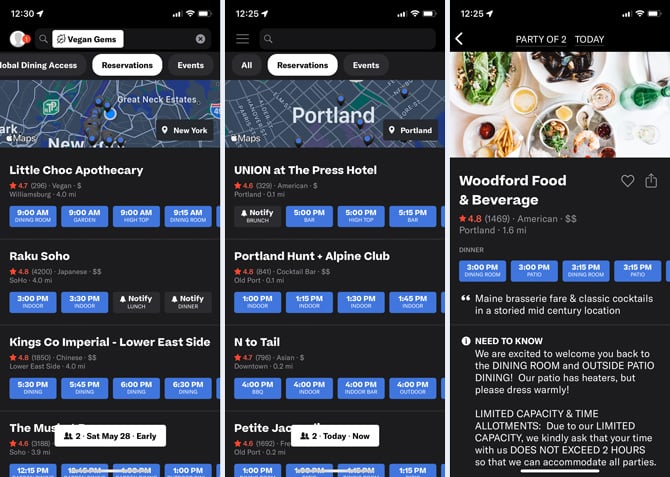 If you've found the perfect place but need a reservation, Resy (Free in App Store or use Resy.com for Android phones) is the place to go. Using the app, you can search for local restaurants with open tables when you're planning on stopping for a meal. If you know where you want to eat, you can search for a specific restaurant – but you can also browse by location and schedule or filter the list using one of the "Collections," which include categories like Top Rated, James Beard Nominees, Vegan Gems, and Best of Brunch. When selecting a reservation, you can choose your type of seating – dining room, outdoor, bar, patio, etc. If a table is not available, you can select the "Notify" option, and the app will let you know if a table opens up (yes, I've used it, and I've gotten a table).
Parking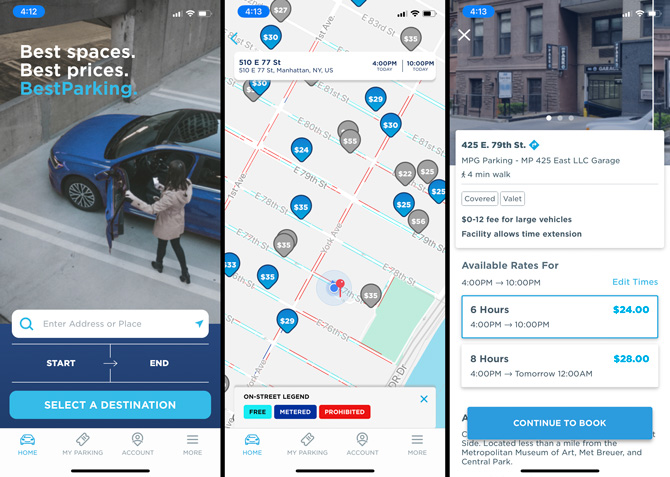 When arriving in a strange town, finding parking is going to be your first task. The Best Parking app (Free on App Store and Google Play) will show you available garage and street parking either immediately around you or anywhere you search on their map, along with the cost for each one. You can filter your search by either garage or street parking, and then further refine your search by features like accessible spaces, valet parking, on-site security, and electric vehicle charging, among others. Once you find a garage, you'll see any extra fees for large vehicles, the hours of the garage, and whether you can extend your reservation through the app.
Now that you're loaded up on essential road trip apps make sure you have the tech you need for your car safety kit.
[Image credit: couple driving in convertible via BigStockPhoto, iExit, Google, Toll Guru, Roadtrippers, Trip Advisor, Resy, Best Parking]
For the past 20+ years, Techlicious founder Suzanne Kantra has been exploring and writing about the world's most exciting and important science and technology issues. Prior to Techlicious, Suzanne was the Technology Editor for Martha Stewart Living Omnimedia and the Senior Technology Editor for Popular Science. Suzanne has been featured on CNN, CBS, and NBC.