WhatsApp has had end-to-end encryption to protect your messages from being intercepted for a while, but that doesn't protect your private conversations if someone has access to your phone. Now, you can enable Chat Lock to guard against on-phone access.
When you activate Chat Lock for a conversation, the chat is removed from your general inbox and moved to a locked folder, which can only be accessed with Face ID or fingerprint, or, if you have neither enabled, your phone's passcode. In addition to making chats harder to access, Chat Lock makes them less visible to the shoulder surfer by hiding the sender's name and message contents when you receive notifications.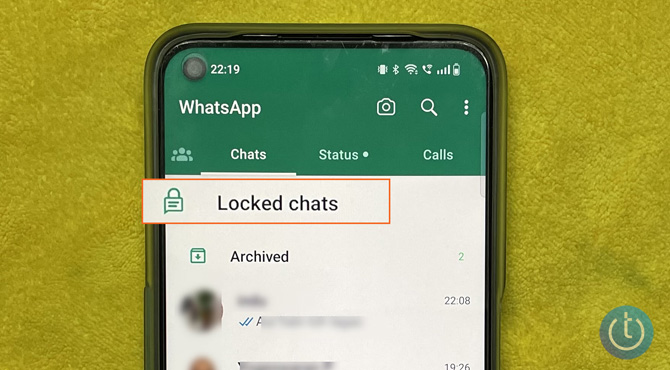 How to Enable Chat Lock
You can lock any active chat, including group and muted chats.
In WhatsApp, select a conversation.
Tap the name or picture of an individual.
Scroll down and select Chat Lock (by default, this option is turned off). If you don't see the option to lock chats on your device, you'll need to update to the latest version of WhatsApp.
If you're using an iPhone with Face ID, you'll see an option to Lock This Chat with Face ID. For Android devices, the option will be to Lock this chat with fingerprint.
Toggle on the feature by tapping the corresponding option.
All items in the chats, including photos, videos, links, drawings, and other attachments, will be locked and moved to a separate folder.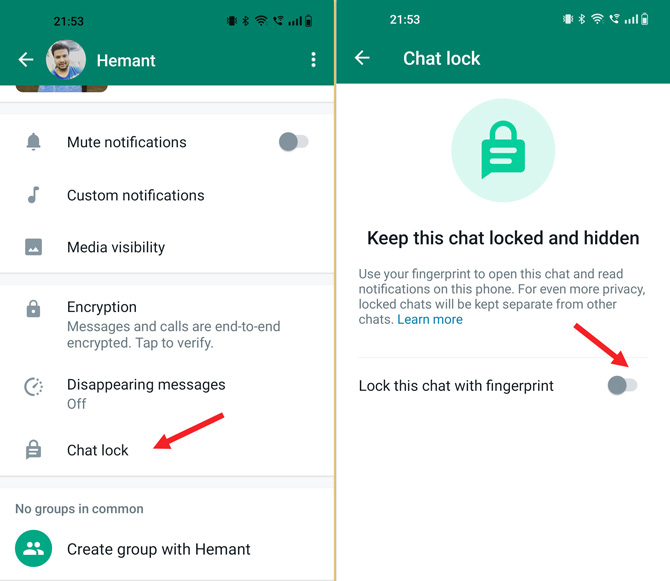 Once you have enabled Chat Lock, you'll find the chats in the Locked Chats inbox. The Locked Chats inbox doesn't appear in your Chats list. To reveal the Locked Chats inbox, slowly pull down your chats inbox to reveal the Locked Chats inbox. You'll then need to enter your phone's passcode or use Face ID or fingerprint authentication to open the list of locked chats.
When Chat Lock won't protect you
Sometimes, Chat Lock won't protect your conversations, or it will get in the way of regular operation.
Chats in archived mode cannot be locked unless you unarchive the conversation. (To unarchive a chat, press and hold the chat in the archived chats list, and you'll find the option to unarchive in the popup menu.)
To save media to your phone's gallery, you'll need to disable Chat Lock.
Incoming calls from locked chat contacts or groups will still appear as if they are not locked.
Chat Lock only applies to the specific device where it is activated. If you have multiple devices linked to the same WhatsApp account through WhatsApp Web, chats on those linked devices won't be locked.
In the coming months, Meta, the parent company of WhatsApp, plans to introduce more options for Chat Lock. These additions will likely include unique passwords for individual chats and the ability to lock conversations on companion devices, such as smartwatches running Wear OS.
How to Disable Chat Lock
If you wish to turn off or disable the Chat Lock for a particular chat, follow these steps:
Tap the Chat info icon located at the top of the chat screen.
Scroll down to find the Chat Lock option.
Toggle off the feature and confirm your Face ID, fingerprint ID, or passcode.
[Image credit: Hemant Saxena/Techlicious]
As a lifelong tech enthusiast, Hemant Saxena is always looking for the latest gadgets that intersect with his hobbies. For more than a decade, he has been writing about consumer gadgets, popular apps, and social media tips for publications, including Windows Club and Techmate Tricks.