How to play fun iMessage games on your iPhone, iPad and Mac
iMessage games allow you to stay connected with your friends and family in a fun and interactive way. Whether you're looking for a quick distraction during a boring workday or a way to challenge your friends to a friendly match, these games provide a great way to stay entertained and engaged. Plus, because they're built into the iMessage app, you don't need to download any additional apps or software to start playing.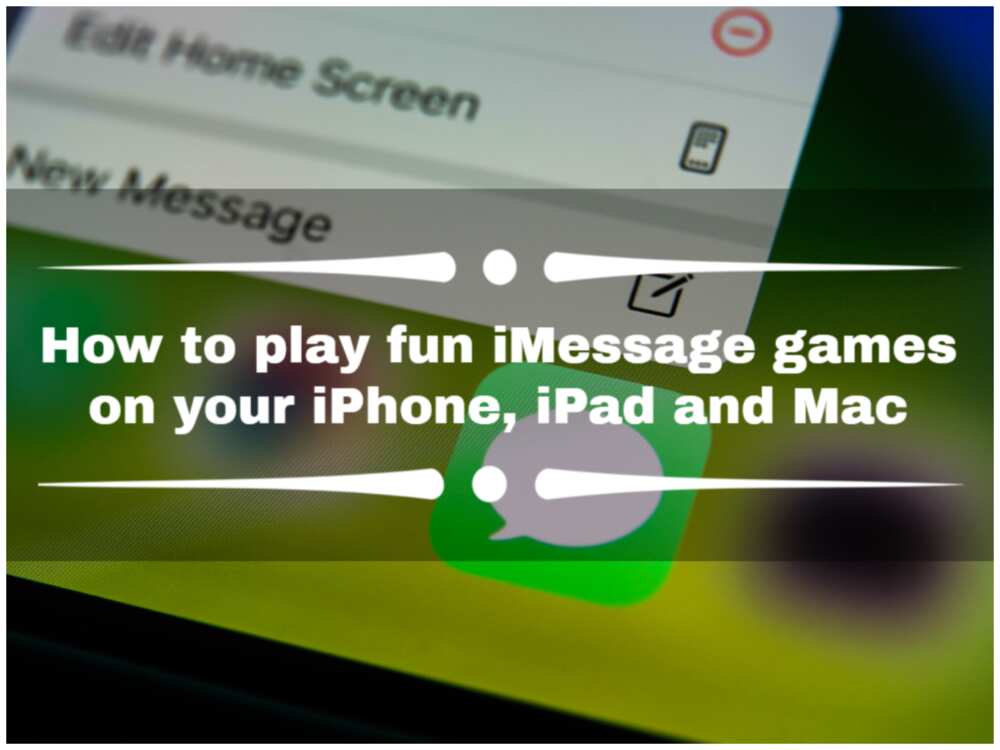 The first version of iMessage games was introduced in 2016 under GamePigeon, a mobile app for iOS devices. The function was introduced along with the iOS 10 update. Although the app is free to download, it contains many in-app purchases, including avatar customisations and different playing modes.
What are iMessage games?
These are games that you can play with your friends and family through Apple's iMessage app on your iPhone, iPad, or Mac. They are built into the iMessage app and are designed to be played within a conversation thread.
How to play games on iMessage
You need to have the iMessage app installed on your device to play these phone games. If you don't have the app, you can download it from the App Store for free. Your iPhone also needs to be updated to iOS 11 or higher. The following steps are how to play iMessage games once your iPhone has met the requirements.
Open the iMessage app and start a new conversation with the person you want to play with.
Tap on the App Store icon to the left of the text field.
Tap on the "Games" icon at the bottom of the screen.
Browse the available options and tap on the one you want to play to install it.
Once installed, the game will appear in your iMessage app drawer. Tap on the game icon to launch it. You can now invite your friends to play the game.
What are the best multiplayer iMessage games?
iMessage games are meant to be enjoyed with friends and family. You do not have to play with one person at a time, as some of these fun games can be enjoyed by all the members of your group chat. Here are the best iMessage games to play in groups of more than two people.
MojiQuest: This adventure challenge requires you to collaborate in teams. Go on quests with your friends and win loot.
Crazy 8: Like the classic card game, Crazy 8 is played by two to seven players. The objective is to be the first player to discard all their cards.
Words with Friends: This word game is a great way to test your vocabulary skills and challenge your friends. It is similar to Scrabble, with players taking turns creating words on a board.
8 Ball Pool: This app lets you play pool against your friends in real time. It features realistic physics and various playing modes, including 1-on-1 matches and tournaments.
Cup Pong: This is a virtual version of the classic party entertainment. Players take turns trying to sink a ping pong ball into their opponent's cups.
Dots & Boxes: This is the classic pen-and-paper challenge brought to life virtually. It starts with an empty grid of dots. Players take turns joining two horizontally or vertically adjacent dots by a line. A player that completes the fourth side of a square (a box) colours that box and must play again. When all boxes have been coloured, the challenge ends, and the player who has coloured more boxes wins.
Cobi Hoops: This miniature version of basketball is fun for those who enjoy ball tournaments. Compete with your friends to see how many baskets you can score in 30 seconds.
GamePigeon: As the pioneer of games on the texting app, GamePigeon contains the most extensive collection.
What are some of the best iMessage games for couples?
The best couple pastimes on the texting app allow you to learn more about your partner in a fun and light-hearted way. Break away from the everyday romantic love messages. This way, you get to spend time together while learning more about their personality and thought processes.
20 Questions: This is a guessing challenge available on GamePigeon. One player sets a word that the other must guess in twenty questions or less.
Tic Tac Toe: You could play this classic strategy match with your partner. It allows you to bring out your competitive side healthily and teaches you about how your partner strategises.
Trivia Crack: This trivia match allows you to test your knowledge in various categories, including science, history, sports, and more. It features over 1,000 interesting questions, so you'll never exhaust new challenges to tackle.
Checkers: iMessage brings the classic board challenge to the screen. Challenge your partner to a relaxing contest of checkers to unwind.
Four in a Row: The physical version of this contest is called Connect 4. The goal is to place four chips of your chosen colour in a row while blocking your partner from doing the same.
Sea Battle: This is the online version of Battleship. It is a strategy game where players command naval ships and plot to sink their opponent's ships.
Chess: Chess42 is the iMessage app to challenge your partner to a few rounds of the classic board game.
Truth Truth Lie: Commonly called 2 Truths and a Lie, this is an ideal icebreaker. You get to learn more about your partner while bonding and having fun.
Can I play iMessage games on Android?
No, iMessage games are exclusive to Apple devices and unavailable on Android devices. iMessage is a messaging platform developed by Apple and is only available on Apple devices, such as iPhones, iPads, and Macs.
What's the iMessage game app?
GamePigeon is the iMessage game app with the most in-app game options, including classics like Checkers and Crazy 8s. However, GamePigeon is not required to play other iMessage games.
Where can I download iMessage games?
You don't need to download iMessage games separately, as they are already built into the iMessage app on your iPhone, iPad, or Mac. To access and play iMessage games, start a conversation with a friend or family member on iMessage, then tap on the App Store icon and select the "Games" option.
Can you play iMessage games with someone in a different country?
Yes, you can play with someone in a different country if you both have access to the texting app on your Apple devices and a stable internet connection. However, it's important to note that some may not be available in all countries or regions due to local laws and regulations.
iMessage games are a convenient and fun way to play with friends and family without downloading separate apps. With new games constantly added, there's always something new to try and keep you entertained.
DISCLAIMER: This article is not sponsored by any third party. It is intended for general informational purposes only and does not address individual circumstances. It is not a substitute for professional advice or help and should not be relied on to make decisions of any kind. Any action you take upon the information presented in this article is strictly at your own risk and responsibility!
Legit.ng recently published an article about how to schedule a text message. Scheduling a text is a valuable feature that allows you to compose a message and send it at a later time or date.
In addition to using the built-in "Schedule Send" feature on your phone, third-party apps on the App Store allow you to schedule texts. These apps may offer additional features and customisation options, but be sure to read reviews and choose a reputable app to ensure the security and privacy of your messages.
Source: Legit.ng