Today, you have many messaging clients to choose from, including Messenger for Facebook and Instagram, WhatsApp, and Snapchat. Among the lesser-known options is Notes for Instagram. This Messenger alternative is particularly interesting as it provides a short-form, casual way to share status updates in short posts with a limited audience.
Each Note can contain a maximum of 60 characters and be accompanied by music. You can share your Notes with followers you follow back or those designated as "Close Friends." After you post, Notes disappear after 24 hours, making them an excellent option for a more spontaneous way to share what's on your mind.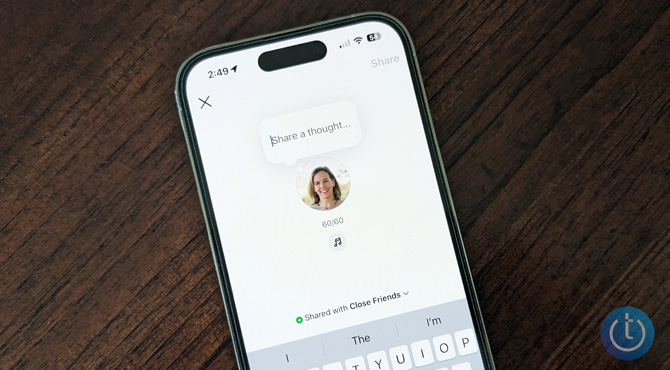 How to send an Instagram Note
Launch the Instagram app.
Go to your Inbox (Messenger icon) in the top right corner.
In the top left, tap your profile icon has a + and Your Note under it.
Compose your Note. Tap the music note icon to add music to accompany your Note (only available in some locations).
Choose whom to share with. There are two options you can send a Note to – followers you follow back, or to Close Friends.
Hit the Share button to publish the Note.

To read Notes, go to your Inbox, and you should see Notes as floating texts over your friend's profile pic. If the text bubble can't accommodate the entire message or there is music, tap the icon to access the whole message. When someone replies to your Note, it appears in your regular list of Messages so you can continue the conversation.
When you send out a new Note, it replaces the previous Note automatically. You must delete the Note if you no longer want it to appear and it's been less than 24 hours.
Navigate to your Inbox (Messenger icon) in the top right corner.
Select the Note you want to delete.
Tap the Delete note option.
There's no way to find out if a friend has posted a note through a notification. You'll have to check your Inbox for it.
Just getting started on Instagram? Check out our story Instagram 101: Understanding the Basics.
[Image credit: Screenshots via Techlicious]
As a lifelong tech enthusiast, Hemant Saxena is always looking for the latest gadgets that intersect with his hobbies. For more than a decade, he has been writing about consumer gadgets, popular apps, and social media tips for publications, including Windows Club and Techmate Tricks.