iRobot added a new flagship model to its robust line-up of floor-cleaning robots, the Roomba Combo j9+ vacuum and mop. This model promises smarter, better navigation and deeper cleaning than last year's Roomba Combo j7+.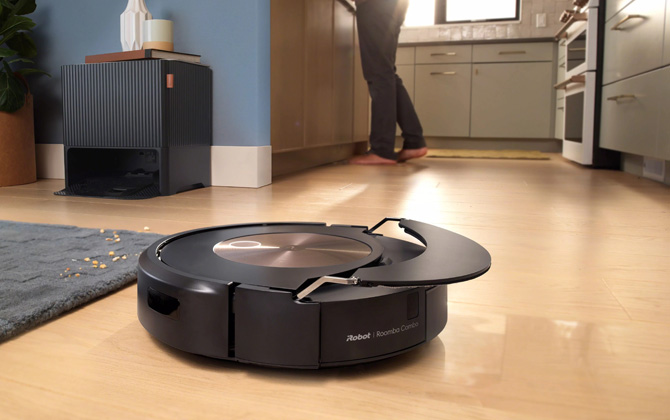 Based on my extensive testing of mopvacs and months of use in my home, I'm a huge fan of last year's Roomba Combo j7+. It was the first model to add retractable arms to lift the mop pad to the top of the robot when vacuuming carpets, eliminating the chance of carpets accidentally getting wet or dirty.
The new flagship Combo j9+ ($1,399, check price on Amazon) has that same retractable mop pad design, and it adds improved floor scrubbing in mopping mode, as well as a redesigned base that automatically fills the robot's water tank with clean water when needed. You'll still need to empty the dirty water manually, but more on that later.
Improved floor scrubbing power
The more vigorous scrubbing is achieved with a new iRobot feature called SmartScrub that puts additional force on the mop pad and changes how the robot mops. In addition to the usual way it drags the mop cloth over the floor, the robot can move back and forth over the floor area, mimicking the way you would clean by hand with a mop. You can use this setting when cleaning a sticky mess or a whole room. iRobot says it has twice the scrubbing power of a typical robot vacuum. But, we'll have to see if it can compete with the cleaning power of robots with dual spinning mop heads like the Bissell SpinWave or the just-released Ecovacs T20 Omni ($1,099, on sale for $989).
Good news for Combo j7+ users: SmartScrub will be available for that model through a firmware update.
Clean Base empties dirt and fills the robot with water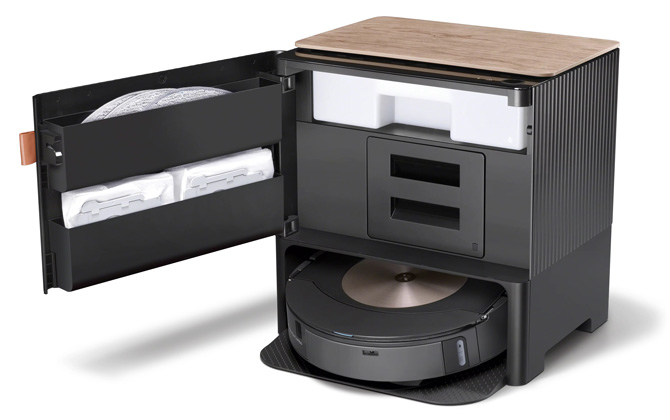 The Clean Base has been redesigned for the Roomba Combo j9+ to accommodate a clean water tank and the dirt bag, which holds up to 60 days of debris. Typically, I find the large bases of self-cleaning robot mops (like the Ecovacs X1 Omni and the Roborock S7 MaxV Ultra) unattractive and overly clunky looking. Since the Combo j9+ doesn't self-clean the mop head and only refills the clean water, iRobot was able to design a sleeker-looking base (higher and slightly deeper than the previous base) with room to store extra mop pads and dust bags without making it unsightly. In fact, iRobot realizes many users place the base in a public area (like the living room or the bathroom), so they tried to make it look more like a piece of furniture. It now has a completely flat top (with a faux wood finish) where you can place items like a plant or a coffee cup and treat it more like a side table. And talk about convenience – the base opens from the front, not the top, so you don't have to move those items to access the storage inside.
Quieter self-emptying
iRobot says the self-emptying function on the new dock is quieter than previous models. I look forward to hearing the difference, though I still wish iRobot would add a "Do Not Empty" function to the app for when you don't want to hear the noise or don't want to empty the debris from the robot.
iRobot OS 7 adds Dirt Detective to prioritize cleaning
In addition to the new robot, iRobot updated its OS to version 7, which includes a new feature designed to learn your cleaning habits and anticipate what needs to be cleaned. Dirt Detective analyzes past cleaning preferences, making note of items like ovens and refrigerators, remembering which rooms in your home are the dirtiest, and suggesting which rooms to clean first. Of course, you can set your own cleaning preferences, but letting Dirt Detective do its thing means the sticky kitchen floor will get cleaned first, and it is smart enough to clean the bathroom last, so there's no chance of any dirt on the mop or roller brushes getting dragged through the house.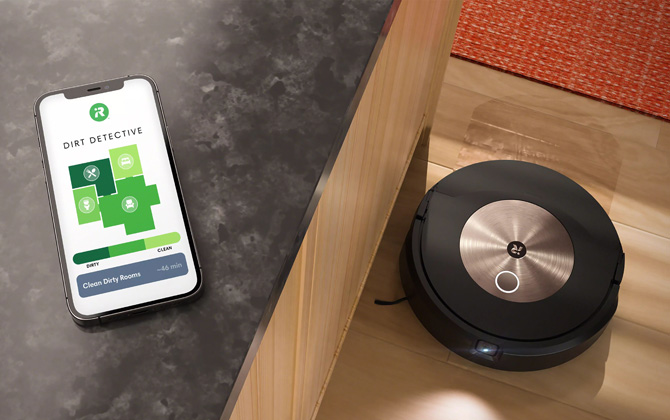 The Combo j9+ vacuum and mop ($1,399) uses the same advanced obstacle avoidance system used on the Combo j7+, which I found to work extremely well. It uses a camera to recognize and avoid different household objects like cables, socks, sneakers, and even pet waste.
The Roomba Combo j9+, which will ship October 2, 2023, costs about $400 more than last year's Combo j7+ ($999), so we'll see if the new Clean Base, Dirt Detective, and increased mopping power are worth it when we do our full review.
[Image credit: iRobot]
Andrea Smith is an award-winning technology broadcast journalist, reporter, and producer. Andrea was the Technology Producer and an on-air Technology contributor at ABC News for over two decades before becoming the Lifestyle Channel Editor at Mashable, where she explored the ways in which real people, not just geeks, began using technology in their everyday lives.