Apple finally unveiled its innovative and potentially revolutionary mixed reality goggles, the Vision Pro. But Vision Pro is more than just another augmented reality (AR) or virtual reality (VR) headset, and more than how Apple describes it, as "a new kind of computer that augments reality by seamlessly blending the real world with the digital world." Instead, Vision Pro seems like one of those rare logic-defying disruptive technologies like the internet that you must experience to comprehend its benefits and potential fully.
Essentially, instead of a boring static two-dimensional computer display, the ski goggle-like Vision Pro creates all-enveloping visual and aural panoramic 3D computing, entertainment, and communication experiences. These are controlled by your eyes, head, tapping finger, hand movements, voice, or two physical controls – a push button and a rotating crown like those on the Apple Watch.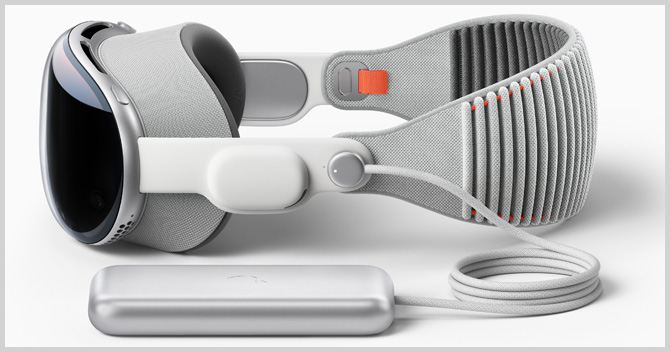 Unlike other VR headsets, you're not entirely blinded and cut off from the real world by the Vision Pro. Instead, you'll be able to see, hear, or interact with your physical space and people – you'll just be wearing bug-eyed goggles when doing so. And you'll be able to see, hear, and interact with virtual objects or multiple application window tiles across your field of vision superimposed over your actual physical environment. Or, you can choose to close off the real world and see and hear only what appears on Vision Pro's postage stamp-sized 23 million pixel micro LED screens. Weirdly, you'll also be able to let people around you see your eyes through the curved front panel so you don't appear closed off to them.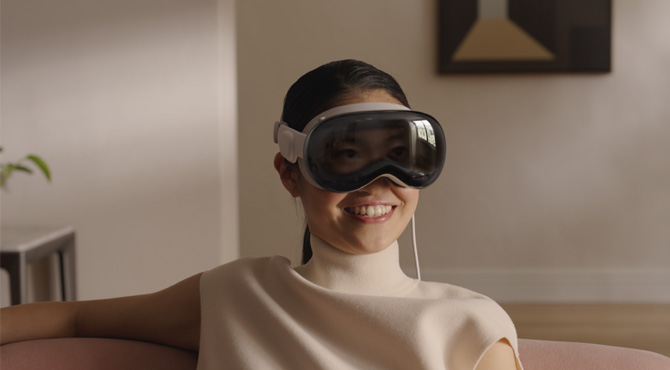 Vision Pro is also equipped with 3D cameras with spatial audio that lets you capture the moment, and then when you replay the recording, you'll feel as if you're right back in that moment in time. Panoramic photos expand and wrap around you at life-size as if you're standing right where you originally took the picture. Callers on FaceTime appear life-size right in front of you, and their voices will sound as if they are coming from where they appear in your field of vision. These are just a few of Vision Pro's mind-blowing experiences.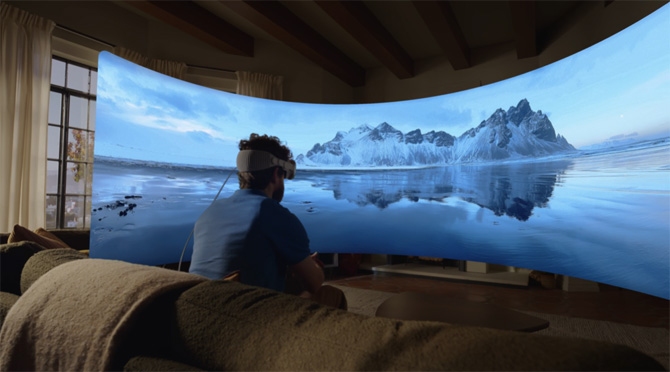 Apple believably boasts that Vision Pro is "the most advanced personal electronics device ever" – the company claims it filed 5,000 patents for it during its development. The company is presenting Vision Pro as a new all-inclusive spatial computing platform and category-defining, like the iPhone, iPad, and Watch. Vision Pro will launch later this year with its own operating system (visionOS), its own app development program, and its own App Store starring Disney Plus and more than 100 Apple Arcade gaming titles.
But given Vision Pro's sophistication, its vast range of capabilities and use cases, and its giant leap beyond the mere 2D touch display we're used to, it will take an extraordinary effort to learn how to merely use it. We will also have to adapt to the behavioral changes it will require and sort through the societal reaction that all disruptive technologies demand. Yes, maybe one day it will seem normal that everyone in your home or office will be wearing Vision Pro-like goggles – assuming there'll still be offices to go to by the time spatial computing headsets become ubiquitous. It's also quite possible that our demonstrated historical dislike of donning tech-laden eyewear will prevail, and Vision Pro becomes another 3D TV-like failure.
Like Apple's Newton personal digital assistant or the Lisa personal computer, Vision Pro's technological intentions may be too overwhelming, too far ahead of their time. Given its clunky aesthetic and its $3,500 price tag, you're unlikely to run out and buy the Vision Pro when it becomes available at the end of the year, even if you could figure out how it fits into your life and lifestyle.
At this stage, Vision Pro seems like a v1.0 for the possible future of computing. But Apple also has a history of defying these disruptive technology hurdles before.
[Image credit: Apple]
Stewart Wolpin has been writing about consumer electronics for more than 35 years, including news, reviews, analysis and history, and has attended and covered nearly 50 Consumer Electronic Shows and around a dozen IFA shows in Berlin. For the Consumer Technology Association (CTA), he is an elector for and writes the official biographies of the annual CT Hall of Fame inductees, and is the keeper of the industry's official history.