"I've Never Met Him in My Life Before": Comedian Ashmusy Blows Hot in Video, Debunks Link With Dino Melaye
Popular Nigerian actress and comedian, Ashmusy, has now reacted to claims that she is involved with politician, Dino Melaye
An anonymous blog had shared a photo of the comedian side by side with the politician's and Ashmusy took to her page to debunk the report
In a heated video, the comedian denied ever knowing the politician and explained that she has never even met him before
Nigerian comedian and actress, Ashmusy, recently made the news after rumours trended that she was involved with top politician, Dino Melaye.
A popular anonymous blog, Gist Lover, had reacted to media personality, Nedu's revelation on how some female celebs get laid with rich men for money and promised to reveal some of them.
Shortly after, Gist Lover shared a photo collage of comedians Ashmusy and Nons Miraj with Dino Melaye in the middle.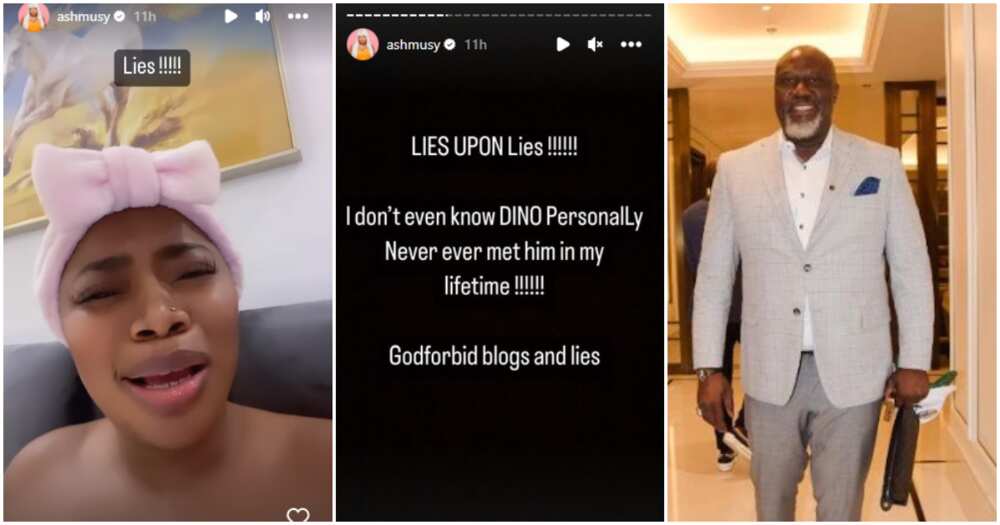 Ashmusy debunks claims of dating Dino Melaye
Taking to her Instagram account, the comedian quickly debunked the claims or any suggestions of having a relationship with the politician.
According to Ashmusy, the rumours are lies. Not stopping there, she added that she has never met the politician before in her life.
The actress explained that she will not ignore the claims because they are totally false and complete rubbish.
She said:
"I don't care this time around, I am not doing any celebrity thick skin. This is rubbish, this is complete nonsense. Just attach my picture to person wey I never see for my life before. I don't even know him, I've never met him in my life before. 'Hardwork under Dino?' Wetin you dey talk?"
Not stopping there, Ashmusy also shared posts on her Instagram story where she insisted that the claims from Gist Lover are lies upon lies.
See her posts below:
Nigerians react as Ashmusy debunks claims of dating Dino Melaye
emcee_reborn:
"Gistlover never even post the gist but just pix alone dem don dey rant already..She should calm down first na"
gold_rukky:
"Nd if dem follow man nkor wetin self , like say Una sisters nd girlfriends no Dey do thesame you hardly see girl wen no Dey follow man or get man friend leave dem alone to enjoy their young age Abeg Una too do self all this blogs."
zeenodavid:
"Ashmusy lies a lot, I'll never believe a word that comes out of her mouth…."
omotoyosi_z:
"But the truth is that gistlover never even say Wetin the gist be…. na conscience Dey judge you nii"
international_uyi:
" Swear say u never met Dino before,. But gistlover never talk u don Dey rant,…."
jasmine_precious:
"Many of you influencers didn't learn from bob, bob's career literally died cause of response.. aunty learn from ur seniors anf ignore oooo"
ana_ish23:
"Y'all protect Nedu at all cost!!!!!!!"
gold_rukky:
"So Dey should come here and say is true oooo if everybody Dey com out nd say is true I sure say Una for dun see Una papa or husband or sister husband for the social media as man friend or something leave dem alone na their body shuuuu"
123omotola:
"This lady work hard, go and look at the amount of adverts this particular girl does with creative contents…if she charges 300k for the week on a promo day and 100k for one time advert…the money will definitely add up fast…..and best believe they charge upto and more…it's not hard."
emeldatonet:
"But let me ask ohhhhh. Was it not just picmix that GISTLOVER drop? Did GISTLOVER say that they are sleeping with dino? Why are they always bringing their selves out. Why can't you wait till the gist comes out. Is good to be a listener than being a talker."
OAP Nedu speaks on how some female celebs make money
Popular media personality Nedu Wazobia is making headlines over his revelation about some female celebrities and how they make their money.
Nedu while speaking during a podcast shared how he walked in on two famous celebrities sleeping with his rich friend at Transcorp Hilton Hotel in Abuja.
In his words:
"I have walked in once on some of your influencers/celebrities two of them having a thresome with somebody I know."
Source: Legit.ng