June 12: How "Amala" Saved Me From Abacha's Assassins in Cotonou, Tinubu Opens Up
Nigeria's President, Asiwaju Bola Tinubu has made a shocking revelation about his past struggles in Life
Tinunu while recounting his Life struggles on June 12, revealed how his generosity and love for Amala helped save his life from Assasins of the late General Sani Abacha
Despite being in exile, Tinubu continued to coordinate and organize the struggle, frequently traveling between Benin Republic and Nigeria
Democracy Day was established to commemorate the June 12, 1993, presidential election that the late Chief MKO Abiola won being declared invalid.
Asiwaju Bola Ahmed Tinubu of the National Democratic Coalition (NADECO) was one of those fighting to put the mandate into action back then. He is the current president.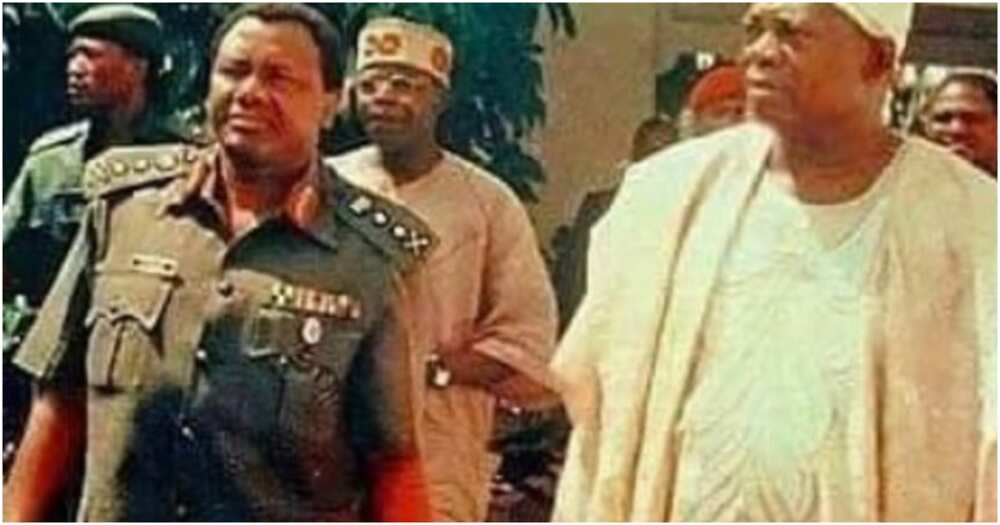 Tinubu reveals how Amala" made him escape Abacha's killers in Cotonou
Due to the hardships, Tinubu would have perished in Cotonou, but his kindness and love for Amala saved him.
PAY ATTENTION: Follow us on Instagram – get the most important news directly in your favourite app!
Going down memory lane, When the annulment occurred, the late General Sani Abacha, who stole power, went crazy! Abacha exhibited a lot of killers without boundaries! He sent his killers after advocating for democracy. Many people perished in the process. One of the missions was when Abacha dispatched his killers to the Republic of Benin.
At the time, Tinubu was a member of the National Democratic Coalition (NADECO) and actively participated in the struggle for Abiola's mandate and democracy in Nigeria. This period was marked by the oppressive regime of General Sani Abacha, who unleashed violence and repression on pro-democracy activists.
During those turbulent times, Abacha's regime employed assassins and pursued activists both within and beyond Nigeria's borders. Tinubu himself faced grave danger and narrowly escaped assassination attempts.
In an interview with The NEWS, he recounted his experiences, including his escape to the Benin Republic disguised in traditional attire, thanks to a friend who provided him with the necessary clothing.
Tinubu narrated what happened in detail and how amala delivered him from death, Abacha's assassins.
He opined thus:
"I didn't have a passport and couldn't have been able to travel. At a stage, they discovered our routes, because they had spies all over, including Benin Republic. Twice I was caught and I fortuitously escaped. They traced me to one dingy hotel I was hiding.
"The day they came for me at the hotel, I had gone out on an Okada to buy amala at a market, where Yorubas are dominant. I was also to meet Akinrinade and the rest of them. The spies went to the hotel and as I was approaching, I saw two people wearing tajia (skull caps) at the front desk, asking questions. The man attending to them at the reception (I had been very nice to the receptionist) winked to me and I turned back. I contacted a friend in Benin Republic, who was an architect, and had very strong sympathy for us. Professor Wole Soyinka and Alani Akinrinade, who lodged in a better hotel, were fortunate to have escaped that night, too. The people on their trail pursued them to the hotel, but fortunately missed them."
There is no paean without pain. After going through such a rough patch, fighting for democracy, Tinubu is now President and Commander in Chief of the Armed Forces of the Federal Republic of Nigeria. He now belongs to the group of freedom fighters who ended up governing their countries, PM News report added.
Read the full details of Tinubu's interview with TheNews here.
June 12: Full text of President Bola Tinubu's Democracy Day speech
Earlier, Legit.ng had reported that President Bola Ahmed Tinubu delivered a national broadcast to commemorate Democracy Day on Monday, June 12.
The speech, which was the president's first as Nigeria's leader, was delivered at 7 am.
Democracy Day: President Bola Tinubu speaks on Atiku, Peter Obi's court cases
President Bola Ahmed Tinubu on Monday, June 12, said Atiku Abubakar of the Peoples Democratic Party (PDP) and Labour Party (LP's) Peter Obi approached the court because they disagree with the outcome of the 2023 presidential election.
President Tinubu stated that his two main opponents "are taking full advantage of the constitutional provisions."
Source: Legit.ng