Just In: After Stepping Down for Tinubu, APC's Sole Female Presidential Aspirant Appointed Minister
President Bola Tinubu on Thursday, July 27, submitted the much-awaited ministerial list to the National Assembly for screening
Honourable Uju Kennedy Ohaneye, the only female presidential aspirant who stepped down from the presidential race has been appointed into Tinubu's cabinet as a minister
Ohanenye, a barrister, announced her decision to support the former Lagos governor during the presidential primary of the ruling party in June 2022
Honourable Uju Kennedy Ohaneye, has finally made it into President Bola Ahmed Tinubu's cabinet.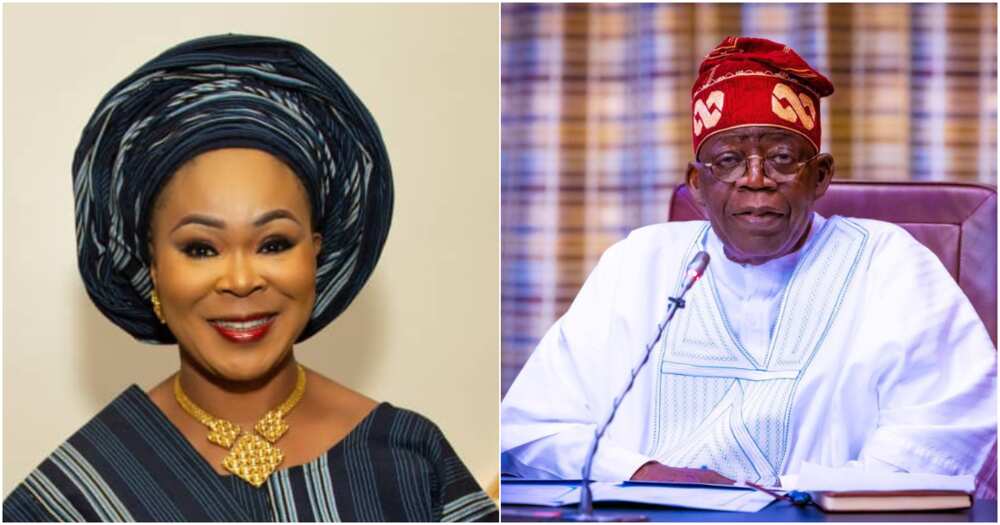 Sole female aspirant who stepped down for Tinubu appointed minister
The lone female All Progressives Congress (APC) Presidential Aspirant who stepped down for Tinubu at the party's special convention and presidential primary in 2022, has been appointed minister, Daily Trust reported.
The Senate, on Thursday, July 27, unveiled Tinubu's 28 ministerial nominees at the plenary. The names were read by the Senate President, Godswill Akpabio, at the plenary and Ohanenye, a barrister, made the list.
PAY ATTENTION: Follow us on Instagram – get the most important news directly in your favourite app!
APC's female presidential aspirant Ohanenye steps down for Tinubu
She was one of seven APC aspirants who stepped down for the eventual winner, President Tinubu, at the convention, which took place at Eagle Square, Abuja.
Before she announced her withdrawal from the race to support Tinubu, Ohaneye put up a dramatic show as she entertained the public with her dance steps.
Some Nigerians had expressed disappointment over her withdrawal from the race.
But in an interview, she told The PUNCH that she has always enjoyed dancing even in public places.
"Wetin concern me? I am a happy woman. I boogied down all the way. Even when they were counting the votes, I would stand and danced without a hoot about who was watching me. Let anybody hit their head anywhere if they don't like it. I advise every other person to learn to be happy. That is the key.
"Wait till we win the 2023 general election, Nigerians will see me dancing all the way. I will wear my dancing shoes again."
Video as Mrs. Uju Kennedy Ohaneye steps down for Tinubu surface online
At the APC presidential primary in June last year, Mrs Uju Kennedy Ohaneye, who had purchased the APC form for N100m, stepped down for Tinubu and also danced in the process. She has now been nominated as a minister. Her hope has been renewed.
Ministerial list: David Umahi to resign from National Assembly
David Umahi, who is the Deputy Senate Leader at the National Assembly, is getting ready to step down from his position as a senator.
His purported resignation is due to his nomination and likely appointment as a minister in the Federal Republic of Nigeria under President Bola Ahmed Tinubu's cabinet, BusinessDay reported.
Umahi who served as the governor of Ebonyi state and represents Ebonyi South Senatorial District in the National Assembly, is a leader in the ruling All Progressives Congress (APC).
Tinubu's ministerial nominees: Wike, Edun, Oyetola, El-Rufai, Adelabu, Edu, others reportedly make list
A fresh report has indicated that the immediate past governors of Kaduna and Rivers states, Nasir El-Rufai and Nyesom Wike, have made it to the ministerial list of President Bola Tinubu, Legit.ng reported.
The report by Vanguard further stated that the president will today. Thursday, July 27, send the list of ministerial nominees to the Senate for screening and confirmation, barring any last-minute change.
The Nation also reported that a Senate source said President Tinubu forwarded the list to Senate President Godswill Akpabio Thursday morning, in line with the constitutional provision that the list should get to the National Assembly within 60 days after the presidential inauguration.
Source: Legit.ng