Macron presses ahead with French pension reform despite strike threat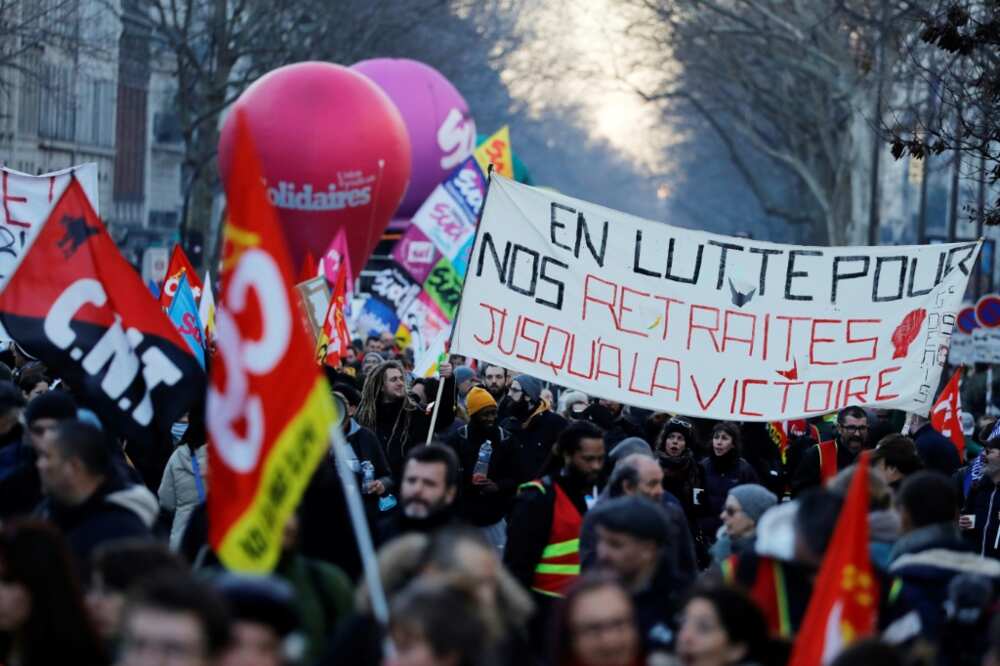 PAY ATTENTION: Сheck out news that is picked exactly for YOU ➡️ find the "Recommended for you" block on the home page and enjoy!
The French government on Tuesday announced plans to raise the retirement age to 64 and streamline the pension system, setting the stage for a major showdown with trade unions and a new wave of protests.
Even some of President Emmanuel Macron's closest allies are known to be uneasy about the proposed changes, which come at a potentially explosive time so soon after the Covid-19 pandemic and amid high inflation.
For the first time in 12 years — since the last pension reform — all of France's trade unions are expected to make a joint call for strikes, which could start as early as next week.
Presenting the outlines of the government's plans on Tuesday after months of suspense, Prime Minister Elisabeth Borne said that doing nothing about projected deficits for the pension system would be "irresponsible".
"It would lead inevitably to a massive increase in taxes, a reduction in pensions and would pose a threat to our pensions system," she said.
Major disruption is expected in the coming weeks, with opinion polls showing that around two thirds of French people oppose raising the retirement age and most would support protests.
"On the whole, the idea of the reform is not supported by the public, even though some can understand that if we live for longer then we might need to work for longer," Bruno Cautres, a political expert at Sciences Po university in Paris, told AFP.
Business leaders are worried about the impact of stoppages on public transport or other public services, adding to concerns about rocketing energy prices and labour shortages.
'Anxiety and fears'
Macron's last attempt at pension reform in 2019, aborted a year later when Covid-19 hit Europe, prompted the longest strike on the Paris transport network in three decades.
The 45-year-old centrist put the issue at the heart of his successful re-election campaign last year, pointing to forecasts that the system would fall into heavy deficit at the end of the decade.
As well as raising the retirement age, the changes would increase the number of years in which workers must have made contributions before they can claim a full pension, effectively extending the careers of millions.
It would also put an end to special pension privileges enjoyed by workers in some sectors, such as the Paris transport network, but only for new entrants.
Left-wing opponents say the reform is unfair because the higher retirement age will affect unskilled workers the most because they tend to start their careers earlier than graduates.
French economist and author Thomas Piketty wrote in Le Monde newspaper at the weekend that the projected savings of 20 billion euros a year by 2030 "will weigh down entirely on the poorest".
Some ruling party lawmakers have spoken privately of their concern about protests, while one of Macron's closest political allies, Francois Bayrou, has warned that the government has not explained itself sufficiently.
"I'm very aware that making changes to our retirement system is causing anxiety and fears among French people," Borne said.
Yellow Vests II
The biggest fear is a repeat of spontaneous protests in 2018 when people wearing fluorescent yellow safety jackets began blockading roads, sparking what became known as the "Yellow Vest" revolt.
The often violent display of defiance struck fear into the heart of government, leading Macron to promise a gentler, less authoritarian style of governing.
"I don't see another 'Yellow Vest' crisis happening," Cautres told AFP, even though he said the national mood was one of "pessimism, fatalism and anger" and a sense that "we're permanently in crisis".
Some in government are banking on the country acquiescing to a change that is widely disliked but viewed as inevitable.
Most of France's neighbours have hiked the retirement age to 65 or beyond.
The once-mighty French unions are also in steady decline and have repeatedly lost out in their struggles with Macron.
"If they lose this battle again, if they get nothing on the pension issue, it will be complicated for them to manage the aftermath," said Stephane Sirot, a historian and author specialised in the French labour movement.
The government is hoping for a speedy adoption of the legislation in parliament next month, where Macron's allies are in a minority since June.
Their hopes were given a boost on Tuesday when the right-wing opposition Republicans party signalled it would vote in favour.
The head of the Republicans parliamentary party, Olivier Marleix, said Tuesday his group was "ready to support a reform" as long as "a few conditions" were met.
Source: AFP