Meet Igho Sanomi, one of Nigeria's youngest billionaires deeply into philanthropy
There is today, a crop of young Nigerians making it to the billionaire list
These new crop of billionaires are found in many sectors including oil and gas, telecommunication, media, etc
Igho Sanomi is one of them but what is most interesting about him is his love for philanthropic works
Igho Sanomi is one of Nigerian billionaire businessman with interests in several sectors including telecommunications, transportation, maritime, real estate and aviation.
He is also writer, public speaker and most of all, a philanthropist with a big heart for the less privileged in our society.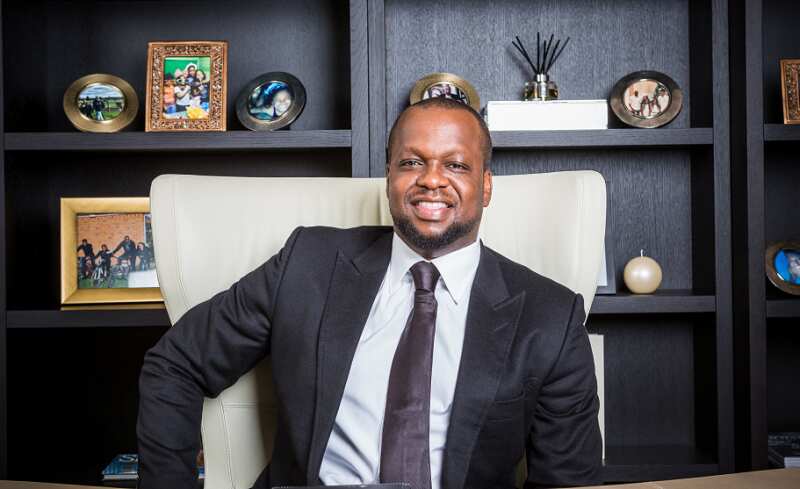 Family Background & Education
A a native of Aghor, Delta State, Nigeria, Sanomi was born the fifth child and first son of Dickens Ogheneruemu Patrick Sanomi and Mabel Iyabo Sanomi on the the 17th of May 1975 in a devout Catholic home.
Pa Sanomi was a retired Assistant Inspector General of the Nigerian Police while his mother was a renowned nurse and medical entrepreneur from Osun State who holds a Royal title of Yeye Jemo of Isotun Ijesha Kingdom in Osun State.
Sanomi attended the prestigious University of Jos in Plateau State where he obtained a degree in Geology and Mining.
Business career
Sanomi's career in business started in the late 1990s as executive director, Operations and Marketing at Cosmos Oil AG, an international oil-trading corporation with its primary commercial activity in Nigeria were he was in charge of negotiating the export of fuel from Port Harcourt in Nigeria's South-South to the company's country operation line.
He later became the managing director of Sarian Oil and Services Ltd, where he establised a partnership with Masefiel AG, a Swiss energy-trading corporation. The agreement and partnership led to opportunities in the importation and exportation of refined ptroleum products worth over 600,000mts
After much success in previous ventures, Sanomi established Taleveras Group in 2004. The company has key interests in power, construction and energy. The company later diversified with operations in the upstream, midstream, downstream and power sectors of the energy industry in Nigeria, becoming one of the leading energy companies in the country.
Sanomi's Taleveras Group is one of the Nigerian companies that obtained oil-lifting contracts from the the Nigerian National Petroleum Corporation (NNPC). The company trades in a significantly high volume of Crude oil, gasoline, jet fuels, LPG, gasoil and petrochemicals
Taleveras Group was awarded the construction of six substations in the Niger Delta region under the National Integrated Power Project.
The company acquired Afam Power Plant in Rivers State in July 2013 and established a partnership with Alstom Group to rehabilitate and expand the 776-megawatt generating plant.
Philanthropy
Sanomi is very much known for his humanitarian efforts. Together with his siblings, he had founded the Dickens Sanomi Foundation (DSF) in 2011 in honour of their father.
The charity organisation which is chiefly sponsored by the Taleveras Group is deeply involved in mentoring access to youths and entrepreneurs, promoting access of youths and children to education and empowering people from underserved backgrounds with the right knowledge and skills they need to thrive.
Some of his philantropic works include, sponsoring of an essay competition for Nigerian secondary students since 2014. The winner usually gets a scholarship and the school gets grants to buy laboratory equipment and computers.
The foundation also donated food and relief materials worth millions of naira to over 12,000 flood victims in Delta State in October 2012 through its Project Rescue Flood Victims. DSF also reported to have given out a N100 million worth of comprehensive funding package to flood victims in Bayelsa and Delta states.
In 2010, the Dickens Sanomi Foundation presented a N10 million cheque to Amaju Pinnick, the then Delta State Sports Commissioner to support the first Africa Youth Athletics Championships in Warri, the state capital.
Awards and Achievement
Not only is Sanomi a experienced businessman and cheerful giver, but also a medal-deserving patriot.
His efforts have earned him recognition from Cancer Research UK and the Bobby Moore Fund in the UK for his philanthropy towards bowel cancer research.
In 2022, the Sanomi was recognised by the Global Initiative for Peace, Love, and Care (GIPLC) and presented with the inaugural 2022 GIPLC Golden Heart Award for his his support for vulnerable children in Nigeria and around the world.
In September 2014, the Institut Choiseul for International Politics and Geoeconomics ranked Sanomi number one among "growing business leaders, successful entrepreneurs, investors, who embody the dynamism and renewal of a whole continent and carry the hopes of an entire generation.
During an annual birthday of Dr Martin Luther King Jr in Washington, DC, Sanomi received a prestigious Martin Luther King Legacy Award for Service and Philanthropy. Sanomi received the 2014 Africa's Emerging Community Development Icon Award, and was granted honorary citizenship in the U.S. state of Georgia.
In 2013, Forbes cited Sanomi as one of "Ten Young African Millionaires To Watch". He was also ranked by African Leadership magazine as one of Africa's top 25 oil and gas.
He is also a recipient of Mode Men magazine Humanitarian of the Year Award in 2012, and Africa's Emerging Community Development Icon Award in 2014.
Source: Legit.ng