Mercosur calls for 'update' to draft EU trade agreement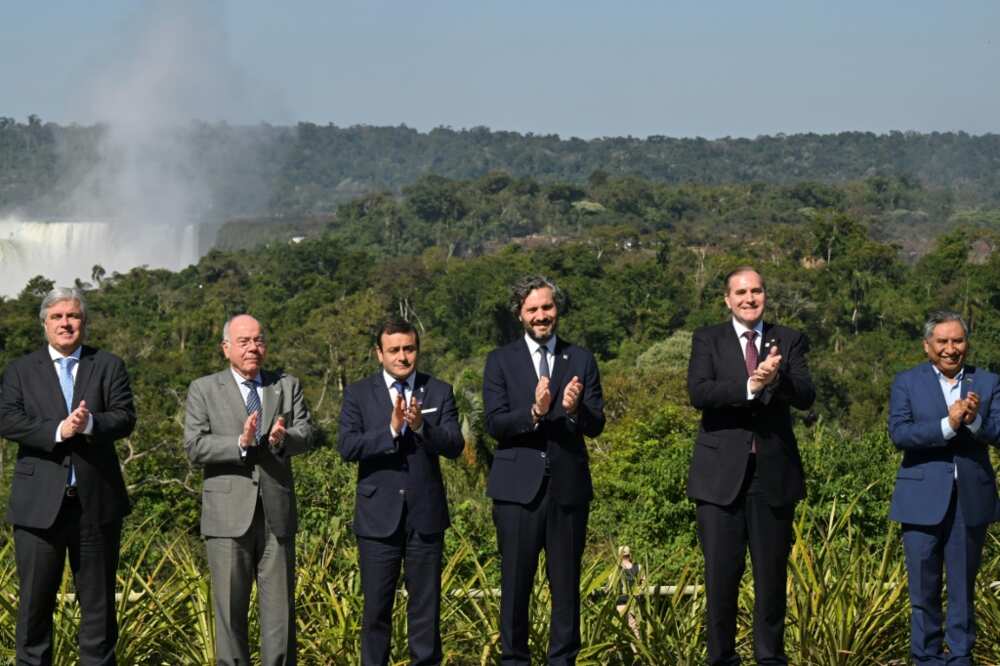 South American trade block Mercosur opened a two-day summit on Monday with host Argentina calling for an "update" to a long-paused trade deal with the European Union which it said was the product of an "asymmetrical" relationship.
Observers have low expectations for the summit's ability to give final shape to the pact stalled by EU concerns over environmental protections, particularly in the Brazilian Amazon.
Mercosur countries Argentina, Brazil, Paraguay and Uruguay reached an agreement in principle with the 27-member EU in 2019 after two decades of negotiations.
The EU has since proposed a "side letter" to the agreement, with extra environmental guarantees, rankling South American leaders.
Brussels wants any deal with Mercosur nations to include compliance with commitments made under the 2015 Paris climate accords.
On Monday, Argentine Foreign Minister Santiago Cafiero said deepening ties between Mercosur and the EU was "necessary in an international context of conflict and growing uncertainty."
PAY ATTENTION: Share your outstanding story with our editors! Please reach us through info@corp.legit.ng!
For this to happen, however, the 2019 draft agreement needed an "update" as it "reflects an unequal effort between asymmetrical blocs, he told fellow ministers gathered at Puerto Iguazu.
The ministers met ahead Tuesday's gathering of Argentine President Alberto Fernandez with his counterparts from Uruguay, Paraguay and Brazil: Luis Lacalle Pou, Mario Abdo Benitez and Luiz Inacio Lula da Silva.
The bloc represents 62 percent of South America's population and 67 percent of the continent's gross domestic product.
Brazil's Lula has led criticism of the EU's environmental demands, telling reporters last month that "strategic partners should have a relationship of mutual trust, not mistrust and sanctions."
Deforestation in the Amazon surged under Lula's predecessor, far-right ex-president Jair Bolsonaro, in office from 2019-2022.
And while veteran leftist Lula has cast himself as the anti-Bolsonaro on environmental policy, he told European Commission head Ursula von der Leyen in June he had concerns over the additional environmental guarantees.
Lula accused EU lawmakers of trying to legislate "outside their territory" with measures that "change the balance of the agreement."
Brazil will take up Mercosur's rotating presidency until the end of the year.
The EU's top diplomat, Josep Borrell, acknowledged recently that the environmental proposals were not well received by the South American countries and said Europe was awaiting a concrete response.
Given the divide, Bruno Binetti, an expert on international affairs at the Inter-American Dialogue think tank in Washington, said "the most" that could come out of the Argentina summit was "a specific agenda" with "demands."
"But I don't think we are at that stage," he told AFP.
Source: AFP