According to the EPA, watering systems that meet the agency's WaterSense criteria can reduce water use by up to 30 percent or 15,000 gallons annually. The best way to save water and keep your plants healthy is to use soil sensors in conjunction with weather data to determine when to water. Most soil sensors need to be wired underground from their location to the watering system controller, making it cumbersome to place sensors for multiple watering zones. However, Moen's new WaterSense-rated Smart Sprinkler Controller works with Moen Smart Wireless Soil Sensors for easy placement anywhere in your lawn or garden.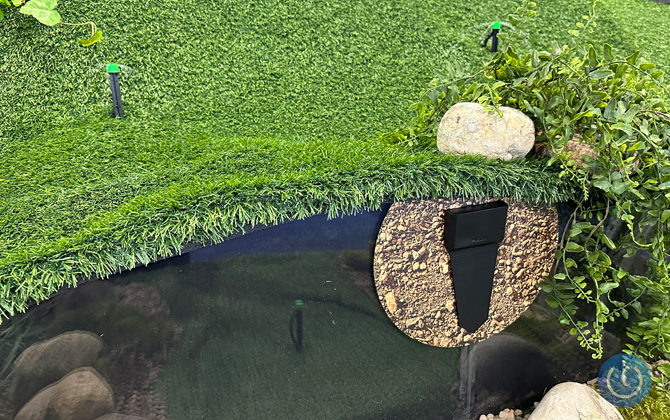 Moen's Smart Wireless Soil Sensors communicate with the Smart Sprinkler Controller at distances of up to 245 feet away using LoRaWAN, a low-power wireless technology. You can install the sensors flush or even slightly below the ground, so you don't have to worry about running over them with the lawn mower. And once buried, the sensors take moisture readings at one-, three- and five-inch depths, plus temperature, to provide a clear understanding of moisture levels.
While the sensors are operational from -4 to 110 degrees Fahrenheit, Moen says you can leave them in the ground all year round, even if temperatures fall outside the operational zone. The batteries last up to six years, at which point you'll need to get new sensors because the battery isn't user replaceable.
Moen expects to start shipping the Smart Sprinkler Controller ($179.99 for eight zones or $234.99 for 16 zones) and Smart Wireless Soil Sensor ($69.99) this spring. You can sign up to get notified when they are available on Moen.com.
[Image credit: Techlicious]
For the past 20+ years, Techlicious founder Suzanne Kantra has been exploring and writing about the world's most exciting and important science and technology issues. Prior to Techlicious, Suzanne was the Technology Editor for Martha Stewart Living Omnimedia and the Senior Technology Editor for Popular Science. Suzanne has been featured on CNN, CBS, and NBC.