Ouster of conspiracy-pushing host exposes Fox News quandary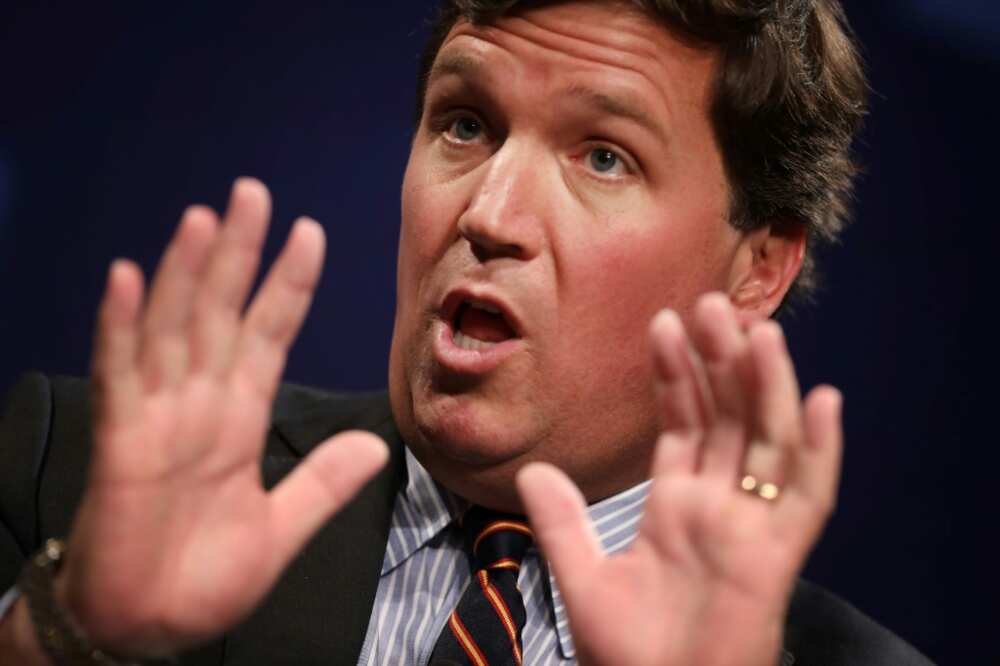 Fox News is caught between a rock and a hard place after prime-time host Tucker Carlson's ouster, with legal challenges piling pressure to curb what observers call blustery on-air disinformation at the risk of alienating his large conservative audience.
The US broadcaster's prime-time viewership has plunged after it fired the star anchor last week, just days after it paid $787.5 million to settle a defamation lawsuit brought by the election technology firm Dominion Voting Systems.
The top-rated show "Tucker Carlson Tonight," which reports say averaged more than three million viewers a night, aired a firestorm of conspiracy theories — from the "great replacement" of white Americans to vaccine falsehoods and anti-transgender propaganda.
Over the years, the show lost advertisers unwilling to associate their brands with Carlson's provocative on-air monologues, but it amassed a record viewership on a network where media pundits say cable subscriptions are a key revenue driver.
Carlson's departure, analysts say, has damaged the broadcaster's hegemony over right-media media as it struggles to stem the migration of his devoted audience to conservative rivals.
"Tucker Carlson's ouster exposed the inherent flaw in Fox News' business model: It built a massive audience with incendiary, toxic rhetoric," Matt Gertz, a senior fellow at the nonprofit Media Matters for America, told AFP.
PAY ATTENTION: Share your outstanding story with our editors! Please reach us through info@corp.legit.ng!
"Carlson's show drove away advertisers, but now his fans are abandoning Fox, and to win them back, the network will likely have to deploy the sort of Carlson-style content that alienates its business partners. That leaves Fox vulnerable."
'Weakest position'
As Carlson was replaced in the interim with a rotating crew of less popular Fox News personalities, Newsmax — its smaller right-leaning rival — saw an abrupt surge in its ratings.
"For a while Fox News has been moving to become establishment media and Tucker Carlson's removal is a big milestone in that effort," Newsmax chief executive Christopher Ruddy said in a statement.
"Millions of viewers who liked the old Fox News have made the switch to Newsmax and Tucker's departure will only fuel that trend."
Fox News did not explain Carlson's abrupt departure from the network, but the US media linked it to a lawsuit filed by former Fox News producer Abby Grossberg, who claimed that he presided over a hostile and discriminatory workplace culture.
Some have also linked it to his text messages perceived to be derogatory to the network and racist off-camera commentary.
The broadcaster has sought to limit its legal exposure after agreeing to the Dominion settlement over its coverage of false vote rigging claims in the 2020 election that Donald Trump lost to Joe Biden.
The network also faces a $2.7 billion defamation lawsuit by another voting technology firm Smartmatic over alleged election disinformation.
"Fox News is in its weakest position yet -— and it has no sustainable options left," said Nandini Jammi, co-founder of the anti-disinformation watchdog "Check My Ads."
"They have no choice but to continue peddling disinformation to keep up with their competitors. We can expect them to double down on racist dogwhistles and conspiracy theories, but this time a little vaguer to ensure they avoid another defamation lawsuit," Jammi told AFP.
But banking on disinformation could make it harder to win back lucrative advertisers who boycotted Carlson's show.
'Fanatical content'
Wireless operator T-Mobile announced its defection in 2020, with its chief executive Mike Sievert writing on Twitter: "Bye-bye, Tucker Carlson!"
In the previous year, language-instruction app Babbel apologized after one of its ads was broadcast on Carlson's show, which it called "repugnant and at odds with our mission."
Carlson's show, researchers say, had "weak" advertising that was not commensurate with the size of its audience. The segment often courted ads by "My Pillow," a company owned by election conspiracy theorist Mike Lindell.
"A shift away from fanatical conspiracy content, less 'My Pillow' stuff, might begin to re-attract big-time advertisers," Huber Research analyst Douglas Arthur wrote in a research note seen by AFP.
"What is the point of leading ratings if the advertisers stay away?"
And how will the broadcaster respond if it continues to bleed viewers and advertisers?
"Executives at Fox pay very close attention to their ratings, perhaps, even at the expense of the truth or the facts," Roy Gutterman, a Syracuse University professor, told AFP.
"It is hard to predict how Fox executives will react if they continue to lose viewers and advertising revenue, especially to other conservative news operations. There's no telling what kind of content they might turn to if they get desperate."
Source: AFP