President Bola Tinubu Plans to Reduce NYSC Members' Monthly Allowance? Fact Emerges
Claims circulating on WhatsApp statuses that President Bola Tinubu plans to reduce the monthly allowance for members of the NYSC have been debunked as false by fact-checking platform Dubawa
President Tinubu, who recently took office as Nigeria's 5th democratically elected president, has not made any statements indicating a reduction in the NYSC allowance
These claims lack credible evidence and are not contained in his official speeches or posted on social media pages
Several graphics shared on users' WhatsApp statuses claiming President Bola Tinubu plans to reduce the monthly allowance allocated to the Nigerian Youth Service Corps (NYSC) members have been found to be false.
A report by Dubuwa, a fact-checking platform, stated that the claim in the graphics is false, adding that the newly inaugurated president has not stated that he plans to reduce the monthly allowance given to members of the NYSC.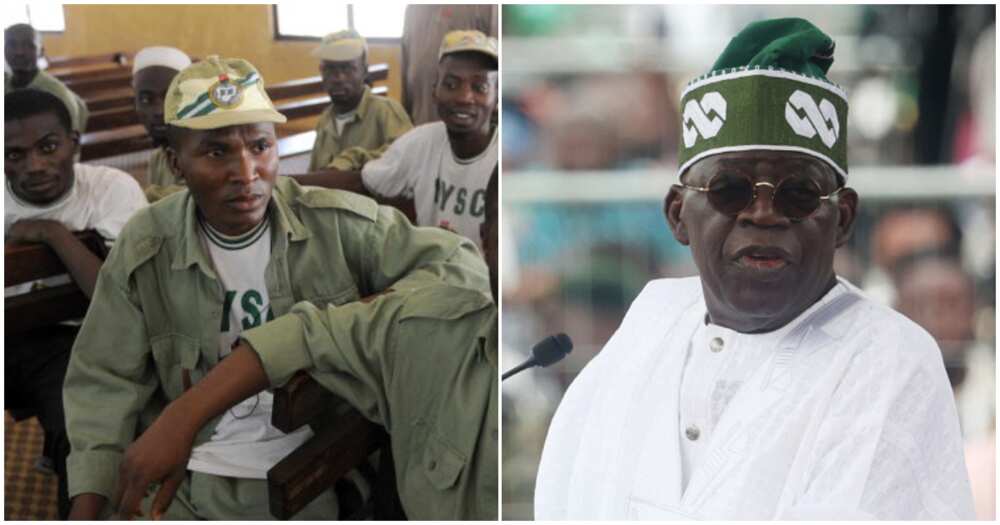 President Bola Tinubu on a rocky start
President Bola Tinubu took office as Nigeria's 5th democratically elected president on May 29, following his victory in the February 2023 general election.
However, he inherited a country grappling with severe economic crises caused by the actions of his predecessor, Muhammadu Buhari. These crises resulted in unprecedented levels of national debt.
In an effort to stabilise the situation, President Tinubu made one of his initial announcements: the abolition of fuel subsidies.
This decision sparked panic within the nation, mere hours after the commencement of his administration.
As a result, speculations arose that he had also reduced the monthly allowance received by corps members in the country.
Graphics shared on WhatsApp claimed that the new president had reduced the monthly allowance for corps members from N33,000 during the previous administration in 2020 to N25,000.
Tinubu never made such a statement
Dubawa reported that closer attention to Tinubu's inauguration revealed that he made no such statement in his speech.
Also, there is no part in the full text of the president's speech published by Legit.ng where he disclosed any plan to reduce corps members' monthly allowance.
No other credible media organisations also reported that the president made such a statement nor does it exist on his social media pages.
NYSC member caught manipulating results
In other news, a serving member of the NYSC was caught in an unidentified polling unit trying to manipulate the results of the 2023 presidential election.
The corps member was caught manipulating the results by swapping votes gathered by the Labour Party for the New Nigeria Peoples Party (NNPP).
In a video seen by Legit.ng, the NYSC member was surrounded by scores of voters at the polling unit and police officers as she was queried on her actions by some concerned Nigerians.
Source: Legit.ng