Samsung has made owning a MicroLED TV easier this year. At CES in Las Vegas, the world's leading TV seller will soon start to sell smaller versions of its modular MicroLED TV that don't need custom installation.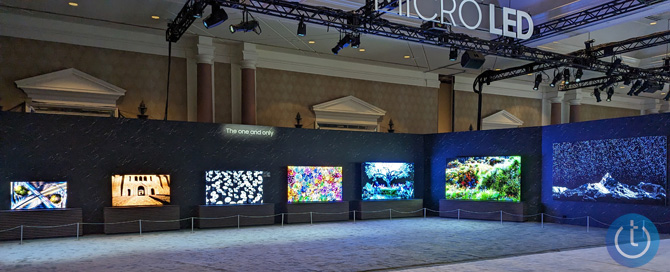 First unveiled in 2020, microLED is essentially Samsung's answer to OLED. Each LED in a MicroLED is a single pixel, each individually controllable for color and light. This means you get a giant screen image that creates a brighter image comprised of more vivid colors, deeper blacks, and more precise contrast than any other TV tech.
MicroLED TVs also aren't a single large panel. Instead, they are comprised of rectangular panels that are assembled like tiles. As a result, not only does a MicroLED TV not require a frame or bezel, which creates a sort of an infinity TV, but the panels can be placed to create unique geometric shapes. (See "QLED vs Mini-LED vs OLED: What's the Difference?" for more MicroLED details.)
Samsung's new 76-inch Micro LED CX will be the company's first MicroLED set that doesn't need a professional installer to put it up on your wall. Spec-wise, the Micro LED CX outputs 20-bit black detail at a 240Hz refresh rate – most TV panels are 60Hz – with a two-nanosecond response time, all of which enhances motion smoothness.
Samsung was showing stand-alone MicroLED TVs in 50-, 63-, 76-, 89-, 101-, 114-, and 140-inch sizes, in addition to the 76-inch Micro LED CX. However, the company has not committed to sizes yet.
[Image credit: Techlicious]
Stewart Wolpin has been writing about consumer electronics for more than 35 years, including news, reviews, analysis and history, and has attended and covered nearly 50 Consumer Electronic Shows and around a dozen IFA shows in Berlin. For the Consumer Technology Association (CTA), he is an elector for and writes the official biographies of the annual CT Hall of Fame inductees, and is the keeper of the industry's official history.