Shatta Wale Says He Would Never Pull A Gun Like Stonebwoy Or Impregnate A Lady Like Sarkodie
Shatta Wale, in a tweet, went on a rant after having a disagreement with journalist Olele Salvador and fired stray bullets at Sarkodie and Stonebwoy
The musician said he gets criticised a lot while Sarkodie and Stonebwoy are treated as saints, but they are not the best role models themselves
He sighted the incident of Stonewboy pulling a gun at the VGMA stage in 2019 and Sarkodie getting Yvonne Nelson pregnant and getting her to terminate it
Popular Ghanaian musician Shatta Wale aired his grievances, taking aim at fellow artists Sarkodie and Stonebwoy while also addressing what he sees as unfair criticism directed towards him.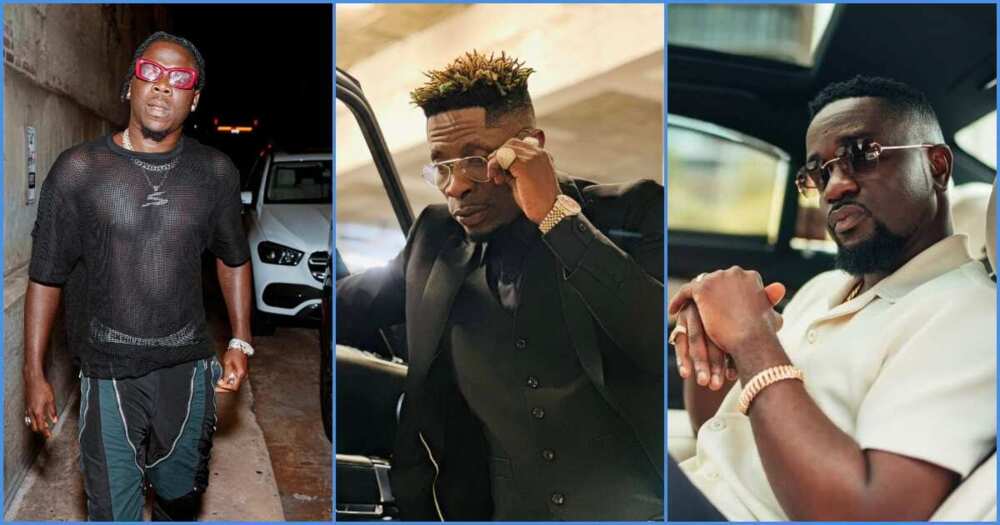 The controversy began when Shatta Wale clashed with journalist Olele Salvador, leading to a heated exchange. This dispute appears to have triggered Shatta Wale's social media rant.
In his tweets, Shatta Wale voiced his frustration, alleging that he receives a large amount of criticism compared to his peers, Sarkodie and Stonebwoy. He argued that these two artists are often portrayed as saints despite their own controversial actions.
Shatta Wale pointed to past incidents involving Sarkodie and Stonebwoy to support his claims. He cited Stonebwoy's infamous 2019 incident at the Vodafone Ghana Music Awards (VGMA), where Stonebwoy brandished a gun on stage during a brawl. Shatta Wale indicated that such behaviour is not something he would ever engage in.
Furthermore, Shatta Wale criticised Sarkodie for his alleged involvement in a personal matter with actress Yvonne Nelson. News of Sarkodie getting Yvonne Nelson pregnant in 2010 and persuading her to terminate the pregnancy went viral earlier this year. Shatta Wale contrasted this with his own moral stance, suggesting that he would not engage in such actions.
Shatta Wale congratulates Black Sherif
In another story, Shatta Wale extended his heartfelt congratulations to Black Sherif after the latter clinched the Best International Flow award at the prestigious BET Hip Hop Awards.
The news of Black Sherif's victory has brought joy to many Ghanaians nationwide.
Taking to his Twitter page, Shatta Wale called on all Ghanaians to join him in celebrating Black Sherif's remarkable achievement.
Source: YEN.com.gh