For the last few years, Samsung's Galaxy Watch series has been the watch to beat for Android owners. With the launch of the Galaxy Watch6 (starting at $299.99) this month, nothing has changed, though the competition, especially the Google Pixel Watch ($349.99, on sale for $299.99), has edged closer. So the real question is whether buying Watch6 is worth it. If you own a Galaxy Watch5, the upgrades aren't enough for most people. But if you own an older model Galaxy Watch or are looking to buy a smartwatch for your Android phone, the Samsung Galaxy Watch6 is easy to recommend. Here's why.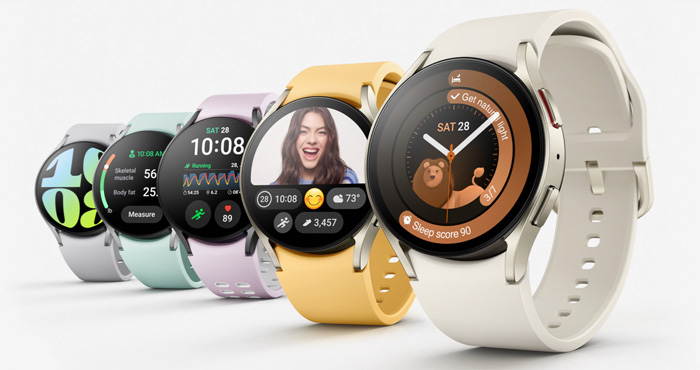 Design and Display
The most significant upgrades from the Watch5 to the Watch6 are in the display. While the physical size of the Watch5 and Watch6 are the same, the bezel has been slimmed down, and the display size increased by 20 percent. This makes the display noticeably easier to read.
If you have a Galaxy Watch4 or earlier, the Watch6 has a more durable watch face, using sapphire crystal versus Corning Gorilla Glass. 
Fitness and Health Tracking
The Galaxy Watch5 and Watch6 use the same fitness and health tracking sensors. You can monitor for arrhythmias, check your blood pressure and blood oxygen levels, and automatically track your workouts. It has all of the functions you'd expect from a premium smartwatch. 
While the sensors are the same, the Watch6 uses them in new ways that aren't available for the Watch5. Now, you can passively monitor for AFIB, which the FDA recently cleared for smartwatches. However, it's only available if you're using the Watch6 with a Samsung phone (this passive monitoring should roll out to Watch5 later). The temperature sensor can now track your menstrual cycle. And the heart rate sensor can be used for personalized heart rate zones. 
Battery Life
The Galaxy Watch6 has a larger battery than the Watch5 and can last up to 40 hours on a single charge, depending on usage. And with an eight-minute charge, you get eight hours of battery life, enough to get most people through a full night's sleep. 
Software and Performance
The Samsung Galaxy Watch6 comes with several notable improvements compared to its predecessor. One of the key enhancements is the new dual-core 1.4GHz Exynos W930 chipset. This delivers improved performance and smoother operation over the 1.18GHz Exynos W920 Dual-Core chipset used in the Galaxy Watch5.
Wear OS 4 and Samsung's One UI 5 Watch come loaded on the Watch6. And with Samsung's four-year OS update policy, the Watch6 will receive new features every year.  Owners of Watch3, which runs Tizen OS instead of Wear OS, should note that the Watch3 won't continue to be supported. 
The bottom line
If you own a Samsung Galaxy Watch4 or older or are looking to buy a Wear OS watch for use with an Android phone, the Samsung Galaxy Watch6 (starting at $299.99) is the smartwatch to get. It's best-in-class for Android phone users, especially Samsung Galaxy phone owners. And if you already own a Galaxy watch, Samsung has a Trade-In Value Program that enables customers to trade in their old devices and receive up to $250 towards their new purchase. This makes it a tempting deal even for Galaxy Watch5 owners who want a bigger display and increased battery life.
[Image credit: Samsung]
Rachel Hull is a writer and photographer covering technology, health & wellness, and lifestyle. You can find her work in Woman's World, New York Weekly, InTouch Weekly, and Closer Weekly. Her work has also appeared on Fox 2, WXYZ-TV Channel 7, and WNEM Channel 5.