"Tinubu Attended Chicago University as a Male, Not a Female," Reno Omokri Releases Original Letter As Proof
Political analyst, Reno Omokri has revealed the real details of President Bola Tinubu's academic record from Chicago State University
Omokri, shared a letter on his Twitter page on Thursday, July 6, and insisted that Tinubu attended the institution as a male, not as a female
He, however, urged critics to focus on matters that have substance which is Tinubu's alleged dr*g case, while noting that the "Chicago certificate saga is a dead end"
Former presidential aide, Reno Omokri has taken to social media to share fresh details about President Bola Ahmed Tinubu's record from Chicago State University.
On Thursday, July 6, the political analyst disclosed on Twitter that Tinubu attended the university as a male and not as a female, as speculated in some quarters.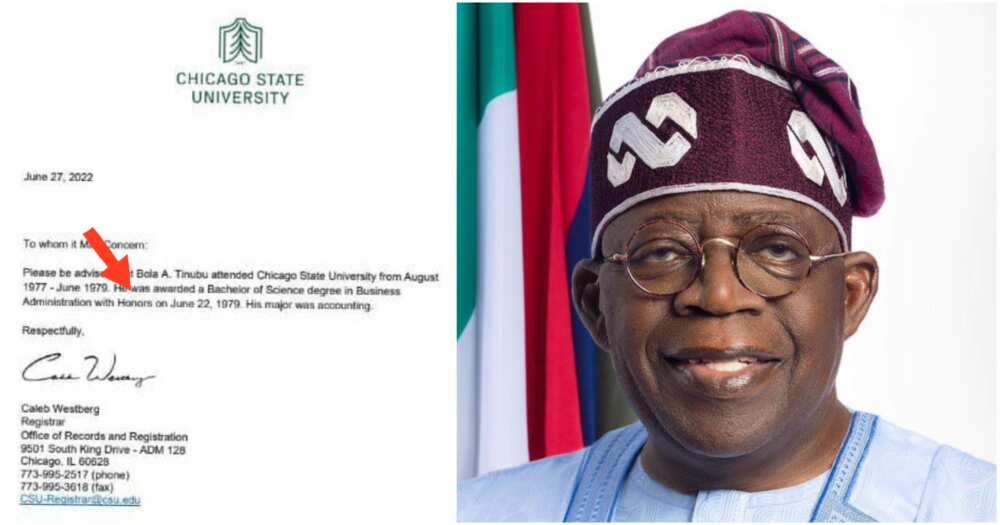 Reno Omokri shares a letter to show that Tinubu attended Chicago University
He noted further that although he is not a supporter of Tinubu, but the letter he received from the university, showed clearly that Tinubu attended the institution.
He added that Nigeria's president has a known drug past, however, however, he cannot don't the authenticity of the letter handed to him by the university.'
Omokri's tweet read thus:
"To those saying that the Bola Tinubu that attended Chicago State University was a female, please read the letter given to me by @ChicagoState after I went there in person. The Bola A. Tinubu that attended their university was a MALE not a FEMALE. I don't support Tinubu. He has a known dr*g cartel past. Nevertheless, he attended that university. If you doubt the authenticity of this letter, then visit the University yourself, or call them on the numbers provided."
Focus on important matters, Omokri tells critics
The PDP chieftain further urged aggrieved Nigerians to focus on the issues that matter as he noted that the Chicago University certificate saga is dead on arrival.
"Let us focus on what has substance. And that is the dr*g case. He is definitely guilty on that score. As for this one, it is a dead end," Reno Omokri added.
Fresh twist as President Tinubu discloses his academic record from Chicago University
President Bola Tinubu tendered copies of his academic records from the Chicago State University in the United States before the Presidential Election Petition Court in Abuja on Tuesday, July 4.
The President made the disclosure when he opened his defence against the petition filed by the Peoples Democratic Party (PDP) and Atiku Abubakar.
President Tinubu tendered the document through his lawyer, Chief Wole Olanipekun, who added a 2007 letter from the US Embassy in Nigeria.
Tinubu to open defence against Atiku, PDP on Tuesday
Legit.ng earlier reported that President Bola Tinubu, through his lawyer, Wole Olanipekun, has announced that he would open his defence against the PDP and Atiku Abubakar's petition on Tuesday.
Olanipekun disclosed this after INEC closed its defence against Atiku and the PDP's petition on Monday at the Presidential election petition court.
INEC closed its case against the PDP and Atiku after it called one witness, Lawrence Bayode, the deputy director of IT with INEC.
Source: Legit.ng