Trek recently launched two new kid and cargo-focused offerings in their ebike lineup: the Fetch+ 2 and Fetch+ 4. Designed to be car replacements for urban families who need to shuttle kids around, both models offer a variety of seating options for infants to tweens and can carry up to two passengers for the Fetch+ 2 or four for the Fetch+ 4.
 + Pros

 – Cons

Excellent drive train and assist customization
Hydraulic disc brakes
Flexible seating and cargo options
High load capacity
Trek service and support

Very expensive
No throttle
No brake light feature
At the base level, the $5,999.99 Fetch+ 2 comes with a large rear cargo rack and footrests for those unfortunate enough to be passengers on bare metal. Though, the Fetch+ 2 is really designed to be customized with the options best suited for each customer's specific usage: there is a two-child bench seat with a safety bar ($319.99), front and rear panniers ($179.99 each), and the rear rack is compatible with Thule Yepp Nexxt child seats. In total, the Fetch+ 2 can carry up to a whopping 440 lbs (250kg) of cargo and passengers.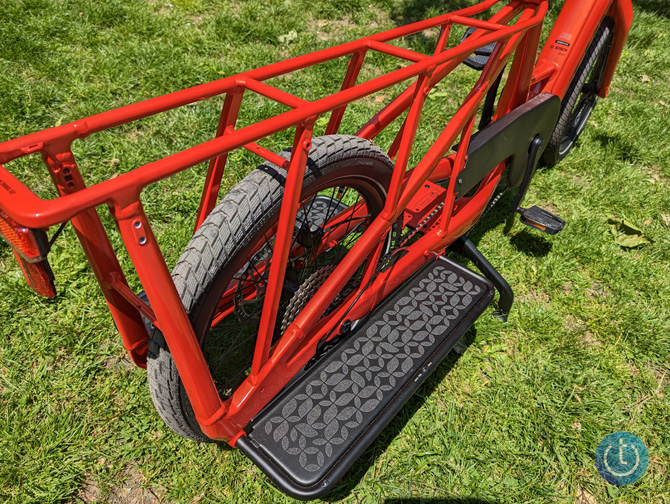 I recently had the opportunity to take the Fetch+ 2 on a spin around New York City's Central Park and came away impressed. Despite a rather hefty 68 lb curb weight, the 250W (85Nm of torque) Bosch Cargo Line motor quickly gets the bike up to speed and offers strong assist, even up steep hills. The motor provides an assist up to 20mph, and a rear 10-speed Shimano Deore derailleur makes the Fetch+ 2 ridable even with the assist turned off. With a low center of gravity, the Fetch+ 2 also felt surprisingly nimble for a bike its size.
Controls are through Bosch's handlebar-mounted LED toggle switch that controls the assist modes, front and rear lights, and a walking mode. Assist modes are customizable through the Bosch Flow app (iOS and Android) and connect to the LED toggle via Bluetooth. The Fetch+ 2 offers a convenient smartphone mount with integrated wireless charging, though the assist controller will also work without a smartphone connection. The Flow app also provides detailed battery level tracking, route recording, and activating the anti-theft motor cutoff feature. The 500Wh Bosch battery is mounted completely within the downtube and can be removed for charging.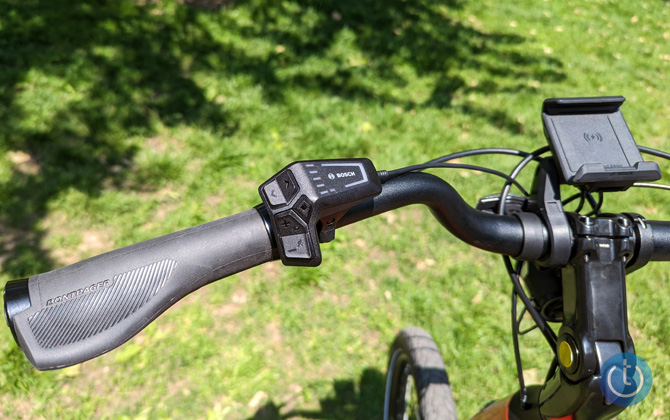 Stopping is handled by quad-piston Tektro hydraulic disc brakes. Given the Fetch+ 2 is rated for up to 440lbs, effective brakes are critical, and the Tektros seemed up to the task in my ride. On the downside, while the Fetch+ 2 comes with front and rear lights, the rear is always on and doesn't brighten when you hit the brakes. For a bike aiming as a car replacement, I would have liked to see this feature, especially since makers like Rad Power offer it on cargo bikes costing a fraction of the price.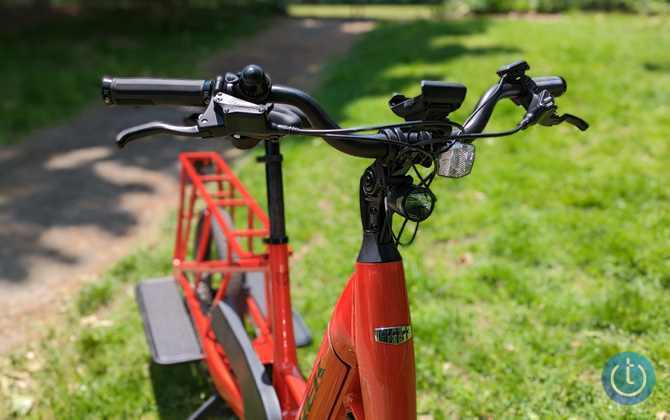 All in, the Trek Fetch+ 2 offers enough features and performance to make it a compelling option for those looking for a car substitute. And given that you will be laying out close to seven grand after accessories, I would expect no less. Competitors, like Rad Power Bike's RadWagon 4 (starting at $1,999.00), come in at less than half the price, though with only 350lbs of capacity and mechanical disk brakes, so you're making some sacrifices over the Trek Fetch+ 2. The mid-drive Bosch motor on the Fetch+ also provides smoother operation than the rear-hub motor on the RadWagon, though without the benefit of RadWagon's throttle for pedal-less motion. And with Trek, you get access to their extensive dealer and Trek Store network for setup and service. So, it really comes down to a question of budget and needs. And for the well-heeled buyer who needs that extra load capacity or who just wants the most seamless riding and ownership experience, the Fetch+ 2 (starting at $5,999.99) is the way to go.
[Image credit: Josh Kirschner/Techlicious]
Josh Kirschner is the co-founder of Techlicious and has been covering consumer tech for more than a decade. Josh started his first company while still in college, a consumer electronics retailer focused on students. His writing has been featured in Today.com, NBC News and Time.