"Trouble" for Messi, Ronaldo as Mike Bamiloye says GOATs have no place in the kingdom of God
The founder and president of the film production company Mount Zion Faith Ministries, Mike Bamiloye has slammed those referring to themselves as GOAT
According to the minister of God, GOAT means stubborn, unbelieving and unrepentant, headstrong fellow
'GOAT' is fondly used by football lovers, especially when describing the greatness of Lionel Messi and his archrival Cristiano Ronaldo
Mike Bamiloye says those who refer to themselves as the Greatest of All Time (GOAT) do not belong to the kingdom of God.
He warned people on his Instagram page to stop referring to themselves as the greatest of all time (GOAT) because of their talents.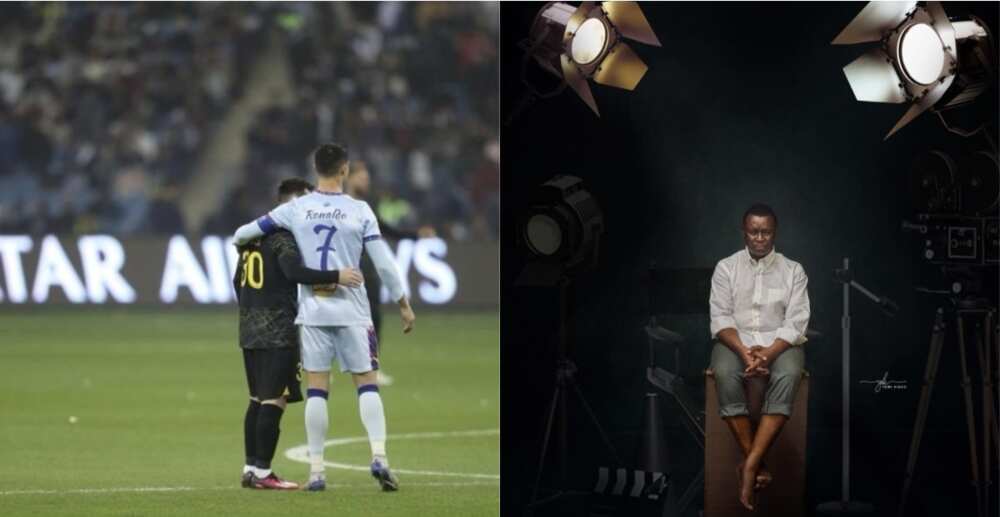 People refer to the famous slang 'GOAT' as the Greatest of All Time, and fondly used by football lovers, especially when describing the greatness of Lionel Messi and his archrival Cristiano Ronaldo.
"What is the meaning of GOAT? It is the Devil that has changed the meaning for you. GOAT means stubborn, unbelieving and unrepentant, headstrong fellow.
"A Goat people [have] no place in the Kingdom of God. According to the Bible, the GOAT symbolises disobedient and unbelieving people, while the SHEEP symbolises the Godly, Believing Children of God. That is why Jesus said He would separate the SHEEP from the GOAT and cast the stubborn unbelieving people into everlasting fire."
Meanwhile, many Nigerians on social media are not happy with what the founder and president of the film production company Mount Zion Faith Ministries SAID.
In his reaction, Amifofum Hardly Chase said:
"Anybody that wears cloth will not go heaven. God who made you naked knows why. Anybody whose car the tyre is black will not go heaven. God hates darkness. Anybody that sleeps with his eyes close will not go heaven. Watch Ye therefore for ye know not the hours.
"Anybody that eats meat or plants will not go heaven. You kill animals and plant before you eat them, some of you even eat them raw. God says Thou shalt not kill sha."
Deacon Lekan Alade
"Bàbà Mike Bamiloye stop all these talk and come with new dimension of acting, even you will be referred as that one day for your acting in the industry."
Yaubeta Amos Sunday
"Context matters in the use GOAT. It's ok if in the context of your religious tenets is not right and stands condemned but anything outside that shouldn't be a base for argument. There are GOATS all over the world and they're impacting lives in all angles and the matter of who gets to heaven or not is purely an absolute power that belongs to God. Man can only give you opinion."
Aminu Salihu
"Those fake pastor's and fake Mallams contribute to Nigeria problems… White men introduced religions to destroyed Africans, I know that God exist and I always called Upon him. Introduction of religion is just a scam to Nigerians."
Pastor speaks on tithing, says people should pay more than 10% because economy is bad
A Nigerian pastor, Gosple Agochukwu, has penned down a controversial message to people about tithing.
The pastor stated that the economy has become so bad, and people need to learn to increase their tithes as the prices of items are also increasing.
He sternly warned people against giving God only 10% while lamenting over the situation of things in the country.
Source: Legit.ng