Who are Post Malone's parents? Get to know Rich and Jodie Post
Post Malone is a renowned rapper, songwriter and record producer from the United States. He is famous for blending different genres of music, such as hip-hop, R&B, trap, and pop. Despite his career, fans have been curious to know more about his family, especially his parents. Who are Post Malone's parents?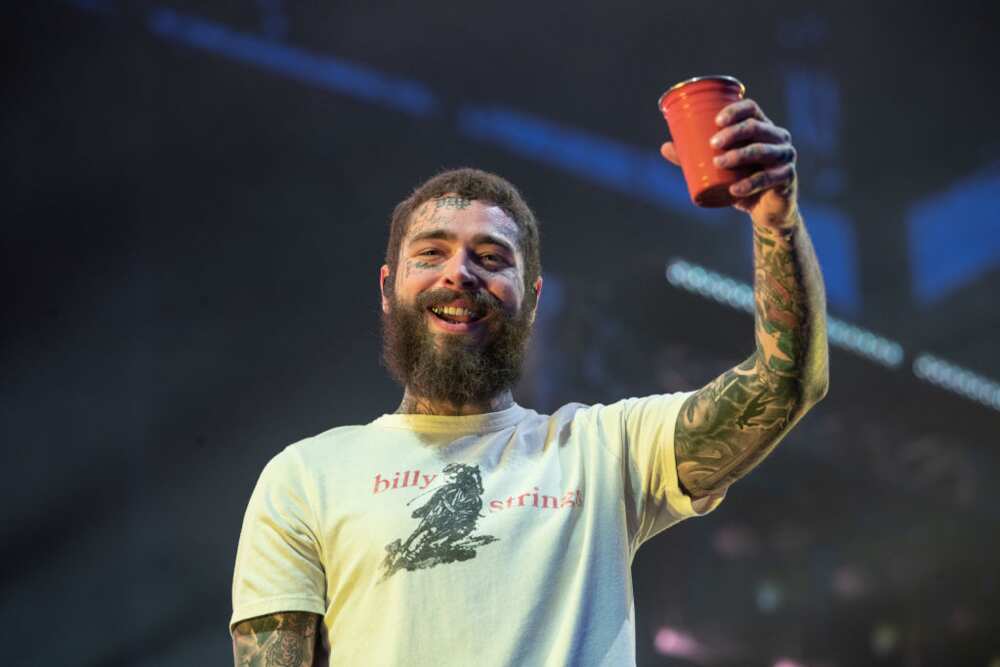 Post Malone is one of the most well-known rappers in America. He rose to stardom in 2015 after he released the hit song, White Iverson. Malone has released other chart-topping songs like Fade, Go Flex and Rockstar featuring 21 Savage. Learn more about his parents, Rich and Jodie.
Who is Post Malone?
The American rapper was born on 4 July 1995 in Syracuse, New York, USA. Malone was raised by his father and stepmom in Grapevine, Texas. He has a stepbrother named Mitchell Larson and a half-brother named Jordan Lake.
Post Malone attended Grapevine High School in Texas. He later joined Tarrant County College but dropped out.
Post Malone's father introduced him to different genres of music. While in high school, he produced his first mixtape, Young and After Them Riches. He has several accolades, including two American Music Awards, an MTV Video Music Award, and a Billboard Music Award.
Post Malone's parents
Post Malone's mom and dad are Nicole Frazier and Rich Post. The two met and married in New Walton, New York, but separated after Malone was born. Not much is known about Nicole Frazier except that she is Post Malone's mother.
After they broke up, Post Malone's dad married Jodie. Together, they raised the rapper and his stepbrother in Grapevine, Texas, USA.
Rich Post
Malone's father is Richard Post. He grew up in Rochester in Penfield. Rich spent 16 years in Syracuse. He attended Syracuse University and graduated in 1988.
Rich met and married Jodie. The two met at work in Downtown Syracuse at Atlas Health Care Linen Service. Richard and Jodie raised their sons in a blended family in Baldwinsville, New York, before moving to Texas in 2005.
Rich has been instrumental in his son's career. In 2015, Malone talked about his father's influence on his music. He stated,
My dad was always playing music. I do not like playing music, but listening to music. And he put me on everything, folk and funk and rap. I moved to Dallas, and I started making music. So, that's it. And from then on, I just started making what I like. Playing guitar. And writing my songs. And just making music.
Jodie
Jodie is Post Malone's stepmother. She was born in Camillus, New York and graduated from Le Moyne College. Jodie had a son from her previous marriage named Mitchell. Post Malone's stepmom, Jodie, lives with her husband, Rich, in Grapevine, Texas.
What did Post Malone's dad do?
Rich was a disk jockey with Whirlin' Disc DJs. The company used to perform at weddings. In 2005, he worked with the Dallas Cowboys. He is the Assistant Director of Food & Beverage at AT&T Stadium, Dallas Cowboys' home.
FAQs
Who is Post Malone? He is a famous American rapper, singer and record producer who became famous for his hit White Iverson.
Where is Post Malone from? He is from Grapevine, Texas, but he was born in Syracuse, New York, United States.
Who are Post Malone's parents? The rapper's parents are Nicole Frazier and Rich. However, he was raised by his father, Rich and stepmother, Jodie.
Is Post Malone's dad famous? Rich is renowned for being the father of Post Malone.
What do Post Malone's parents do? His father is the assistant director of Food & Beverage at AT&T Stadium.
Are Post Malone's parents rich? There is no information about their worth, but their son's net worth is estimated at $45 million.
Post Malone's parents are Rich Post and Nicole Frazier. His parents separated after he was born. He was, however, raised by his father and stepmother, Jodie.
Legit.ng recently published an article about Jenna Ortega's parents. Jenna Ortega is a famous American actress. She is well-known for her role in the popular TV series Wednesday on Netflix. Many have been curious to learn more about her family, more so her parents.
Jenna Ortega started acting in 2012 when she played Aimee Moore in an episode of CSI: NY. She has played other roles in TV series such as Richie Rich and Elena of Avalor. Ortega has featured in movies such as Scream, You and Stuck in the Middle, which won her an Imagen Award for Best Young Actor on Television. Learn more about Edward and Natalie Ortega.
Source: Legit.ng