Have you ever wondered by some messages on your iPhone appear in blue while others are displayed in green? The colors visually differentiate iMessages, which appear in blue bubbles, from regular text messages, which show up in green bubbles.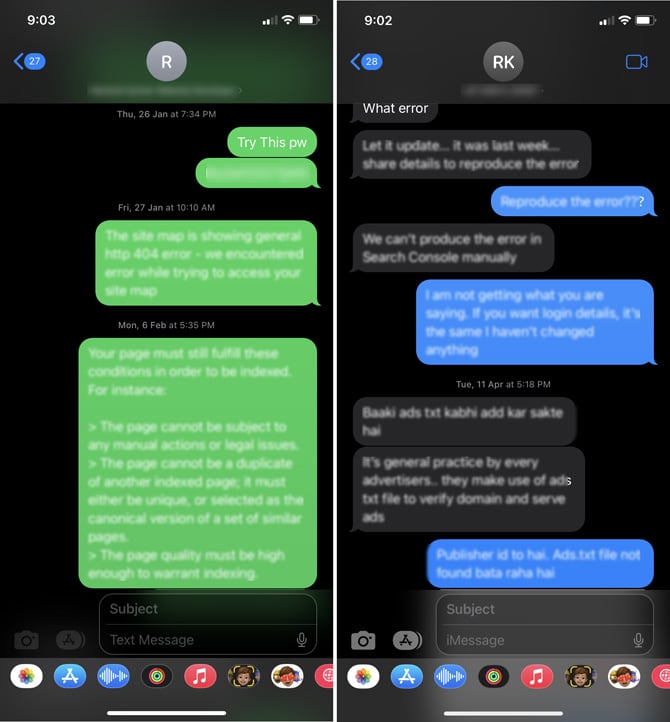 iMessage is Apple's proprietary messaging service and only works when sending messages between iPhones. Regular text messages – SMS (text only) and MMS (text, pictures, and videos) – work across iPhones and Android phones. 
Why do messages to Android phones send as regular text messages?
In addition to regular text messages, Android phones use Rich Communication Services (RCS). Like iMessage, RCS offers reactions, text effects, high-quality images, read receipts, enhanced security, and other benefits. However, Apple does not support RCS, causing messages exchanged between iPhones and Androids to revert to regular text messages. Google has been urging Apple to adopt RCS texting standards. However, by supporting RCS, Apple would be removing one of the reasons why people are reluctant to switch to Android, which they appear unwilling to do.
Why do messages between iPhones appear in a green bubble?
Even when communicating with another iPhone, you may see a green bubble. This usually occurs if iMessage is disabled on either your or the recipient's iPhone. To resolve this issue:
Open the Settings app.
Scroll down and select "Messages."
Make sure "iMessage" is toggled on. (You'll also want to scroll down further and toggle on "Send as SMS" to ensure you can send texts even when iMessage is unavailable.)
After completing these steps, your messages should appear in blue when sent from one iPhone to another.
With iMessage enabled, you'll enjoy a wider range of messaging features than regular text messages, including:
Read receipts: iMessage's "Read receipts" feature is a practical tool that displays a "Delivered" tag below the blue message bubble, indicating successful message delivery. When the recipient reads the message, the label switches to "Read" (if the recipient has Read Receipts turned on).
Stickers and effects: Quickly respond to iPhone messages with stickers and special texting effects, such as exploding confetti or balloons.
Live typing: Like "Read receipts," iMessage allows you to see when the recipient is typing with a small "…" bubble at the bottom of the message history, indicating a reply is being composed.
Device syncing: iMessages seamlessly sync across the Apple ecosystem, enabling you to view them on any Apple device, including MacBooks, iPads, and Apple Watches.
Encryption: iMessages support end-to-end encryption, ensuring the confidentiality of your messages.
Regular text messages lack these advanced features, and to distinguish between the two messaging formats, Apple employs a green bubble for standard text messages.
For more helpful tips, read our articles on how to stop spam text messages, recover deleted iMessages, and recover deleted text messages on your Android Phone.
[Image credit; Hemant Saxena/Techlicious]
As a lifelong tech enthusiast, Hemant Saxena is always looking for the latest gadgets that intersect with his hobbies. For more than a decade, he has been writing about consumer gadgets, popular apps, and social media tips for publications, including Windows Club and Techmate Tricks.