When Withings announced the first ScanWatch ($299) in January 2020, we gave it a Techlicious Top Picks of CES Award. It was one of the first smartwatches to be FDA-cleared to detect atrial fibrillation (A-Fib) using ECG, and it measures your blood oxygen levels while you sleep, alerting you to potentially dangerous health issues like sleep apnea. This month, Withings announced the ScanWatch 2 ($349) with even more advanced health-tracking features than its predecessor, making it top smartwatch to consider if you're in the market for a hybrid smartwatch.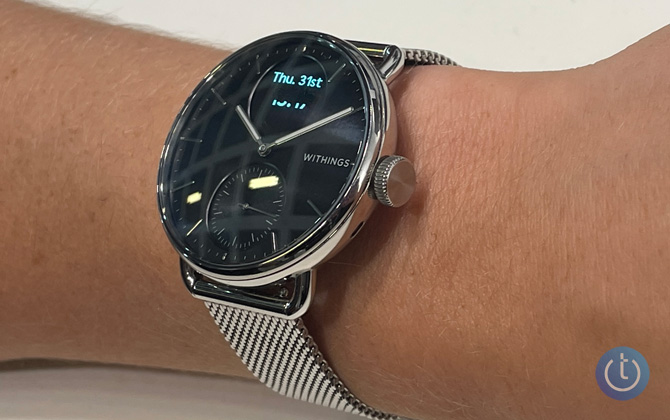 I've been wearing the original ScanWatch since it became available two years ago and was able to compare it to the ScanWatch 2 at the IFA Consumer Electronics show earlier this month. While it looks as classic and stylish as the 1st gen watch and gets the same great 30 days of battery life, it has four new sensors, making it an even more powerful health-tracking tool. Using data from each sensor, the ScanWatch 2 can now monitor your body temp 24/7, measure heart rate variability and respiratory rate, and track menstrual cycles.
You may wonder why you'd want to know your temperature if you feel fine, but Withings uses its health metrics to provide insight into your overall health. Noticing abnormal fluctuations in your day and night body temp might indicate the onset of an illness.
What I love about the design of this hybrid watch is you can see all this info either in the Withings app on your phone or on your wrist in the round OLED grayscale display near the top of the watch face. Pressing the side button takes you through all the info, and you can also add data. For instance, you can log cycles, symptoms, dates, and moods for menstrual tracking as you scroll through the log.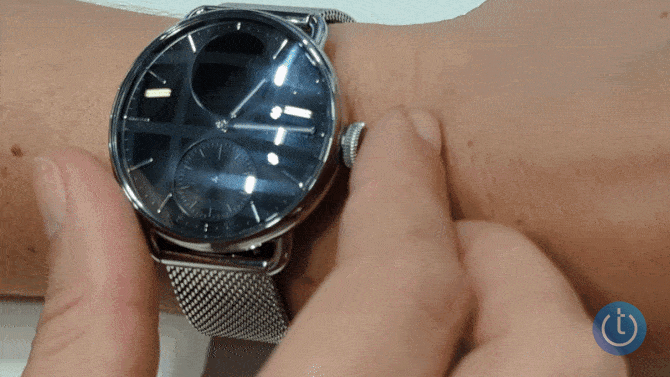 These new health indicators join the already robust list of metrics the watch delivers. These include fitness and activity tracking, workout heart rate zones, and sleep tracking.
Unlike some other hybrid and smartwatches I've tried, Withings' watches comfortably fit people with smaller wrists. Though the ScanWatch requires a bit more room for the new sensors, it's still available in the same 38mm and 42mm sizes as the original ScanWatch.
If you're looking for a smaller and more affordable ScanWatch, Withings also introduced the $249.95 ScanWatch Light, which comes in the 37mm size. It doesn't offer ECG and A-Fib tracking, heart rate notifications, blood oxygen levels, or the new sensor for tracking body temperature. Still, it tracks heart rate, respiratory rate, breathing disturbances, and menstrual cycle, and it gets the same 30 days of battery life.
The $349.95 ScanWatch 2 comes in silver with a black face, silver with a white face, and rose gold with sand face and can be preordered now on Withings.com, with delivery in October. We will let you know if it lives up to its promise once we've had an opportunity to test it. 
[Image credit: Andrea Smith/Techlicious]
Andrea Smith is an award-winning technology broadcast journalist, reporter, and producer. Andrea was the Technology Producer and an on-air Technology contributor at ABC News for over two decades before becoming the Lifestyle Channel Editor at Mashable, where she explored the ways in which real people, not just geeks, began using technology in their everyday lives.